Wheelock Family Theatre Opens 39th Season with Roald Dahl's Willy Wonka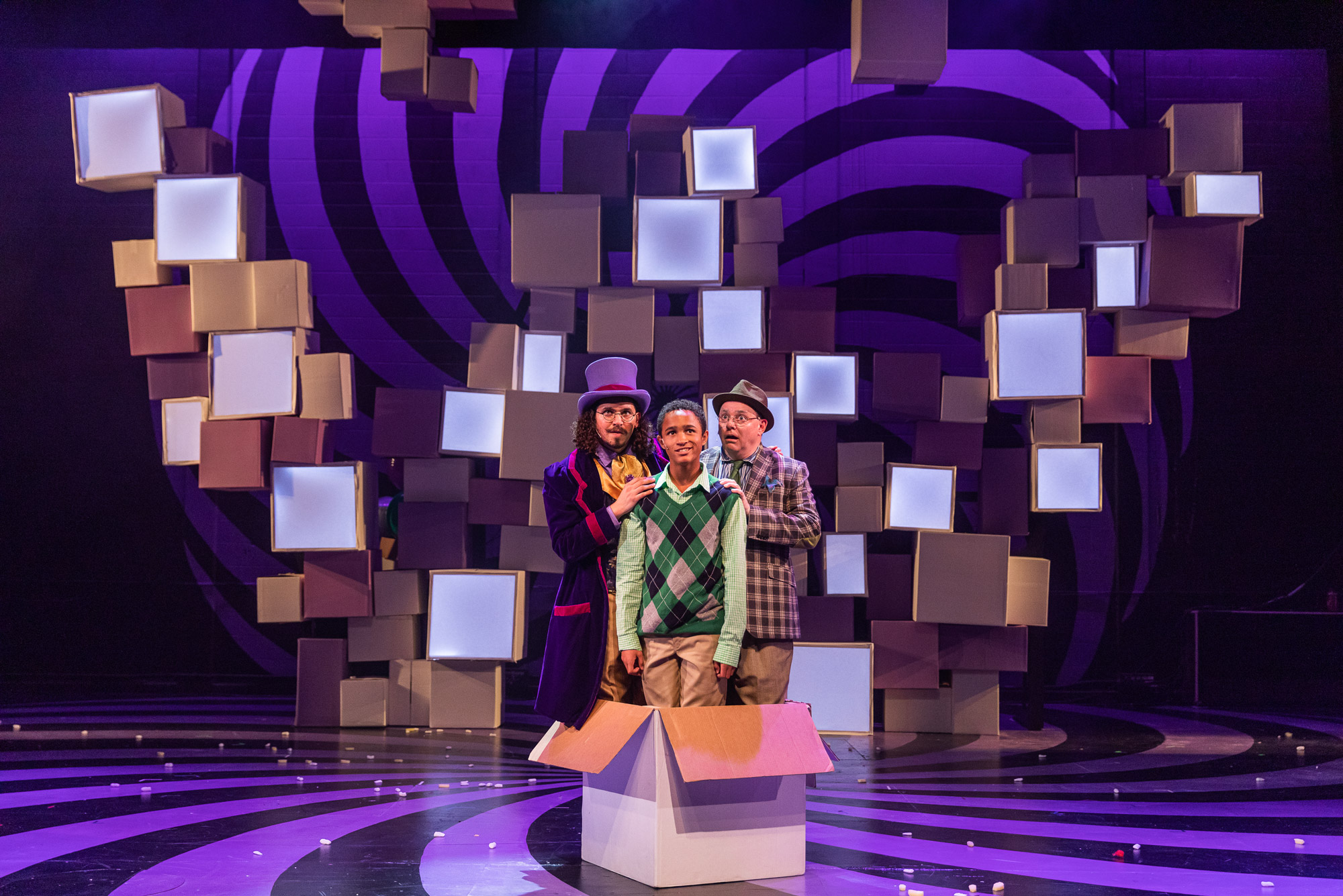 Theatre
Wheelock Family Theatre Opens 39th Season with Roald Dahl's Willy Wonka
Since Roald Dahl's Charlie and the Chocolate Factory was first published in 1964, it has sold millions of copies worldwide and is considered a classic of children's literature. The comic novel—about an eccentric candymaker named Willy Wonka and the contest he cooks up for five children to win a tour of his factory and a lifetime supply of chocolate—has inspired two memorable films, 1971's musical Willy Wonka & the Chocolate Factory, starring Gene Wilder in the title role, and 2005's Charlie and the Chocolate Factory, with Johnny Depp as the candymaker.

And now Wheelock Family Theatre (WFT) is kicking off its 39th season with Roald Dahl's Willy Wonka, a musical adaptation of the story, featuring the beloved songs from the 1971 film, including "The Candyman," "Pure Imagination," and "Oompa Loompa." 

As anyone familiar with the book or the films knows, Wonka ultimately selects one child—the kind-hearted, impoverished Charlie Bucket—to inherit his factory. It's a story where good prevails and the bad are banished—often to hilarious effect.

The WFT production comes on the heels of last spring's enormously successful musical adaptation of another of Dahl's classic children's stories, James and the Giant Peach. It perfectly embodies the values of the theater company, says Willy Wonka director Emily Ranii (CFA'13), WFT's artistic director. 

"We're all about inclusivity—this is a place where everyone feels welcome," says Ranii, a College of Fine Arts Opera Institute lecturer and academic program head of the BU Summer Theatre Institute. "Charlie Bucket, and Willy Wonka's quest for this kind kid, is really a reflection of our ethos of spreading kindness in the world. Wonka is on a quest to find a genuine, earnest, kind child who can carry on his legacy of expressing pure imagination through delicious sweets." 

The two Dahl productions have much in common, Ranii says. "The imaginative world that Roald Dahl presents is that there is another world out there, and you can create your own world or you can go out and find another world. They give a sense of agency to the idea that you can go out and make change for yourself and others."

Starring in the title role is Ricky Holguin, who played Earthworm n James and the Giant Peach. By his own admission, he has seen the 1971 Wonka film more than 15 times. "I never get tired of watching it," he says. Willy Wonka is a role "that can be portrayed many different ways," and he is excited about putting his own stamp on it.

"Everything is really in the text," Holguin says, "right down to the exclamation points and the way Willy says things." He first fell in love with musical theater when he was growing up in Laredo, Tex., and was cast in a high school production of The Wizard of Oz. "I fell in love with theater instantly," he says. "It was just an amazing feeling, knowing you could get away from your own life and be somebody else."

Holguin, who has a master's degree from the Boston Conservatory, hopes audiences take away from the show a desire to "be kind to each other and to be honest and learn to love one another."

That sentiment is shared by costar Jamie Leslie, a 14-year-old Brookline High School freshman, who is making his WFT debut as Charlie, a character he describes as "a good kid who makes everyone around him happy. He's never self-centered, he cares about other people as much as he cares about himself."

When Ranii was auditioning actors last spring, she says she was struck by Leslie's "incredible earnestness, the joy he brings to his work. He just embodies the character's transparent kindness."

Leslie had to make one concession in taking on the demanding part: he had to temporarily give up his other love—soccer—because of the rehearsal schedule. But it's been worth it, he says: "You feel like you're a small portion of something that's really huge, that will really touch somebody who comes to see the show."

Doing magic on stage: a challenge for CFA design students

Ranii says that coming up with designs for the sets, lighting, and costumes—all helmed by CFA School of Theatre students—proved particularly challenging.

"There is so much fantasy involved in this play. If we tried to emulate the movie, it would feel amateur," Ranii says. "How do you do magic on stage, when you're not a magician?"

The solution was to keep the set design pared down. The design team—set designer James Rotondo (CFA'17,'21), lighting designer Matthew Robson (CFA'20), costume designer Chelsea Kerl (CFA'14), and technical director Taylor Dobbs (CFA'20)—spent days hashing out a concept. Rotondo at one point mentioned the concept of a child in a big cardboard box.
"A box can become anything and everything for a child," he says, a spaceship, a boat, a train—the possibilities are almost endless. Everyone was intrigued by the idea, but they couldn't quite figure out how it could convey the magic and excitement in Act two, when the action turns to Willy Wonka's chocolate factory. Then, Rotondo hit upon the idea that "being inside Willy Wonka's imagination, he has 1,000 boxes." The theme of different boxes as a window into the factory owner's imagination is a constant in the show.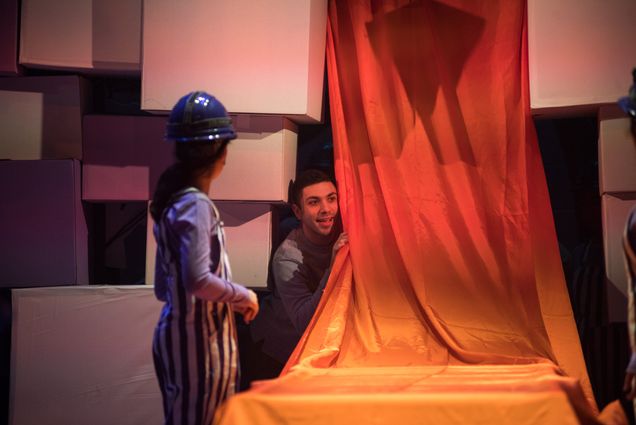 Rotondo says the onus is on the audience to use their imaginations to fill out the world of the characters on stage. "If you don't hand them everything, they have to work a little bit," he says, "and I think that's the exciting thing about creating the visual world of this play."

"There's a playfulness in the team of: we're in it to win it," Ranii says. "It's the hardest show all of us have done, and everyone has just been like, we're gonna keep playing and trying and experimenting until we figure out how this puzzle works.

For Robson, creating the lighting design was equally challenging. Each child character is assigned a particular color reflecting the deadly sin they represent—be it gluttony, greed, envy, or something else.

"Part of the pleasure of this production has been finding ways to use multiple tools to visually contract Charlie's world and Wonka's world and then to illustrate how those two worlds converge at the end of the play," Robson says. "Lighting design gives the opportunity to further the story by painting the stage with light."

Designing for WFT affoded Robson a chance to work with a proscenium stage, something he rarely has an opportunity to do. Learning how to shine light into the wings and use different angles than he would designing for a thrust stage is invaluable experience, he says, noting that many Broadway shows and operas use proscenium stages.

Working on her first WFT production has been an invaluable learning tool for technical director Dobbs, as well. The third year grad student in the technical production program says it's given her an opportunity to work with new mediums. "Building an entire 17-foot wall out of cardboard boxes has been a challenge," Dobbs says. "It's been a lot of testing out how to connect them in a way that's secure, but the most interesting part has been the conveyor belts we use in the show that connect together. I'd never built a conveyor belt before, so that was a new, interesting challenge, and it's been a lot of fun."

All of the designers point to the opportunity to work with theater professionals, to build mentoring relationships, and the chance to earn a professional theater credit on their résumé as part of what makes working with WFT so rewarding.

But according to Dobbs, the experience offers something more—"Wheelock Family Theatre is doing a lot of things right: they treat people well, they are very collaborative, and they've really fostered a sense of social awareness and social justice in the work they do here, which is very important to me. So it feels like coming home to work at a place like this."

Ranii says working with WFT gives the BU designers a chance not only to be part of an intergenerational collaboration, but also exposure to working in theater for young audiences. "Oftentimes, theater for young audiences is the place that artists will first be employed after they graduate. It's a really important skill set and a different kind of genre to work on, as well,

Wheelock Family Theatre's 2019-2020 season will also feature a musical adaptation of another children's literature classic, Louisa May Alcott's Little Women, in January, followed by a stage production of Antoine de Saint-Exupéry's The Little Prince and of Bud, Not Buddy, a play about a 10-year-old boy's quest to find his father, both in April.

"We're telling stories that are about imagination," Ranii says. "You're understanding that there is another world out there that you can either find or make for yourself and that you can make change."

Roald Dahl's Willy Wonka runs through November 17 at Wheelock Family Theatre, 200 Riverway, Boston. Press weekend performances are Saturday, October 26, at 2 pm and 7:30 pm, and Sunday, October 27, at 2 pm. Remaining shows are Fridays at 7:30 pm, Saturdays at 2 pm and 7:30 pm, and Sundays at 2 pm. Ticket prices range from $20 to $40. BU faculty and staff get $10 off with code BUSTAFF. Purchase tickets here, call 617-353-3001, or email WFTtix@bu.edu. Student rush tickets are available for $10 one hour before showtime, at the box office only. ASL and AD performances are Sunday, November 10, at 2 pm and Saturday, November 16, at 7:30 pm.