Weining Lu, Kidney Researcher, Named BU Innovator of the Year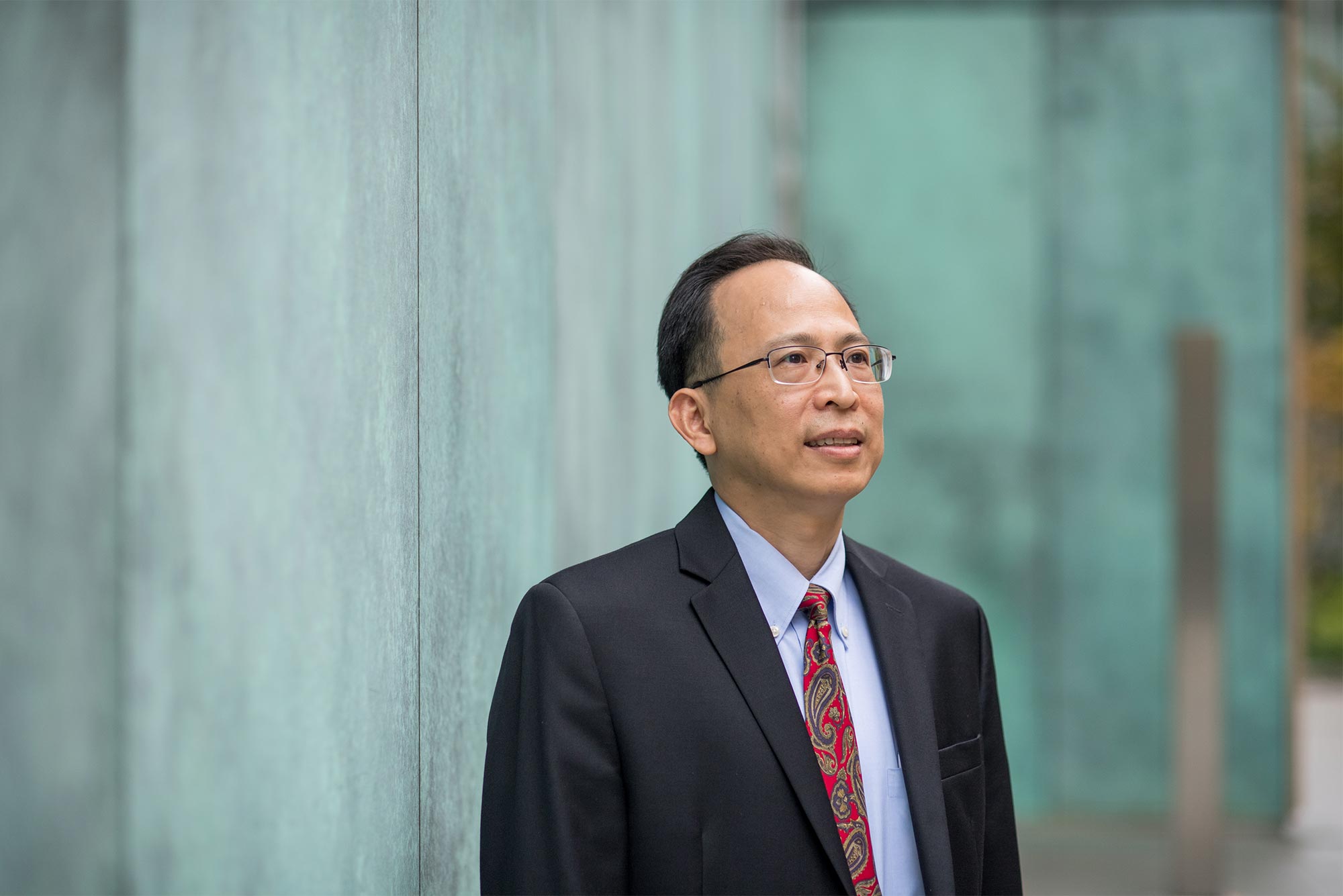 Translational Research
Weining Lu, Kidney Researcher, Named BU Innovator of the Year
His research and collaboration with Pfizer has led to the development of a potential new drug for chronic kidney disease
Serendipity, love, change. These are just some of the forces that brought Weining Lu first to Boston, and then to Boston University, where he and members of his lab collaborated with Pfizer to develop a potential new drug that could offer new hope to the hundreds of millions of people around the world struggling with chronic kidney disease.
"Academia and industry scientists working together—that's a completely different research model than being funded by the National Institutes of Health or a foundation grant," says Lu, BU School of Medicine associate professor of medicine.
Lu's hypothesis that a gene called ROBO2 could play a key role in moderating kidney function earned him an opportunity to collaborate with and receive funding from Pfizer's Centers for Therapeutic Innovation (CTI) in November 2012, the first BU faculty member to do so. Now, with a promising new compound borne from the research collaboration in phase 2 clinical trials, Lu has been named BU's Innovator of the Year, an award bestowed annually on a faculty member who "translates his/her world-class research into inventions and innovations that benefit humankind."
"Translating basic research into real-world products, especially in the medical domain, is exceptionally difficult and not an area that many of our faculty are engaged in," says Gloria Waters, BU vice president and associate provost for research. "It is very exciting to see one of our faculty members working to translate their basic research into a potential therapeutic that could have a tremendous impact on patients."
The novel drug candidate has made it through a phase 1 clinical trial and is currently in a phase 2 clinical trial.
"Dr. Lu's creativity and drive has made a [successful collaboration] with Pfizer that could serve as a blueprint for future [joint research programs] with biopharma," David Salant, BU School of Medicine vice-chair of research and professor of medicine, said in his letter nominating Lu for the award.
Chance and change
Lu's path toward becoming a BU faculty member and developing a promising new kidney disease drug was full of obstacles. Born in China, Lu says he's fortunate that China's Cultural Revolution ended by the time he was 10 years old. "Otherwise, [I] likely would have become a member of China's lost generation…people who forewent the opportunity to attend university as most of China's institutions of higher education were closed during the [revolution]."
At Zhejiang University, Lu earned a medical degree and then went on to complete his residency. "I had a good life over there," he says. Lu was working as a hospital clinician until he discovered that a Chinese regulation called "Hukou" would prevent him from living with his future wife, whom he had met at medical school. "Today it's better, people in China have much more freedom. But then, this household registration system was in place," Lu says. "It was difficult to move freely from one city to another."
Lu found himself at a crossroad. His brother, who had decided to move to the United States to pursue a new life, had immigrated to Boston, where he's the chief acupuncturist at Dana Farber Cancer Institute. Similarly, Lu and his wife thought, why not just go to Boston to start a new life, too?
And so they did. After moving to Boston, Lu was pursuing a PhD at Northeastern University when he was surprised one day to be invited to interview for a research position in the division of nephrology at Brigham and Women's Hospital. "I'd never applied for any position, though," Lu says. "My wife, who was planning to have our first child, had submitted the application for me. And that's how I got into kidney research."
The job change turned out to be a catalyst for his path to BU. "Serendipity is a fundamental part of scientific discovery," Lu says. After 10 years doing kidney and genetics-related research at Brigham, BU invited Lu to establish his own lab on the Boston University Medical Campus.
"In my lab, we study patients with genetic defects related to their kidney and urinary tracts," Lu says. In his research, he noticed something special about the gene ROBO2 as it relates to a kidney's filtering ability. The observation led to a research collaboration with Pfizer, focused on ROBO2 as a potential drug target. "ROBO2 is highly expressed in the developing kidney and urinary tract…. We thought that lacking this protein or gene would cause kidney and urinary defects at birth and also adult kidney disease, so we studied this for several years. But our initial hypothesis was wrong, which was okay. Instead, we found that if you block or delete ROBO2 after birth, it could potentially help kidney function."
Although he wanted to publish the results of his findings, Lu took a gamble and held off in order to protect any potential patent rights that could be jeopardized by public disclosure. Over the course of seven years working in collaboration with Pfizer, Lu says he's experienced many challenges. "There's a different culture between academia and industry…. The reward systems are completely different, and the habits and behaviors we have are different. In academia, to be promoted you need to stay funded and produce high-impact publications and grant funding."
In contrast, Pfizer says it's focused on developing a molecule that can ultimately be translated into a potential therapy.

"Deciding to take a chance on a non-traditional research route in collaboration with industry, which works at a different pace, plays by a different set of rules, and communicates progress in a different way…that's a really hard choice for an academic researcher to make," says Michael Pratt, BU managing director of technology development. "But it really accelerated the project. Lu took a risk and it paid off with the science."
"Weining was focused on birth defects of urinary tract and kidney, but he followed the data he was getting [in the lab]…. He said, 'I think I have a potential drug target for adults with kidney disease.' So he changed his way of thinking, which is what being innovative is all about," says Steve Berasi, a senior director at Pfizer CTI who's been working with Lu since he first proposed collaborating on ROBO2.
Lu says it helps to keep the end goal in mind. In the case of ROBO2, it could be a significant game changer for the 37 million people in the US and 850 million people worldwide with chronic kidney disease.
Says Lu: "I would say to persist and believe in your science."