Two-Time Olympian Jarred Rome, an Assistant Track and Field Coach, Dies Suddenly at 42
Obituaries
Jarred Rome, Olympian and Track & Field Assistant Coach, Dies at 42 
Colleagues and students remember him as passionate, kind, and funny
Terrier student-athletes say their track and field throwing coach Jarred Rome was a godsend. Rome, a two-time Olympian in the discus and a two-time USA national champion, came to the BU program last October as a part-time assistant coach, and was promoted to full-time assistant coach by the new head coach, Gabe Sanders, this August.

Rome was found dead Saturday morning at the age of 42 by friends in Tulalip, Wash., about an hour north of Seattle. The cause of death is not yet known, reports the Everett Herald, his hometown newspaper. He is survived by his wife, Pamela Spuehler Rome (CAS'08), a BU Athletic Hall of Fame inductee, his parents, and two sisters.
As the news of his death spread quickly on Monday—locally and among athletes and coaches across the country—Terrier coaches and students recalled Rome's spirit, how much they loved to work with him, and their excitement for the upcoming season.

"He really knew what he was talking about," says Bridget Bishop (Questrom'21). "He saw potential in us. When he saw our numbers at first, he admitted he thought, yikes. But after spending two days with us, he said, 'You have way more potential than the numbers show.' He was one of the few coaches I have had who saw more potential in me than I saw in myself."
"I can say with 100 percent certainty and confidence, Jarred Rome did not waste a single day or moment of his life," Sanders, director of track and field and cross country, tweeted Monday morning. He described Rome as "one of the most genuine, humble, caring, nurturing, and competitive people I have met and will ever meet in my life… He truly was a one-of-a-kind individual who is leaving a lasting legacy and I will always remember him as one of my future best friends and partners in the successful years/seasons to come. My thoughts are with his wife, Pam, and his family in these impossibly tough times."
Prior to BU, Rome was the associate head coach at Concordia University and director of the Concordia University Throw Center. His Instagram feed is filled with images from his time there, as well as videos of athletes—including many Terriers—he worked with, taking their throws at meets or practices with the discus or hammer. His last post, about a football game, was quickly populated with notes about his passing: "RIP to a great athlete, coach, mentor and all-around great guy," read one.

"We are truly stunned by the news of Jarred's passing, and it's painfully tough to put into words how much of an impact he had on our student-athletes in such a short period of time," says Drew Marrochello, BU's director of athletics. "It was obvious that he had found his calling in the coaching profession. Our thoughts are with Pam and the Rome and Spuehler families."

According to the US Track & Field Association, Rome didn't take throwing seriously until a knee injury sidelined him from football in high school. He went on to become a six-time All-American thrower at Boise State University by the time he graduated in 2000, and he was named to the Boise State University's Athletic Hall of Fame in 2007.

He quickly racked up accolades on the world stage, becoming the 2004 USA Olympic Trials Champion, and competing at the 2004 Olympic Games in Athens and the 2012 Olympic Games in London. He also represented the USA on four World Championship teams, finishing in the top three at the USA Championships nine times. He took home a silver medal in the discus at the 2011 Pan American Games, was the country's number one–ranked thrower in 2004, 2005, 2007, and 2011, and climbed to as high as the number-three world ranking in 2011.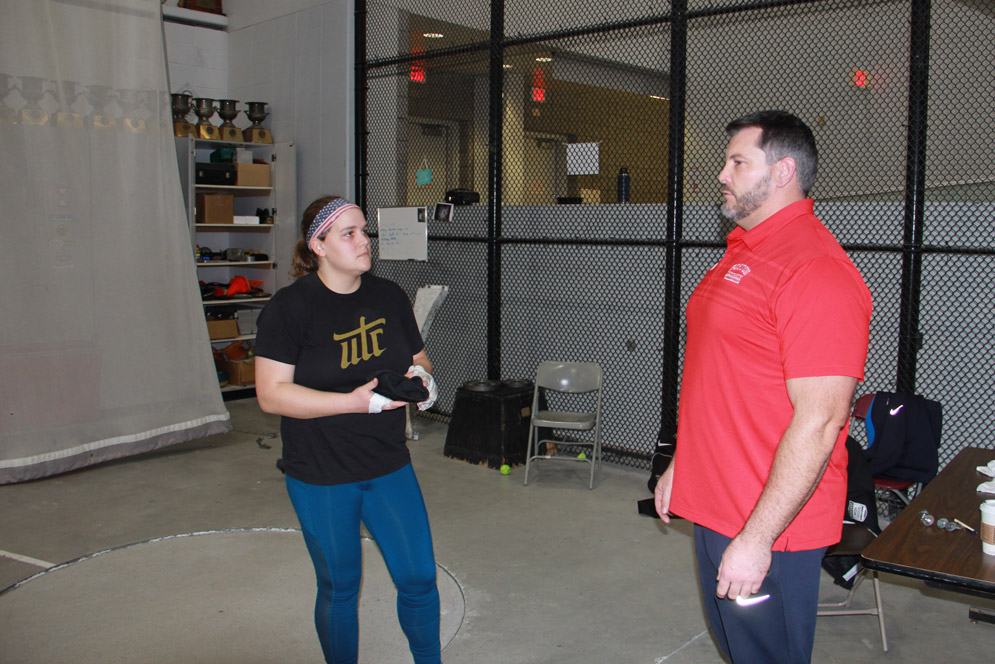 During the 2018-2019 season, his first with BU, Rome directly coached nine student-athletes to 23 personal-best throws during the indoor and outdoor seasons. In Rome's first meet as BU throws coach, Sarah Cicchetti (CAS'19) broke the BU weight throw record. She would go on to break her own school record three more times during the indoor season.

"He loved coaching and track and field," says Cicchetti. "You hope you find your passion in life, and I really think he found his. He was with us every step, because he had been there himself." She laughs as she recalls this "really big guy" eating tiny lunches of couscous and chicken. "He is leaving a lasting impact on the team."

Bishop recalls traveling with the team and Rome to meets, and how he would make them stop to do "super-cheesy touristy things," like visiting a lighthouse. "He would never eat at a chain restaurant," she says. "He had a nickname for everyone, and quoted old-school movies that no one else knew… He was only here for a year, but when you're spending four hours a day with someone, you get to know them."
Last Wednesday, Rome was inducted into the Snohomish County Hall of Fame in Washington state. In his acceptance speech, he recounted several family memories, like when he met his future wife, Spuehler, at the Olympic Training Center in Chula Vista, Calif.
He recalled going on 30 cruises with his parents and training at the same time. "I remember being on the [ship] promenade and would hold my workouts with my equipment, and I would be doing discus turns on the promenade of the cruise ship," he said in his speech. "The discus turn is quite aggressive and fast, and people don't really know what that is. So on the promenade of a cruise ship people are walking around and I'm taping a discus to my hand and doing turns. [My dad] helped with every turn, videoed me. They were on vacation, but there's no vacation from training."

He went on to thank coaches and teachers, closing with, "Every single person in your life—and that support—is there to mold you into the human being you are."