POV: What Trump Got Wrong, and Right, in His Speech about the Environment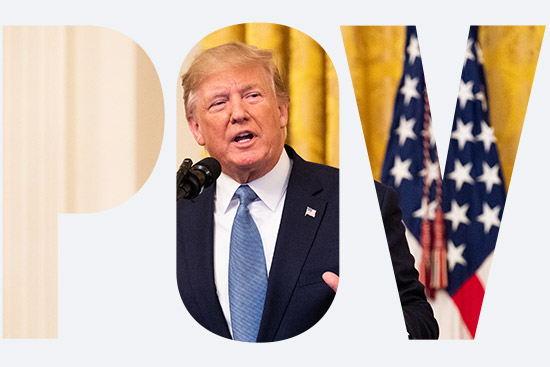 I think I liked it better when President Trump made the argument that we needed to loosen environmental regulations because of the economic damage they cause. Of course, it's not true—major environmental regulations have invariably been shown to have health and other benefits far greater than the costs, even in reports issued by the Trump administration. But the argument had the veneer of truthiness.
But in a speech to the nation on Monday, President Trump and members of his Cabinet made the case that the Trump administration has actually worked to strengthen environmental protections, in spite of ample evidence to the contrary. It cannot be a coincidence that this speech came one day after a poll showed that only 29 percent of Americans feel positively about President Trump's job performance related to climate change, including only 58 percent of Republicans and 27 percent of independents. Clearly, this includes many individuals who support the president's agenda, but disagree with his environmental policies.
The speech was rife with misstatements and tangential information—in this case, the gaslighting was actually about gas (and coal, and oil)—but I will leave fact-checking the president's speech to others. Instead, I would like to highlight two major omissions and one place where the president and I somewhat agree.
First, climate change was not discussed, other than when triumphantly touting our withdrawal from the Paris Accord. The topic of wildfires, known to be directly related to climate change, was mentioned briefly, but with an emphasis on forest raking rather than prevention of extreme weather events. The fact that more than three inches of rain fell in an hour that morning, leading to chaos throughout Washington and flooding in the basement of the White House, was just an ironic aside rather than further evidence of the urgency of climate action. Climate skepticism has dominated the Trump administration's environmental policies, and when action has been legally required, it has been minimal at best. For example, the Affordable Clean Energy rule, the proposed replacement for the Obama-era Clean Power Plan, could actually lead to an increase in emissions in many states. Yes, it is literally worse than doing nothing. Regardless of whether any of the successes touted by President Trump can actually be attributed to his policies, nothing in what he said (and nothing in what his administration has done) addressed the most significant environmental challenge of our times.
Another omission was any real discussion about the health of the public. There were vague references to well-being and lots of discussion about benefits for recreational fishermen and others who use the outdoors, but no direct discussion of any desire to make America healthy again. The Environmental Protection Agency has the mission to protect health, but that aspect of the mission was strangely absent from the speech. It is difficult to know why health was not central to a speech intended to boast about environmental progress. Perhaps emphasizing the health benefits of action would implicate the health disbenefits of inaction, including an estimated 80,000 deaths over a decade due to some of the administration's environmental rollbacks. Or perhaps the administration simply is not concerned with the health consequences of environmental policy. Regardless of the rationale, a speech on stronger environmental protections should not be silent on how the policies have advanced the health of the public, unless those advancements did not happen.
I do agree with one thing that the president and multiple members of his Cabinet said, though I think they interpret their statements far differently than I do. Multiple presenters emphasized that it is a false choice between a strong economy or energy sector and a healthy environment, and that we do not need to sacrifice our jobs to protect the environment. This is a true statement—all evidence indicates that environmental regulation does not have adverse economic impacts and that some policies can even save money and create jobs. However, what President Trump and other speakers were really saying was that we could aggressively expand energy production and fossil fuel use without any real environmental damage. Especially given the need for aggressive action on climate change, and given the air quality and other consequences of fossil fuel combustion, this is simply not true.
The environmental community can take some solace in the fact that the president felt the need to construct a narrative to explain his pro-environment activities, since it is an indication of how popular environmental protection is. Perhaps the next step is actually protecting the environment.

"POV" is an opinion page that provides timely commentaries from students, faculty, and staff on a variety of issues: on-campus, local, state, national, or international. Anyone interested in submitting a piece, which should be about 700 words long, should contact Rich Barlow at barlowr@bu.edu. BU Today reserves the right to reject or edit submissions. The views expressed are solely those of the author and are not intended to represent the views of Boston University.