This Immigrant Story Is a Rhyming Monologue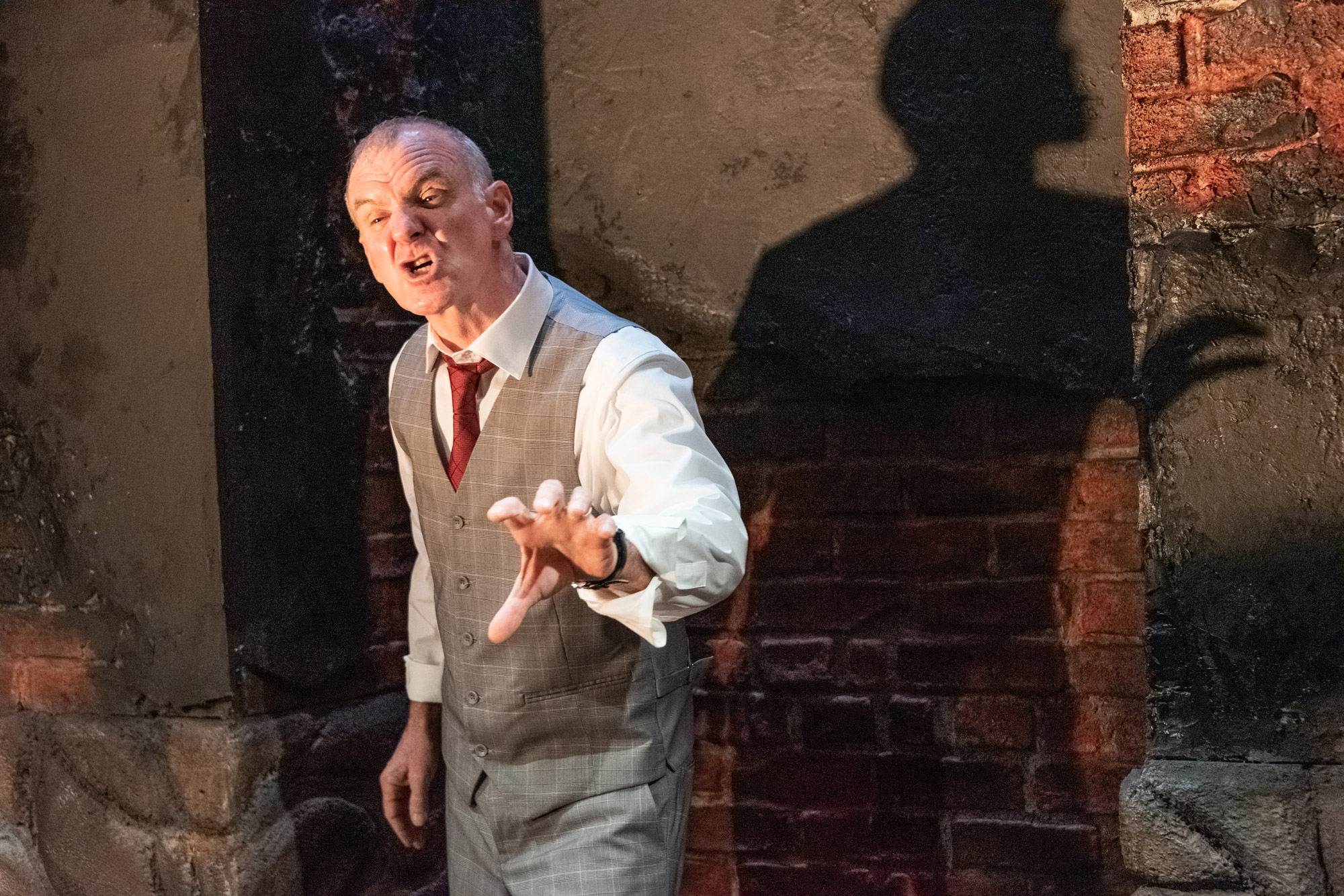 Theatre
This Immigrant Story Is a Rhyming Monologue
Playwright and alum Ronán Noone's The Smuggler now on stage at Boston Playwrights' Theatre 
Ronán Noone's plays delve into the lives of the Irish and the Irish immigrant experience, familiar turf for the playwright from Galway. But in his new play, The Smuggler, the immigrants have come from countries all over the world to work menial jobs on an island off the Massachusetts coast, where cultural conflicts and criminal profits set up a plot straight out of film noir.

The real surprise, though, is the form Noone (GRS'01) has chosen to tell the story: a rhyming, 9,000-word monologue. With its profanity, dark humor, and outbursts of violence, it's basically a 70-minute rap, albeit delivered with a Dublin drawl.
"I'm not going to attack the page unless it's a challenge to myself," says Noone, a College of Arts & Sciences adjunct assistant professor in the MFA in Playwriting Program, which he also graduated from.

The Smuggler, which opens today, November 7, at Boston Playwrights' Theatre (BPT), tells the story of Tim Finnegan, an Irish immigrant and wannabe writer living on fictional Amity Island (remember Jaws?), off the New England coast, who finds himself out of work and needing to make some fast money to keep his marriage and family together. A car crash between a drunken local and a Guatemalan immigrant worker has aroused nativist passions on the island, and Tim discovers there's a thriving business bringing undocumented immigrants to Amity. When he makes a bad decision, the fallout comes complete with rats, both real and metaphorical.

Noone had stepped away from playwriting after a grueling period that included a Huntington Theatre Company production of his The Second Girl, directed by Campbell Scott, and Scenes from an Adultery at New Rep, both staged in 2015. The Smuggler, which has its roots in an unsold TV pilot script, won Best Playwright Award at Origin's 1st Irish Theatre Festival in New York earlier this year, and is already onstage in a site-specific production by the Solas Nua company at a hotel bar in Washington, D.C.

For the BPT production, Billy Meleady, a familiar face on Boston stages, plays Tim, with Noone directing. BU Today spoke with the playwright-director about his latest work and how he came up with the idea of creating a rhyming monologue.

BU Today: With a few changes, this play's lead character could be a lot of other ethnicities. It feels particularly well-timed, given the current tensions over immigration and immigrant-labor issues in America.

Noone: You can't use the word prescient for this play, in terms of what's going on in the world, because it's been going on for so long and it's not just in this country. We politicize it, yet no solutions seem to be brought to the table, and that is so disappointing. It's quite devastating in many other countries as well, the smuggling operations and the consequences, like the terrible news recently of the 39 immigrants found dead in a tractor-trailer in England, in an apparent human trafficking case. When you pick up that apple in Whole Foods, where do you think it came from?

But when you started writing The Smuggler, Tim wasn't even an immigrant?

When it first came to me, I wasn't thinking of any of that. It was about telling a story. I had written it as a TV pilot, and so it was an American story. But, not one to waste a plot, I decided to turn it into a play, and then it became a one-person play. About 75 percent in, there was no rhyme, and I had to start back at the beginning and rhyme it out. It started as an American character first, but I just couldn't get the lines to pop the same way without that lilt. I went through many accents before I found the one that made the lines pop best. Then I went to Galway accents and Cork accents and Belfast, and I settled on the Dublin accent. I got a drawl there—not a slow drawl, but just one that made the rhymes pop for me.

Making him an immigrant increases the dramatic stakes, too.

Yes, because he tries to use that in terms of justifying his actions.

You know his world as an immigrant yourself.

I'd worked on Martha's Vineyard for a time and worked with many of the undocumented. I was tending bar and rolling brushes against the wall. The people who were washing the dishes and climbing ladders, their culture came with them, particularly the food. I remember you'd buy the food out of the kitchen of some woman's house, and she's selling rice and beans. I came in 1994, and this ran all the way up until 2001, and even then I'd go back intermittently and do jobs for a friend of mine, painting or whatever.

You come out of school as a writer and you're ready to take on the world and explore theater and tell tales, and you're working for 18 bucks an hour with painter's pants on, banging away with a pile of guys and women who are busting their asses just like you are, but probably don't have papers. And you look around and your ego's thinking, what was the point of getting that degree? But you realize later that these are the stories that actually make you into a writer.

The inspiration for the story isn't hard to understand then, but could you talk some more about your choice of form?

When it started rhyming I thought, well, this is interesting. The spectacle of theater in itself often demands something beyond just the story itself. The idea of putting one person up there to try to rhyme 9,000 words—word-perfect to the core—is a kind of Olympian event in itself. Then it became attractive in itself. It became about the challenge, as a writer, to tell a story a different way with the skills you have and see if you can make it work.

So was there a moment of inspiration when you thought, aha! I'll make it rhyme?

I had decided there's no way I'm doing plays anymore. I had gone through The Second Girl and then Scenes from an Adultery and I was feeling, oh my god, why would anyone put themselves through this, putting on plays. And I stepped away for about a year, and then this piece was tumbling through me, and I thought, huh, just because I'm not putting on plays doesn't mean I can't write. So I go to the table with a kind of sense that I'm doing it for myself. And in doing it for myself, I'm enjoying the process of telling a story again. The piece starts tumbling around in you and you think, huh, maybe this would be interesting.

Was there one scene or line when it started rhyming in your head?

I don't remember, but one day it just did. It's quite possible there's some cause and effect. At three-quarters of the way through, you wonder, how the hell am I going to finish this? And you start delaying tactics. And somewhere in the delaying you start doodling, and hmmm, that's an interesting pop.

It's not rap, exactly. It's not iambic pentameter, either. It's somewhere in between.

There's a tradition, too. The Irish storyteller in a pub obviously is a tradition. That lilt. Trying. To Make. Every. Word. Sound. Like the Most. Important. Word. In the World. Also I love a cheap rhyme. If you can pull off a cheap rhyme and sort of nod to the audience at the same time, there's a piece of spectacle in that too. You're not trying to write The Iliad here, but you're saying to yourself, how can I have fun with this and enjoy the process of writing again?

This interview has been edited and condensed for clarity.
The Smuggler, written and directed by Ronán Noone (GRS'01), is on stage at Boston Playwrights' Theatre, 949 Comm Ave, through November 24. Performances are Thursdays at 7:30 pm, Fridays and Saturdays at 8 pm, and Sundays at 2 pm. Tickets: adults, $35; BU faculty and staff, $20; seniors (62+), $25; students with valid ID, $10. Purchase tickets online here or by calling the box office at 866-811-4111.