The Best Tacos in Boston? On Campus at Taqueria el Barrio
Food
The Best Tacos in Boston? On Campus at Taqueria el Barrio
The spot: Taqueria el Barrio, 1022 Commonwealth Ave.

The scene: This new counter-service Mexican eatery in West Campus is in the former home of UBurger. Fans of the burger joint will recognize the same front-of-house assembly-line kitchen and similar seating layout, but the new restaurant has been jazzed up with wane edge reclaimed wood countertops, tables featuring colorful talavera tiles, and a prominent decorative calavera (skull) on the back wall. With only a few small tables at the back and some standing space at the counters, the place gets packed at lunch.

Why you should go: Let's face it: it's no easy feat finding a taco around Boston that's both delicious and inexpensive. At many local places, you can fork over $8 just for one. But now there's Taqueria el Barrio, which offers tasty, affordable tacos and more, and right in West Campus to boot. The place is co-owned by Boston restaurant veterans Servio García, co-owner of Bergamot and Bisq, and Bisq chef Alex Saenz. Luis Figueroa, Taqueria el Barrio's executive chef, oversees a small menu of no-frills tacos, quesadillas, tortas (Mexican sandwiches), and Mexican plates (your choice of protein served with beans, tortillas, and guacamole). Protein options run the gamut from asada (grilled steak) and al pastor (marinated pork) to pescado (fried fish) and a surprisingly flavorful vegan chorizo. There are also weekend specials: tacos de lengua (beef tongue tacos); tacos de birria, with a filling of goat stew; and bichi, a soup made from the juices of the goat stew, with onion and cilantro.

What you should get: Tacos ($3.99 each) come in your choice of flour tortillas or soft or crunchy corn tortillas. The corn tortillas are made locally and the flour tortillas are made in house. We recommend the soft corn tortillas for tacos and the flour tortillas for quesadillas. All tacos, save for the pescado taco, are generously topped with onions, cilantro, and guacamole, and you can pick from among the homemade salsas in the salsa bar (try the salsa macha, made with dried chiles and sesame seeds, which impart an interesting, nutty flavor). The must-try fillings include the asada, vegan chorizo, and pescado. The pescado taco is delicious: the fish is fried in a light, airy batter and is heaped with pico de gallo, cabbage, and chipotle mayo. Two tacos make for a filling lunch.

Quesadillas ($6.50) are made with flour tortillas filled with just the right amount of cheese—it oozes out ever so slightly and crisps up at the edges— and topped with cilantro, guacamole, and onions. We ordered the al pastor quesadilla, which may be the best item on the menu. The marinated pork was tender and juicy and had a nice pineapple acidity that played well off of the cheese and creamy guacamole.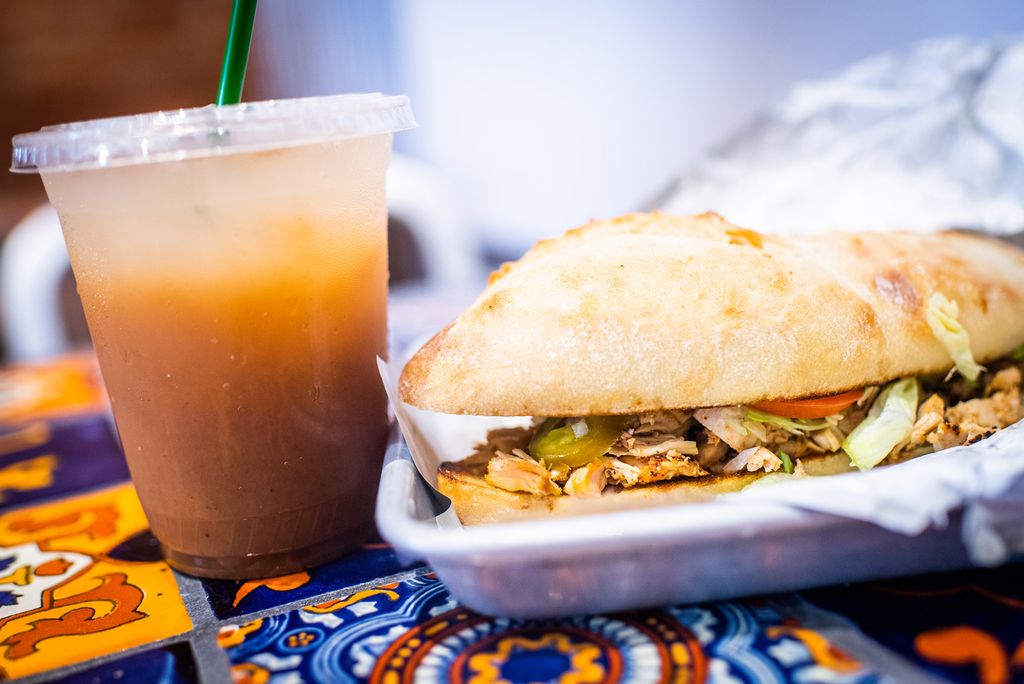 The tortas ($9.50) are also worth trying. So often, the sandwich bread at restaurants seems like an afterthought, with more attention given to what is inside the bread. Here, the tortas are served on bolillo bread, a sort of Mexican baguette that more than holds its own with the fillings. Crusty on the outside, fluffy on the inside, it's ideal for the pollo torta we ordered, which was filled with moist grilled chicken, lettuce, tomato, onion, cheese, jalapeño, and a drizzle of chipotle mayo.

Taqueria el Barrio also offers a number of interesting beverages, like the Mexican soda Jarritos ($3.25) in multiple flavors, and homemade agua frescas—choose from horchata, jamaica (hibiscus), tamarind, or a rotating seasonal flavor. We had the tamarind agua fresca ($4), and it was an excellent sweet-and-sour accompaniment to the spicy salsas we sampled.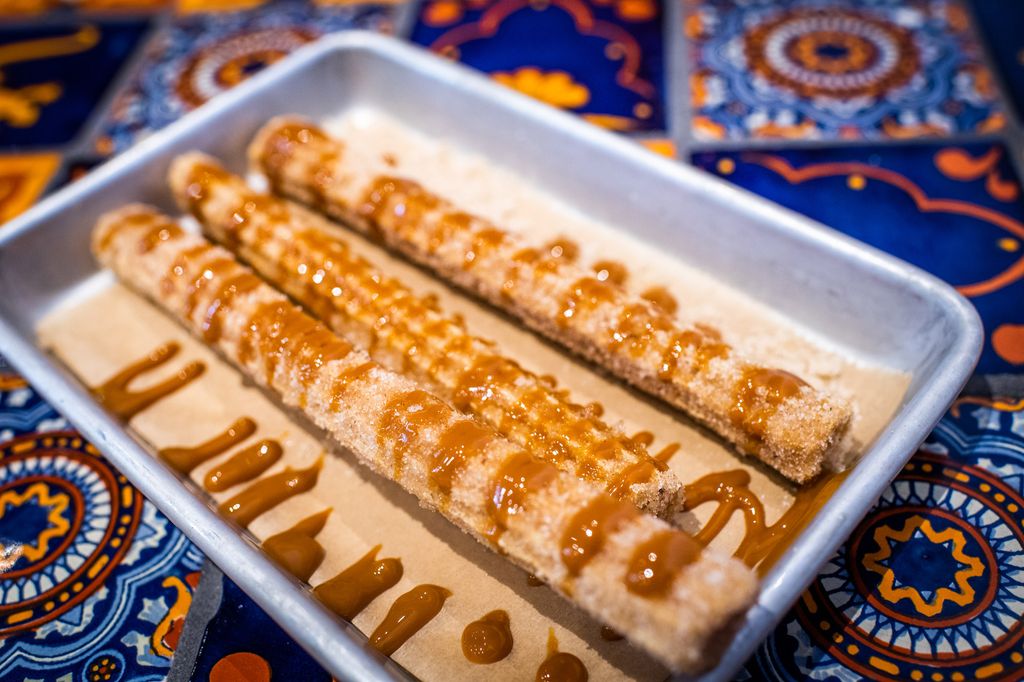 Last, be sure to save some room for dessert. Churros ($4.50), a mouthwatering fried-dough pastry, come three to an order and are served plain or with your choice of dulce de leche, sweetened condensed milk, or Nutella at no extra charge. We suggest the dulce de leche. It's a nice sweet and salty addition to the delightfully crisped cinnamon- and sugar-dusted churro. These aren't the dried-out churros you might get at a fair. Freshly fried to order, they're soft and almost custardy on the inside.