Terrier Rowers Head to West Coast for IRA National Championship Regatta
Men's, women's lightweight teams compete on California's Lake Natoma this weekend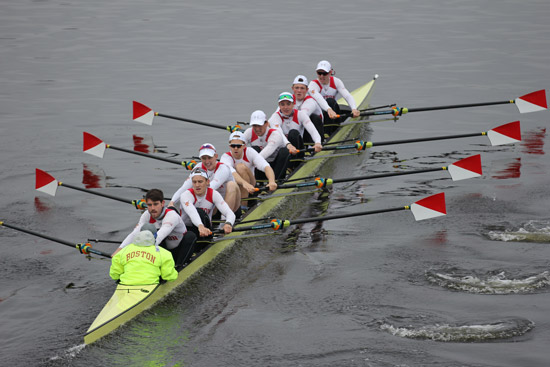 The Boston University men's rowing and women's lightweight rowing teams close out their season this weekend with an all-out effort to medal in the Intercollegiate Rowing Association National Championship Regatta. This year's regatta is being held on Lake Natoma in Gold River, Calif. At last year's regatta, on Mercer Lake in New Jersey, the men finished eighth as a team competing against the top rowing programs in the country. The women's lightweights are hoping to build on last year's silver in the varsity eight grand final, when they finished just behind Stanford University before bad weather forced cancellation of most of the last day's races. It was the third consecutive season the women were runner-up to Stanford, and they're out to change that this weekend.
Men's rowing
The men's rowing team kicks things off on Friday morning when the eighth-ranked varsity eight boat competes in a heat against top-seeded Yale, Syracuse, Penn, Wisconsin, and Santa Clara. A total of four BU boats will compete against 24 schools at the three-day regatta. BU rowers know they'll face some stiff competition from perennial powerhouses such as No. 1 Yale, No. 2 Washington, and No. 3 Santa Clara.
"Obviously we will try to put all our boats into the finals and finish in as high a place as we can," says men's head coach Thomas Bohrer.
The men's team entered their postseason with some momentum. They beat No. 11 Dartmouth in duel racing on April 20, and defeated No. 9 Syracuse and No. 15 Columbia on April 27. At the Eastern Sprints on May 19, the Terriers V8 boat advanced to the grand final where they finished sixth, racing against the top boats in the East.
While they did not medal at Eastern Sprints, Bohrer remains confident about their prospects this weekend. "If we execute our race plan and race like we can, then we feel confident," says the two-time Olympic silver medalist.
With his rise to prominence—from a walk-on to a member of the varsity eight boat—Grant Eberst (Sargent'19) has provided an inspirational backstory for a team looking to beat a series of national powerhouses this weekend.
"Grant went up to the varsity last year. He had high school experience, but wasn't the kind of guy we tried out for the team. But he's a good athlete and when he became a student here he worked hard over the summer and rowed well, so he moved around from boat to boat," Bohrer says. "I think he has good technical ability and can jump into any boat. He's a great guy and helps people relax in the boat."
A live stream of Friday's heat races is available here.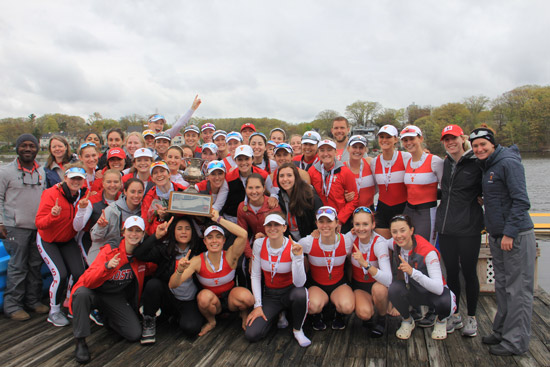 Women's lightweight rowing
The third-ranked women's lightweight rowing team finished last season as national runner-up at the IRA National Championship Regatta for the third consecutive year, just behind perennial powerhouse Stanford. After three years of finishing just behind their archrival, the Terriers are hoping to win the program's first national championship. BU, which is sending three boats to compete for a national title in a field of seven schools, is fresh off first-place finishes at the Eastern Sprints on May 5 and three gold medal wins at the Dad Vail Regatta on May 11.
BU sits behind Princeton and Stanford in the USRowing polls heading into the tournament and will race against both teams on Saturday and Sunday.
"We feel good. It's been a pretty long, challenging year, but we've been able to progress, as any good team can and should," says women's lightweight head coach Malcolm Doldron. "We've hit our markers for our training, and have been able to improve each week, so we feel good about how we've been approaching the season and how we've finished the last few championship races. So we're in a good spot, and we're getting rested."
Doldron says his goal is to prepare his rowers for their best possible race and not focus too much on other teams. "We don't worry about the other competition, we recognize these are good crews and Stanford is a dynasty, but everyone still has to line up and put out their best possible 2K, so we are going to train and prepare for that."
The team will be relying on Janice Hagerman (CAS'19), who is up for her fourth All-American designation. She would be the first Terrier in program history to achieve that distinction. Doldron says her leadership has been invaluable. "She's just an incredibly strong and talented rower and a fantastic leader and an awesome young woman. I think everyone is comforted knowing that she's in our boat and not someone else's. She brings a level of intensity to the team that's indicative of the work she's put in. The only thing she wants is for her teammates to challenge themselves and each other. She knows, and they know, it's not about her, it's about the team, and she puts the team first in everything she does. That's a quality of a great leader."
Hagerman is undaunted by tough challengers like Stanford. "I think that Stanford provides us with the motivation to do our best every day because we're going up against the best team in the country," she says, "but it doesn't deter us from our preparation. It's more a source of motivation than a source of anxiety…everyone's really excited to race."
A live stream of the women's lightweight races Saturday and Sunday is available here.
The 2019 IRA National Championship Regatta begins today, Friday, May 31, and concludes with the grand finals on Sunday, June 2. All races are being held on Lake Natoma in Gold River, California. Find more information about the regatta here.
Sophomore Rusty Gorelick (COM) can be reached at rustyg@bu.edu.