Six Incoming Terriers Picked in 2019 NHL Draft, Including the Ninth Overall
Ice Hockey
Six Incoming Terriers Picked in 2019 NHL Draft, Including the Ninth Overall
Impressive feat for arriving BU freshmen expected to help men's hockey program improve on last year's record
Boston University hockey fans had good reason to pay close attention to this year's NHL Entry Draft. Six incoming Terrier freshmen were drafted, tying BU with the University of Minnesota and the University of North Dakota for the most players taken in the 2019 draft.

The Hockey News ranked all 6 future Terriers in its top-120 prospect rankings ahead of the draft, a signal that they appear ready to help the Terriers improve upon their 2018-19 season, which ended with a 16-18-4 record.
"Our coaching staff is really looking forward to seeing what this incoming group can accomplish at BU," head coach Albie O'Connell (CAS'99) says. "In terms of talent and character, these young men have a lot of both, and we will be proud to have them represent our team and University. I think they will fit in perfectly with our returning players, and there is a lot of excitement for the upcoming season here at Agganis Arena."
Trevor Zegras, a center from the USA National Team Development Program (NTDP), was the first future Terrier off the board in the draft and the only BU player picked in the first round, going ninth to the Anaheim Ducks. The Chicago Blackhawks chose defenseman Alex Vlasic with the 43rd overall pick, and the Detroit Red Wings doubled down on Terrier prospects, taking left winger Robert Mastrosimone 55th and defenseman Ethan Phillips 97th. The Carolina Hurricanes chose Domenick Fensore with the 90th choice, and defenseman Case McCarthy was picked by the New Jersey Devils with the 118th overall selection.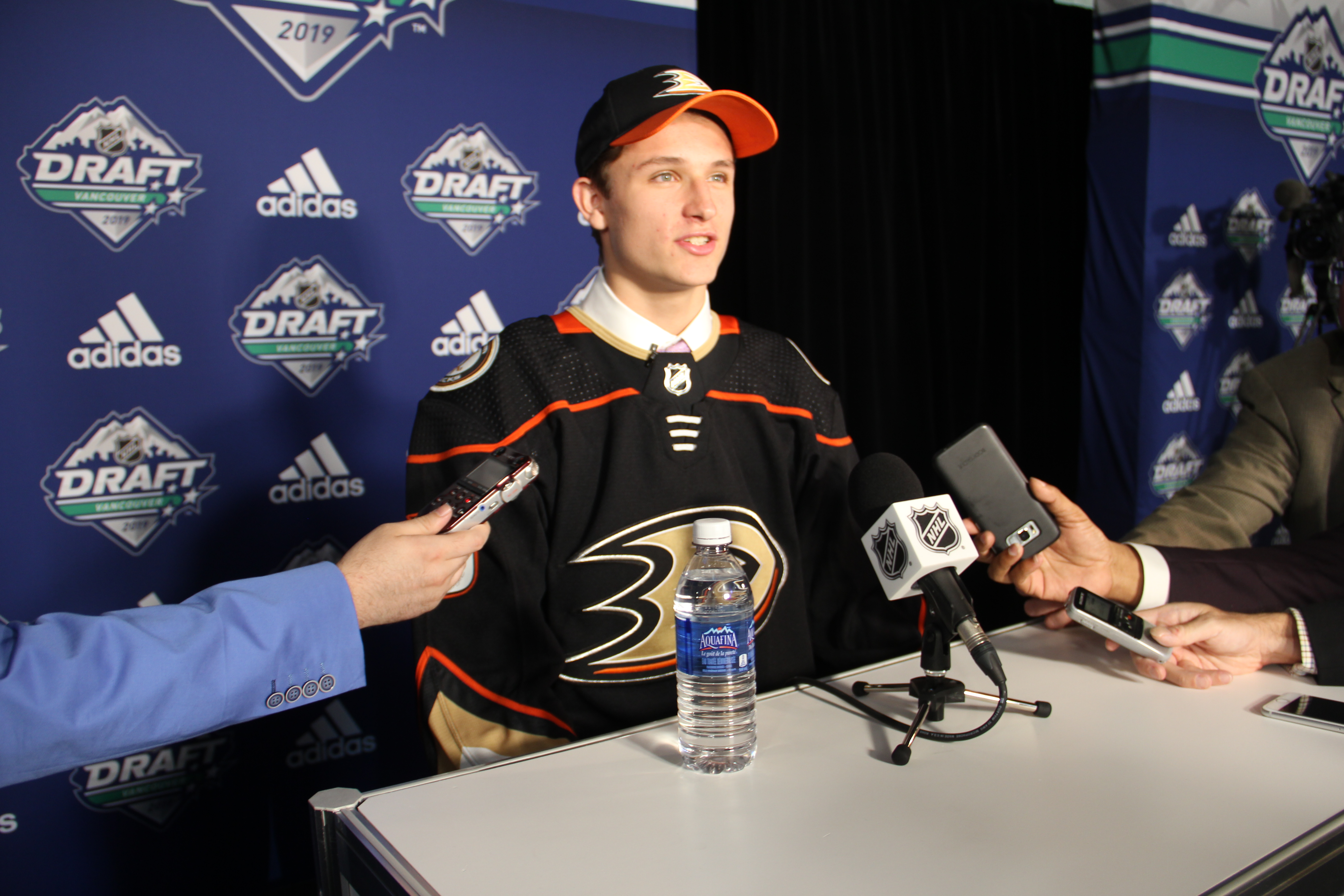 Trevor Zegras
Anaheim Ducks, first round, ninth-overall pick
Zegras, the blue chip of O'Connell's 2019 recruiting class, pitched in 26 goals and 61 assists for the NTDP, which competes in the United States Hockey League (USHL) and in international tournaments. O'Connell sees the left-handed forward as someone who can play across the front line and whose passing ability can help make his teammates better. "I'm going to Boston University next year, so that should be really cool. And a bunch of my teammates I'm going there with are here [at the draft] and I got to grab lunch with them, so it's a really exciting time," Zegras told reporters after he was drafted.
Alex Vlasic
Chicago Blackhawks, second round, 43rd-overall pick
One of those future teammates, 6-foot-6 defenseman Alex Vlasic, also played on the NTDP team, contributing 4 goals and 23 assists last season. "I fell in love with the East Coast lifestyle," Vlasic says about choosing BU. "I think moving out east would be something pretty cool, or different for me at least. I talked to the coaching staff and loved all those guys and it's just a great program, so I decided it was a good fit for me." He also says he anticipates playing two years at BU before heading back to his home state to try and play his way onto the Blackhawks' roster. He's considered a good skater, with smart defensive instincts, who can provide some offense as well, O'Connell notes.

Robert Mastrosimone
Detroit Red Wings, second round, 54th-overall pick
Mastrosimone, ranked 55th in the Hockey News predraft prospect rankings, comes off a prolific year with the Chicago Steel of the USHL, where he finished second on the team in points, with 60 (31 goals, 29 assists). The NHL website calls him one of the most underrated prospects in the draft in its recap of day five of the NHL Scouting Combine. The East Islip, N.Y., native can play across the front line, and his new coach touts his offensive ability.
"BU's an awesome school, an awesome hockey program, and I'm so excited to get in there," Mastrosimone says.

Domenick Fensore
Carolina Hurricanes, third round, 90th-overall pick
Drafted by the Carolina Hurricanes in the third round, Domenick Fensore put up impressive numbers with the NTDP and should contribute to the Terrier defense as soon as he suits up in scarlet and white. He contributed 6 goals and 36 assists, and Hockey News ranked him 83rd of the predraft top-120 prospects. O'Connell anticipates that the defenseman's skating ability and stickwork will make him one of the most exciting newcomers to BU's hockey program.
Ethan Phillips
Detroit Red Wings, fourth round, 97th-overall pick
Mastrosimone's future BU and Red Wings teammate Ethan Phillips was the other BU draftee who did not play for the NTDP, but he helped his USHL team, the Sioux Falls Stampede, to the league championship. The right winger had 43 points in 50 regular season games and 5 five points in 6 six playoff games. The Red Wings selected Phillips with the 97th-overall pick. O'Connell says Phillips will give the team a threat on the right side while also providing offensive versatility and a great competitive nature.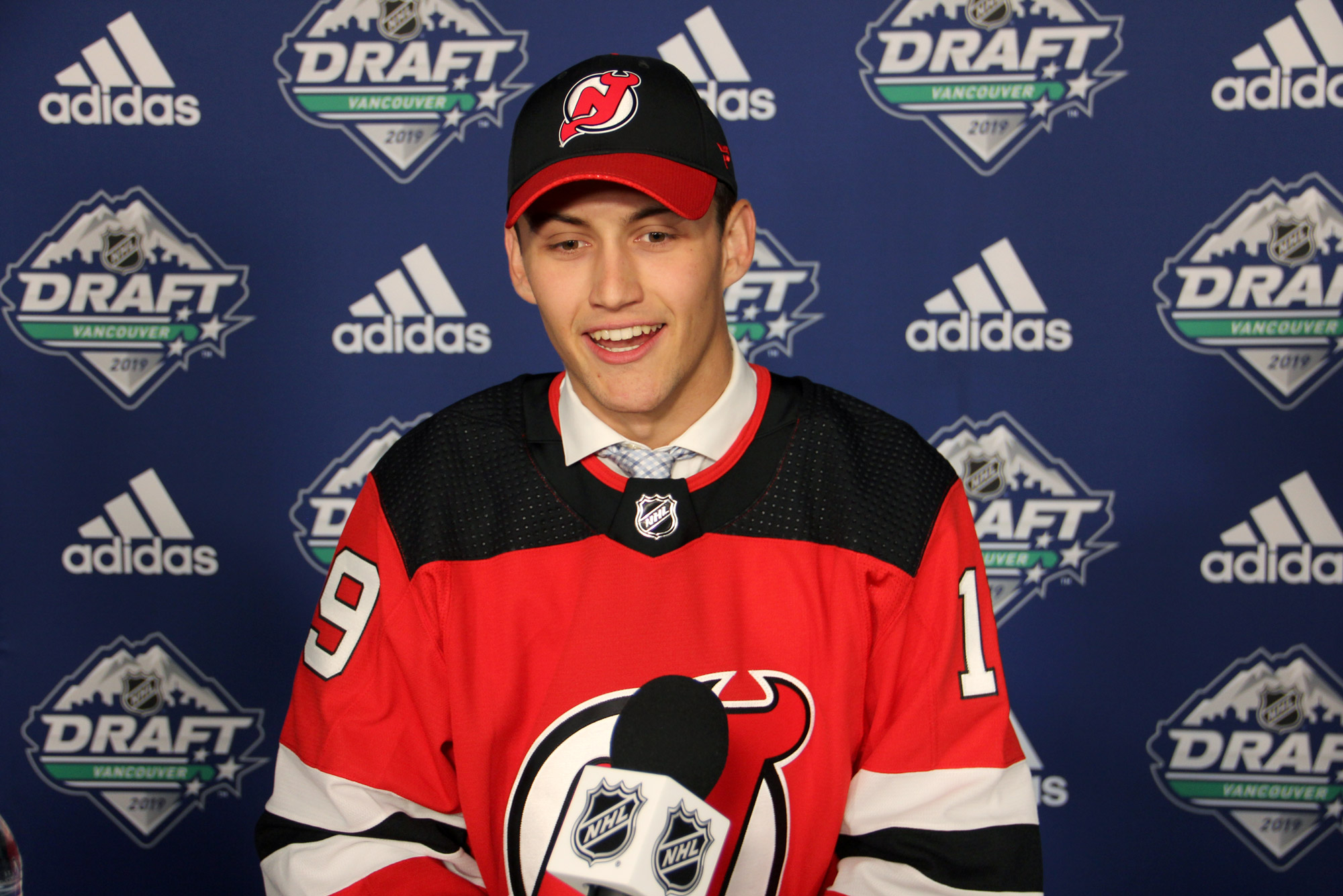 Case McCarthy
New Jersey Devils, fourth round, 118th-overall pick
Case McCarthy had 5 goals and 24 assists this past season with the NTDP. He has a reputation as a well-rounded defenseman, excelling when it comes to physical play and leadership. He also can snipe a well-placed shot, making him a threat going forward.
The Terriers played against several of their future teammates in a game against the NTDP last October, winning 5-4 in overtime. Vlasic scored a goal while Zegras notched a hat trick of assists against a talented BU team. McCarthy started the game for the NTDP.
The Terrier men's hockey team is eagerly awaiting the new talent, after losing a big crop of players at the end of this past season: goaltender Jake Oettinger went to the Dallas Stars, Hockey East Rookie of the Year Joel Farabee to the Philadelphia Flyers, Chad Krys to the Chicago Blackhawks, Dante Fabbro to the Nashville Predators, and Shane Bowers to the Colorado Avalanche. Captain Bobo Carpenter (CGS'17, COM'19) graduated and signed with the New York Islanders.

That means the Terriers have lost two defenders, three forwards, and their starting goaltender. O'Connell does not have an NHL-drafted goalie in this recruiting class or on the roster from last year, but the team managed to bring in graduate transfer Sam Tucker (MET) from Yale. He and sophomore Vinnie Purpura (CAS) are the favorites to take over for Oettinger.

With Zegras picked ninth in this year's draft, BU is now tied for second with Boston College for having the most first-round picks in NHL Draft history. BU also leads the NCAA in top-five picks, with five all-time, three more than the next highest programs.