Safdie Brothers Sparkle with Award-Winning Uncut Gems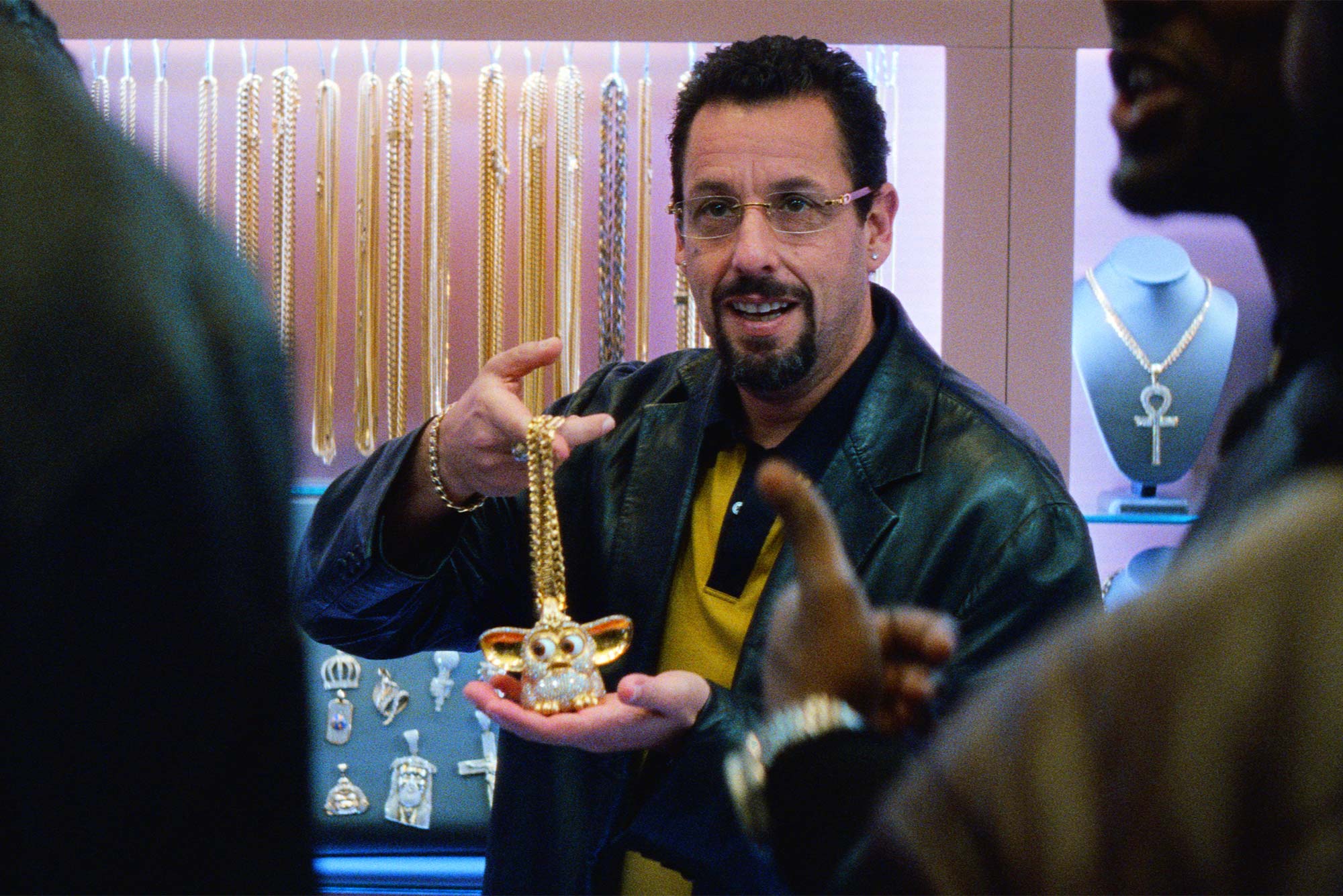 TV & Film
Safdie Brothers Sparkle with Award-Winning Uncut Gems
COM grads move into the mainstream with film starring Adam Sandler
Uncut Gems begins with one of the more unexpected transitions in cinematic history. The camera examines a rare uncut black opal dug up in an Ethiopian mine, then dives into the stone for a psychedelic exploration of its spellbinding colors and facets…before somehow winding up in Adam Sandler's colon.

While a colonoscopy joke or two might be expected in a typical Sandler film, Uncut Gems, a new film by brothers Josh Safdie (COM'07) and Benny Safdie (COM'08) opening nationwide on Christmas Eve, is something very different. It's a fast-paced, grittily realistic tale of a few days in the life of Howard Ratner (Sandler), a wheeler-dealer from New York's Diamond District who is in over his head with gambling debts and attempting, unsuccessfully, to please both his mistress and his wife and family. The aforementioned opal, which is supposed to get him out of trouble, just keeps getting him in deeper, especially when Boston Celtic Kevin Garnett takes a shine to it—and Howard starts betting big on the Celts. (The film is set in 2012, when the now-retired Garnett was still leading the team.)

Howard is in nearly every moment of the film, but he's a different kind of protagonist. Nearly every other character tells him in one way or another, "You're the most annoying person I've ever met."

His troubles, and his flailing against them, are funny—until they're not. Martin Scorsese is an executive producer on the film, and at times we're not that far from Mean Streets, as Sandler-as-Howard stalks the Manhattan sidewalks in his leather car coat, a Gucci- and Cartier-clad grifter lying and pleading and cursing into his phone, tailed by a couple of grim-faced mob leg-breakers.

"We've been working on this movie for over 10 years. Longer, if you include the attention we paid to our father's great stories when we were kids," Josh Safdie (the bearded one) said last week, as the Safdies, Sandler, and Garnett screened Uncut Gems for invited audiences at the new ArcLight Cinemas on Causeway Street in Boston.

1st public screening of 💎 Uncut Gems 💎 It's all going down. pic.twitter.com/yCM5hiKdie

— SAFDIE (@JOSH_BENNY) December 9, 2019
The Safdies' father worked in the Diamond District for a guy named Howard for a number of years when they were boys. The real-life Howard "was just a dreamer who took in a bunch of ragtag people and gave them jobs," Josh said, and while his story is nothing like the one in Uncut Gems, "the movie wouldn't have existed without him."

Josh then jokingly showed the large crowd a picture on his phone of Benny and their father and the real Howard. "If I zoom in, does that help?" he said to laughter.

The Safdies directed the film together and cowrote it with their usual partner, Ronald Bronstein, and Benny and Bronstein edited it. "This movie also wouldn't have existed without our early relationship with this person," Josh said, bringing out Sandler. "We grew up idolizing him and loving his comedy records so much."

Despite the fact that it has yet to open, the film is already garnering awards for the COM alums. The New York Film Critics Circle just gave the Safdies its best director award, and the National Board of Review awarded them and Bronstein best original screenplay and named Sandler best actor. And Hollywood news site The Wrap reported that the movie pulled in $105,000 per screen in a limited opening at five theaters over the weekend, a record for a Studio A24 release. The Safdies even rated a New Yorker profile.

"Right now, it's a bit manic," Josh Safdie says later, in an interview with BU Today.
"Head down, move forward," says Benny.
"It's do whatever you have to do to honor the 10 years of work you've put into the film," says Josh. "It's exciting to see it connect with audiences, because everything we've made since the beginning of time, we've always believed it would connect with audiences, and when it doesn't, it just makes you feel a little bit more lonely."
"I'll tell you this," Benny says, "it's not going to our heads in any way, because we still walk into the theater expecting to see two people there for the Q&A."
"And you want to know something demented about us?" adds Josh. "We'll do an hour-long Q&A for two people."
Confluence of cultures: Jewish, black, hip-hop, athletes…
Sandler's performance is generating serious mention for major awards, including a possible best actor Oscar nomination. The role is a major departure from the former Saturday Night Live cast member's usual amiable comedies (Happy Gilmore, Grown Ups) and more in line with the challenging work he did in Punch-Drunk Love. Sandler researched the role by talking to people with gambling addictions, but he noted at the ArcLight showing that he was always a crazed sports fan.
"We knew he was the only person who could make this movie work," Benny says. "You can see from his comedies that he has this insane ability to take these absurd situations and make them feel entirely real. You really root for him, because you feel what's happening on the screen is really happening to his character. He brought that with him, he has that emotional bank with viewers. He says it a lot: Howard may do bad things, but he's not a bad person, and that is key. And he gave us so much time, months of preparation." Including a night where they brought him to a saloon full of Diamond District characters on both sides of the law and had him spend the evening there as Howard.
Besides Sandler as Howard, Tony-Award winner and Frozen star Idina Menzel plays Howard's wife, Judd Hirsch his father-in-law, and Eric Bogosian his brother-in-law and loan shark. The fast-rising Lakeith Stanfield plays a more laid-back African American jewelry-biz hustler who introduces Howard to Garnett, and Julia Fox makes a name for herself with her sassy performance as Howard's mistress. And though not big stars, Keith Williams Richards and Tommy Kominik are a particularly terrifying pair of leg-breakers.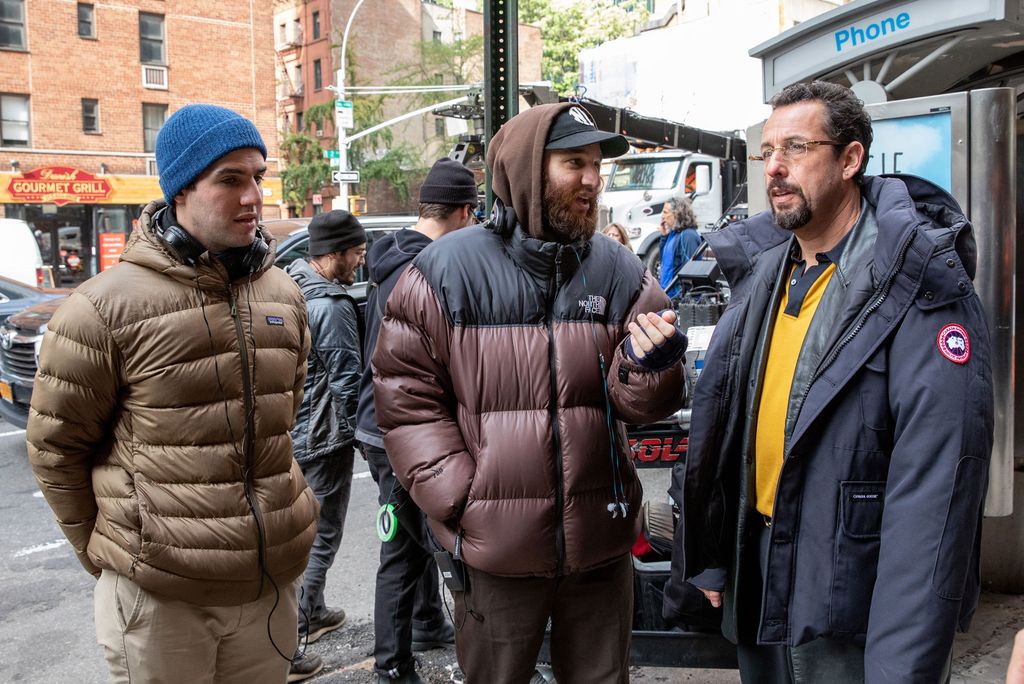 Although the Safdies were inspired by their father's stories, none of those stories are in the final film after 160 script drafts over five years, the brothers say.
"His stories were these mini–Pulp Non-Fictions that were absurdly funny and we wanted to retell them again and again, but you don't know if it's just because of your proximity to it and you're nostalgic for a time you can't remember," Josh says. "But when you start doing the research, you start to see what it is that makes it so compelling—it's capitalism in such pure form, it's like the id of capitalism. And the confluence of many different cultures, too. Jewish culture, black culture, hip-hop culture, the athletes' culture, the stuffy auction scene, and tourists who just want to look at sparkly things."
"That said, the time our dad spent in the Diamond District was filled with criminality," he adds, laughing. "You have people that want to rob you, you have people that are trying to get over on you, and you have three sets of prices: the tourist prices, the merchant prices, and the get-f*cked prices."

Now on the A-list
The Safdies' last film, 2017's Good Time, starring Robert Pattinson, shared some of that desperate, old-school-NY-crime-film DNA. But Uncut Gems, with its big-time cast, promotion, and distribution, the splashy opening at the Arc-Light Cinemas, the respected producers and cast, places the Safdies on the A-list, says Paul Schneider, a College of Communication professor of the practice and film and television department chair. "Clearly, this is the most heralded release of their careers."
"I am dying to see Uncut Gems, and not just because Josh and Benny were both my students," says Charles Merzbacher, a COM associate professor of film and television and film production programs director. "They have been churning out features and shorts at the rate most of us produce dirty laundry, but Uncut Gems is the result of a decade of striving and climbing. With this film, the Safdies trade in their Young Turk credentials and take their seat at the head table."

They've been working on Uncut Gems for so long that while hanging out in the Diamond District to do research for it, Josh met a young heroin-addicted woman named Arielle Holmes, became fascinated by her street stories, and eventually convinced Benny and Bronstein that they should make a movie based on her life—and starring her—2015's Heaven Knows What. Other Diamond District characters play small roles in Uncut Gems, giving authentic flavor to its glittery but seedy milieu.
Singer-songwriter The Weeknd, playing himself, performs briefly and has a funny scene where he hits on Julia. But the real surprise here is former Celtic Garnett, also playing a version of himself, all but hypnotized by the giant opal, but otherwise wickedly sharp about the art of the deal. The way he looks at Howard at certain moments hilariously mixes disbelief, amusement, anger, and even grudging admiration.
The film supposedly takes place as Garnett was leading the Celtics against the Philadelphia 76ers in the 2012 playoffs. One can only imagine what the Safdies went through to clear the use of actual game footage in a movie centered around illegal sports betting.
But that wasn't the biggest NBA-related problem for New York natives Josh and Benny.

"I'm a Knicks fan," Josh said at the ArcLight last week with (partly) mock despair. "I can't even believe I'm part of glorifying the Boston Celtics."

"The Knicks are always so close," said Sandler, rolling his eyes.

Uncut Gems opens widely on Christmas Eve. The film is rated R for incessant profanity, occasional disturbing violence, and a couple of mild sex scenes.