Red Hot Hockey: Big Game, Biggest Stage for BU Men's Hockey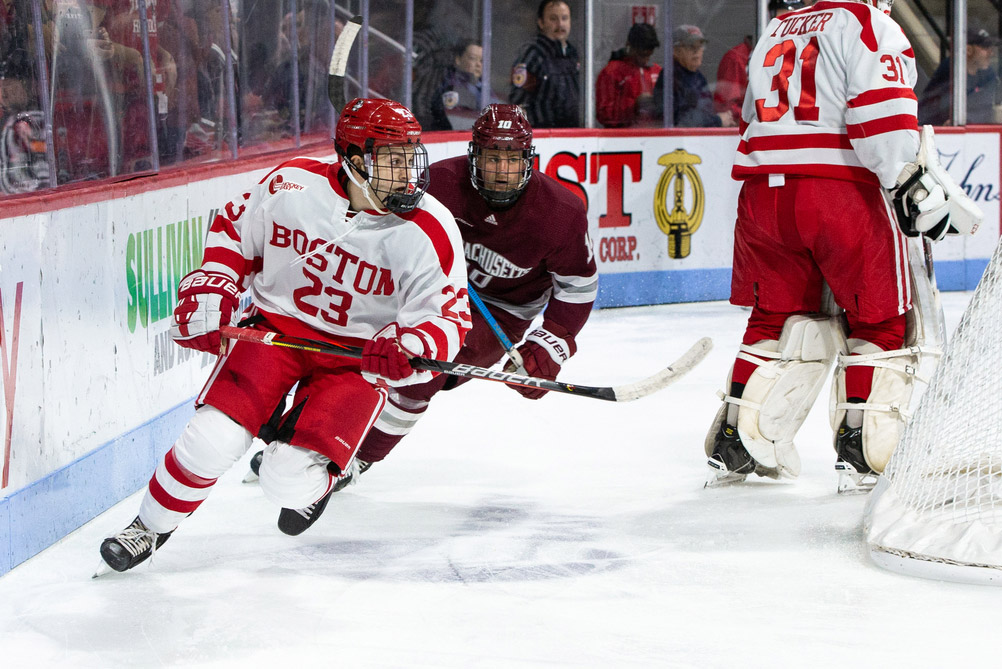 Varsity Sports
Red Hot Hockey: Big Game, Biggest Stage for BU Men's Hockey 
It doesn't get bigger than facing Cornell at Madison Square Garden
Racing down the ice at New York City's legendary Madison Square Garden, 10-year-old Domenick Fensore unleashed a shot, hoping to score on the big stage.

But the Peewee hockey player's strike hit the post, a moment he remembers vividly. Today Fensore is a defenseman on the BU men's hockey team, and he has another chance to play at the World's Most Famous Arena when the Terriers face off against Cornell for the seventh edition of Red Hot Hockey on Saturday, November 30, at 8 pm. The two teams' rivalry dates back to 1925 and includes two national championship battles. For Fensore (CAS'23) and the rest of the Terriers, it's a chance to play on a big stage, and they're hoping it's the first of many this season.

"Obviously it's a special feeling," Fensore says. "I've been waiting for this game for a while."

BU leads the Red Hot Hockey series with three wins, with Cornell taking a 4-3 win in the most recent chase for the Kelly-Harkness Cup, in 2017, and there have been two ties (it's played every other year). It's a game circled on the calendar of players, coaches, and fans as soon as the schedule is released.

"Our guys are already looking forward to this year's Red Hot Hockey game," BU head coach Albie O'Connell (CAS'99) says. "It's a special night for both schools, and we're thankful to have this opportunity once again."

---


It's playing at MSG. It's like the greatest arena in the world.


---
After a busy stretch, playing three games in five days during the last week, the Terriers come in unranked at 4-4-5 overall against the undefeated (8-0) second-ranked Big Red.

Fensore grew up 30 minutes from the Garden, in Thornwood, N.Y. A New York Rangers fan, his dad held season tickets, and Fensore estimates he's been to about 80 games at MSG. That shot he took on the famous ice as a 10-year-old elementary schooler was during a between periods intermission of a Rangers game.

Many of his family members and friends will be there Saturday (he estimates 60 to 70 of his personal fan club) for his return, and there's been high demand for his ticket allotment.

"A lot of friends from my town are coming—they've never seen me play," says Fensore. "I guess there's a little pressure there, but it's all fun. All my friends have been texting me, asking for tickets. Obviously I can't get them all tickets, but that's why I've been looking forward to it for so long."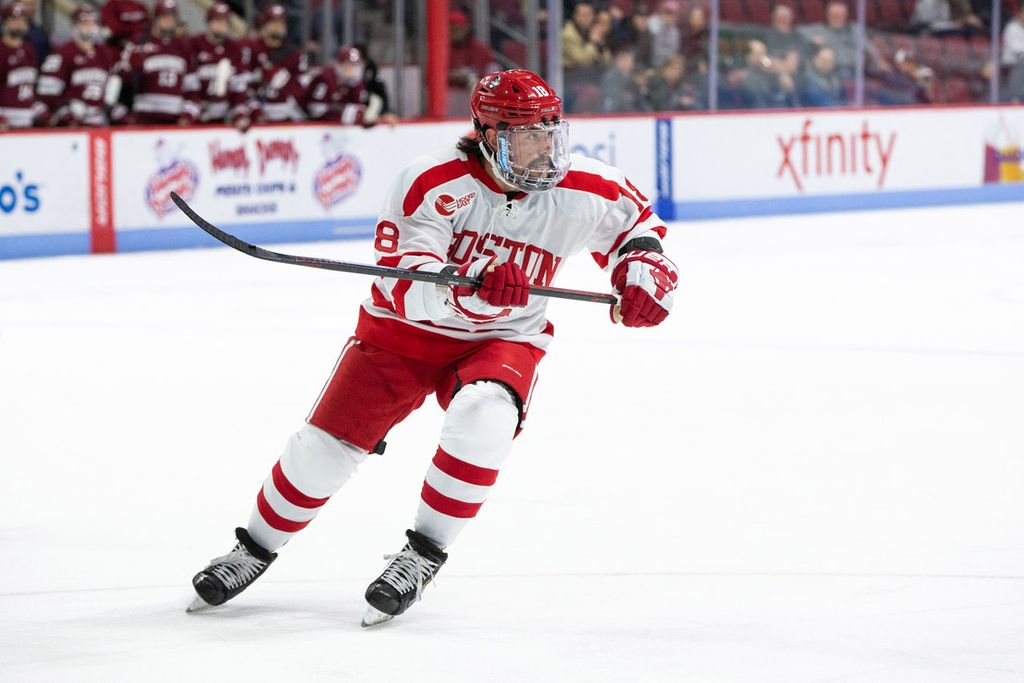 Graduate student Alex Brink (MET'20) played in two NHL arenas during his first three years at Brown University. He and the Bears played in Pittsburgh's PPG Paints Arena and in Boston at TD Garden, but the self-proclaimed 25-year-old "team dad" anxiously awaits playing at the iconic New York arena.

"It's playing at MSG," Brink says. "It's like the greatest arena in the world."

A Hamilton, N.Y., native, Brink grew up a Buffalo Sabres fan. He anticipates that no matter what team he and his teammates rooted for growing up, it'll be a special experience.

"Once the trip really sets in, and guys are like, 'We're on the bus, we're going,'" he says, "as soon as we hit the city, it'll set in."

Picked first in the preseason ECAC poll, the Big Red will pose a tough challenge. Cornell has garnered first place votes for weeks and is gunning for the top spot in the national rankings. For the Terriers, it's a tremendous opportunity to measure their own play against a top-level team.

And Fensore's got a little extra incentive—to relive his Peewee moment, but with a different outcome.

"Yeah, I gotta bury one in front of the home crowd," he says.

The Boston University men's ice hockey Terriers take on the Cornell Big Red in the seventh edition of Red Hot Hockey on Saturday, November 30, 2019, at 8 pm, at New York City's Madison Square Garden. Purchase tickets for the contest here.