Men's Lacrosse to Battle Lehigh in Patriot League Semifinals
Terriers chasing their first Patriot League title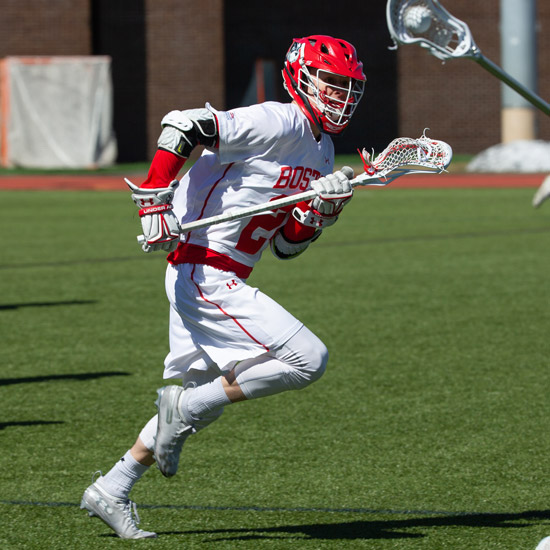 Immediately after last season's semifinal loss to Loyola Maryland, the BU men's lacrosse team began its next season. Despite upsetting Bucknell in the earlier round, the players weren't satisfied, and set their sights on advancing deeper into the tournament this year. Now they get their chance.
After defeating Bucknell, 14-8, on Tuesday, BU returns to the semifinal stage to face second-seeded Lehigh Friday in the 2019 Patriot League Tournament. The Terriers will look for their first Patriot League title in their six-year history.
It's a chance to make the season memorable: after a stellar regular season, the Terriers (11-5, 5-3 in Patriot League) are a game shy from tying the program's record for most wins (12) in a season.
"Lehigh's had our number in the past couple years, and I think we've only beaten them once since I've been here," senior Brendan Homire (COM) says. "We're all looking forward to it. We know we can beat anybody in the league—anybody in the country really."
In Lehigh, BU faces a formidable opponent. Lehigh's roster features six all-league honorees, including Faceoff Specialist of the Year Conor Gaffney, who helped Lehigh record a league-best 66 percent faceoff percentage in conference play. The Mountain Hawks edged the Terriers, 10-8, during their most recent meeting.
"If he goes on a game where he wins 75, 80 percent, we're at a possession disadvantage," BU head coach Ryan Polley said at Tuesday's press conference. "We're gonna challenge our guys to be ready to go…. I expect it to be a dogfight."
If the rest of the season is any indication of this team's character, the Terriers are capable of the upset. This season often saw them rebound after difficult losses, including a three-game win streak after the Lehigh loss and Tuesday's win after falling 13-12 to Navy in the last game of the regular season.
The individual talents also back up BU's potential: With his first goal on Tuesday, sophomore Chris Gray (CGS) became the first player in conference history to score 100 points in a season. The Mickey Cochrane Award winner now has 108 points behind 48 goals and 60 assists for the season.
"The kid is special," Polley said. "If he's not a top-five player in the country, I don't know who is."
Along with Gray, three more Terriers were named to the All-Patriot League First-Team this season: senior captains James Burr (Questrom), Quintin Germain (COM), and Homire. Burr leads BU with 54 goals and holds the nation's longest goal-scoring streak at 33 games.
The Terriers have been among the top offensive teams during conference play as a team, ranked second in goals (13.12), assists (9.12), and shots on goal (24.62) per game. They also rank first in ground balls (39) and caused turnovers per game (11.38).
"We're gonna continue to play a fun up-tempo pace," Polley said. "I think we're gonna live and die with our transition."
With the rest of the tournament played at top-seeded Loyola Maryland, the Terriers will hope for a different outcome from how they played away from home during the regular season. Despite a dominant 8-1 record at home—including Tuesday's win—BU posted a 3-4 away record. But players say that won't be an issue.
"We start travel a day or two in advance, and that just flips everybody's mindsets," senior captain Michael Laviano (COM) says. "It gets everybody dialed sooner than home games."
With the team featuring 10 seniors, the Terriers are looking to give them a proper celebratory sendoff.
"It's been an exciting four years I've been here, and I wouldn't want to end it in any other style than to go out with a championship," Homire says.
The BU men's lacrosse team takes on Lehigh Friday, May 3, in the Patriot League semifinal round at 8 pm at Loyola Maryland's Ridley Athletic Complex, 2221 W. Cold Spring Lane, Baltimore, Md. The championship game will be on Sunday, May 5, at noon, also at Loyola. The games will be covered live on CBS Sports Network.
Senior Jonathan Chang (COM) can be reached at jchang19@bu.edu; follow him on Twitter @jonathanychang.