Men's and Women's Soccer Terriers Open Home Slate Sunday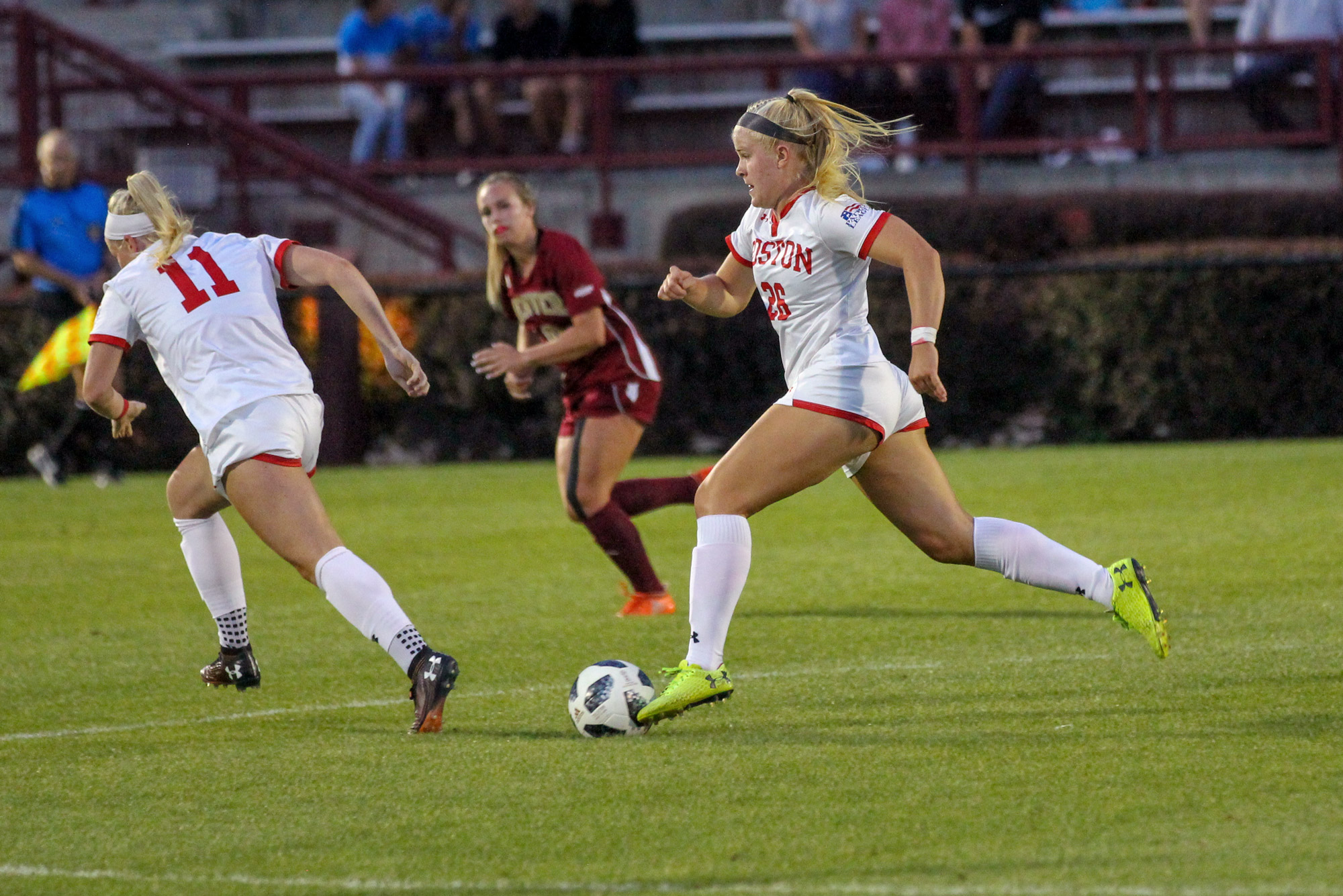 Varsity Sports
Men's and Women's Soccer Terriers Open Home Slate Sunday
13th annual Terrier Tailgate celebrates Labor Day weekend doubleheader
In what's become a Labor Day weekend tradition, fans can enjoy the 13th annual Terrier Tailgate, featuring free food, prizes, giveaways, and live music, at the first home event of the BU Athletics 2019-2020 season when the men's and women's soccer teams host a doubleheader on Nickerson Field Sunday. The men will take on Boston College at 4 pm and the women will welcome Michigan State at 7. Admission is free for both games and the tailgate.

Men's soccer

Matt McDonnell's breakout year last season was derailed by a torn ACL, but now fit to play for the start of the 2019 season, BU's captain is striving to quickly come back to form and inspire a turnaround.

McDonnell (Questrom'20) began last year on a tear, scoring six goals in five games before being injured on a goal-scoring play. Despite missing more than two-thirds of the season, his scoring mark still led the team.

---

I've been through a few injuries at BU in my time, and I feel like it's all about the ups and downs. For me, personally, it was a lot, but now I'm ready to come up and hopefully end on a high here.

---
"I was at the top of the leaderboard for goals in the country, and the injury happened in a split second and kind of out of nowhere," McDonnell says. "I definitely feel like I have something to prove."

The Terriers (0-1-0) enter the season coming off a 5-10-4 record last year and having fallen in the opening round of the Patriot League Tournament. This year they've been picked fifth in the league's preseason poll.
Head coach Neil Roberts, now in his 35th season, says his team is healthier than last year and that his players' stellar camaraderie bodes well for the 2019 campaign.
"Matt brings us a threat to score all the time, which is key," Roberts says. "He's a handful for teams that have to deal with him, and it opens things up for other guys."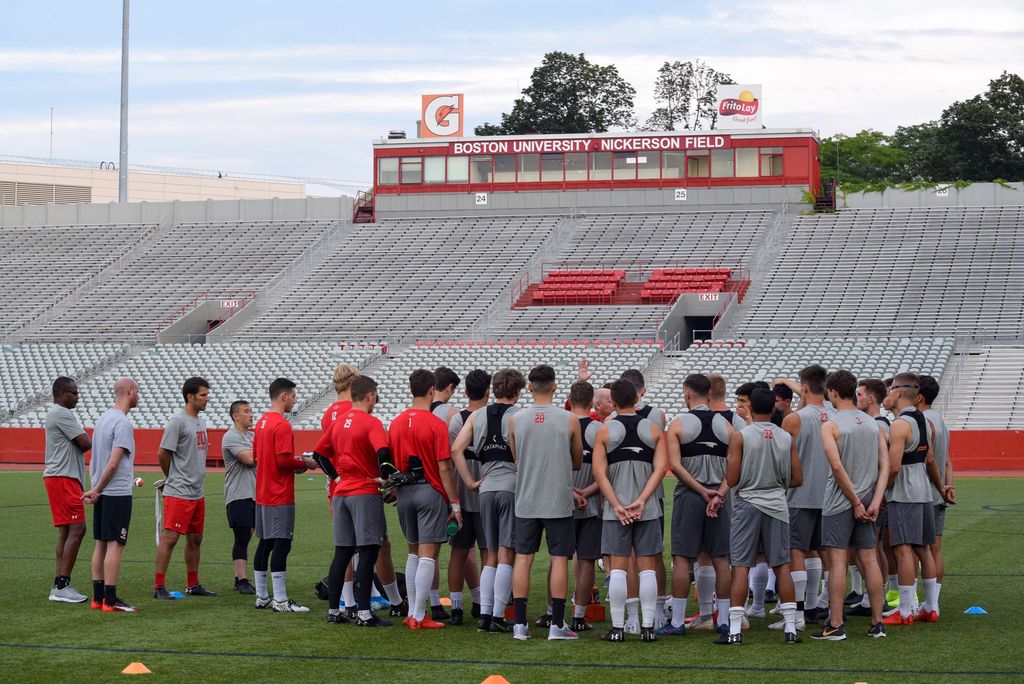 One key cog who could benefit is Kari Petursson (CAS'22), the lone BU player on the Patriot League Preseason All-League Team. Petursson earned Third Team All-Patriot League honors last year, with three goals and five assists.

Satchel Cortet (CAS'20), Mana Chavali (CAS'20), Toti Knutsson (CAS'21), George Abunaw (COM'21), John Siracuse (CAS'22), and Nate Cole (CGS'20) all earned starting time last year and are expected to factor in heavily this season, along with transfer Zion Balogun (Questrom'21).

"We're not expecting one guy to score all the goals for us," Roberts says. "We've got a group of guys that can score."

Goalkeeper William Bonnelyche (CAS'21) made five starts last year, but transfer Michael Stone (CAS'21) is the starter, Roberts says.

McDonnell recovered quickly from last fall's injury and began practicing in January, just in time for the spring season. "I was on the brink of coming back. I wasn't too healthy, like 50 to 60 percent, but I was going to try to play," he says. But the season ended and instead, he earned a medical redshirt year and has another season of eligibility remaining after this year. He says he's looking forward eagerly to this season.
"I've been through a few injuries at BU in my time, and I feel like it's all about the ups and downs," McDonnell says. "For me personally, it was a lot, but now I'm ready to come up and hopefully end on a high here."

Women's soccer

The women's soccer team, now in its 25th season as a varsity program, all under head coach Nancy Feldman, is off to a 0-2-1 start this fall, following a Patriot League championship–winning season. The Terriers have been picked to finish first in the league again this year.
"I think one thing we learned is, we have a really deep bench this year," redshirt captain Kelly Harris (SHA'20) says. "We're a young team, but I think with every player, when they get off the bench and come onto the field, the level of play does not drop off at all."

Forward Anna Heilferty (CAS'21) was named the Patriot League's preseason Player of the Year for the second straight season. She comes off a stellar campaign, where she led the team with six goals and six assists and went on to earn the 2018 Patriot League Tournament Most Valuable Player honor after netting the game-winning goal in the title game against Bucknell. Heilferty also earned a spot on the All-League First Team.

"There's talent and then there are players that are consistently performing at a high level, and Anna is moving into the category of being consistently performing at a high level," Feldman says. "She's been talented and that growth and maturity that happens is something that is learned."

Joining Heilferty as a member of the league's preseason All-Conference Team is defender McKenna Kennedy (Sargent'21 ). Kennedy led the team in minutes played last season, anchoring a back line that posted 11 shutouts and a miniscule 0.86 goals against average.

The team lost 6 of last year's 11 starting players to graduation last May. Heilferty, Kennedy, and Taylor Kofton (Sargent'22), last year's Patriot League Rookie of the Year and and an All-League Third Team member, join starting goalkeepers Morgan Messner (CAS'22) and Amanda Fay (CGS'19), who will split time.

"We've done some moving around with the players from last year," Harris says of replacing the 2019 graduates. "I think it'll be multiple people."

Messner took the starting reins midway through her freshman season, finishing with a tremendous performance against LSU in the NCAA Tournament. Despite getting the loss, she didn't allow a goal in 110 minutes of regulation play.

"Our goalkeeping is still a strength," Feldman says. "They definitely have improved even from their last year's very strong performance, and it's nice to feel stable in that position."

Looking to plug the open spots are a bevvy of players, including Shannon Keefe (COM'20), Kelly Park (Sargent'20), Chloee Sagmoe (Questrom'20), Jenna Oldham (Questrom'22), Lily Perryman (CAS'22), and Elle Conlin (CAS'22), who all played key rotational roles last season. Several freshmen are vying for roles.

"Everyone's done a good job of stepping up into the role that maybe isn't specifically made for them," Kennedy says, "but they're taking it on."

More help is expected from transfer Caitlyn DiSarcina (CAS'22). After a standout freshman year at Butler, where she scored eight goals and earned a spot on the All-Big East Freshman and Second Teams, DiSarcina enrolled at BU in the second semester last year and played the spring season with the Terriers, getting a head start on acclimating to the team.

With a lot of returning firepower, the Terriers are hoping for a repeat performance in league play, snagging another NCAA Tournament appearance.

The Terrier men's soccer team hosts Boston College in the season home opener on Sunday, September 1, at 4 pm. The women's soccer team opens at home against Michigan State at 7 pm. Both games are on Nickerson Field. Gates open at 3 pm for the 13th annual Terrier Tailgate, with free food, prizes, giveaways, and live music.