Massachusetts Attorney General Announces Implementation of BU-Developed Anti-Trafficking App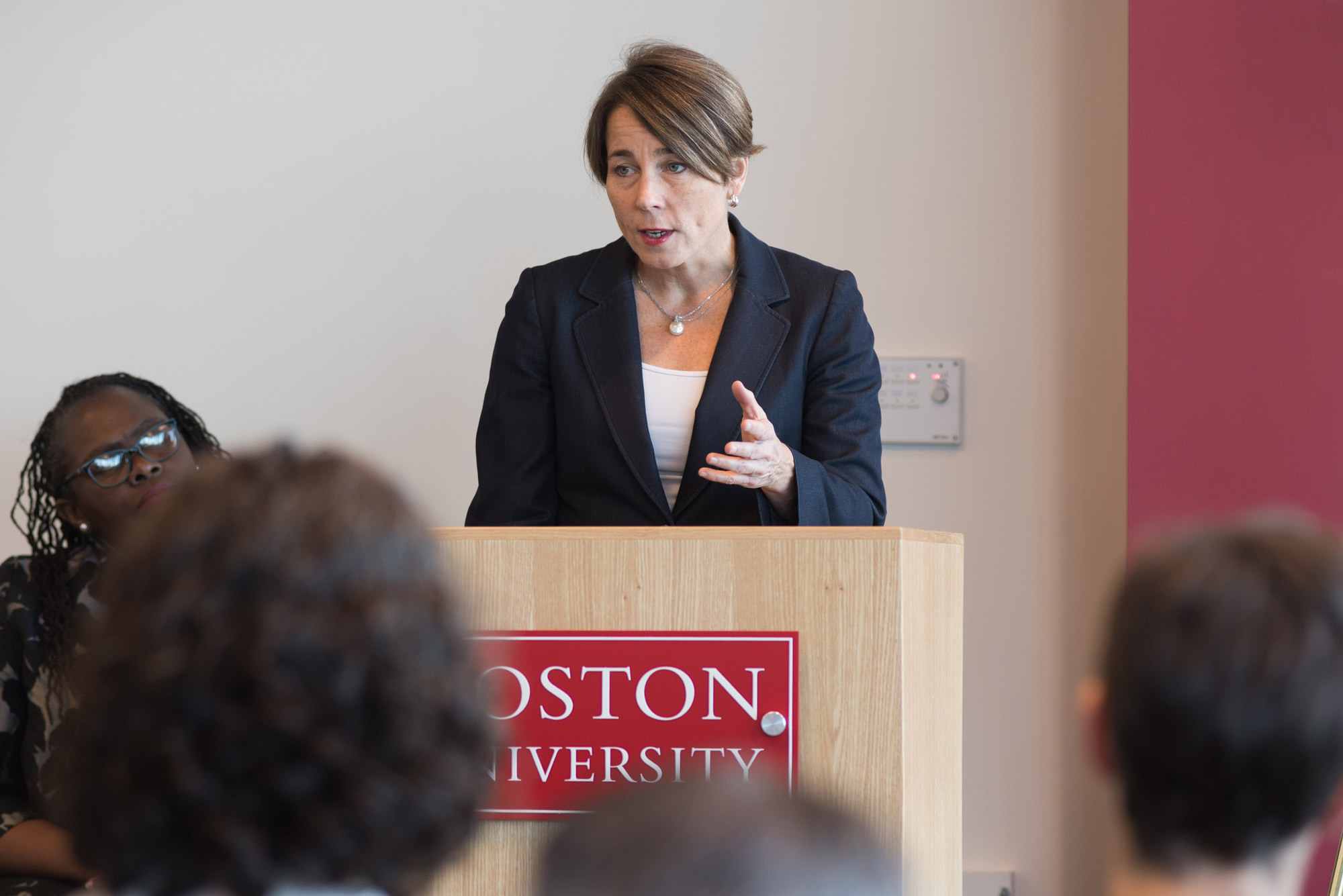 Law
Massachusetts Attorney General Announces Implementation of BU-Developed Anti-Trafficking App
Maura Healey hopes technology, developed with her office, will advance long-stalled prosecutions
Five years ago, as a domestic worker for a wealthy Newton, Mass., family, "I worked from 6 am to 11 pm six days a week," Catherine Piedad told a hushed School of Law room Thursday. "I was so tired, I often felt numb." After other abuse from her employer—including seizing her passport, withholding her pay, and threatening to send her back to her native Philippines, she said—Piedad rang 911 and began "a long path to learn about my rights." The police had a learning curve, too, at times dismissing her boss' behavior as nothing more than a labor dispute.
Actually, it's illegal under Massachusetts' labor trafficking law, which is why Piedad stood with state Attorney General Maura Healey at LAW's Sumner Redstone Building for the rollout of a BU student-developed app, intended to help law enforcers identify victims of forced labor and get them help.
RESULT (Recognize and Evaluate Signs to Uncover Labor Trafficking) is a web-based app developed as a collaboration between Healey's office; students at BU Spark!, part of the Hariri Institute for Computing and Computational Science & Engineering; and students in LAW's Immigrants' Rights & Human Trafficking Program (IRHTP).
"Labor trafficking is a huge and growing industry," Healey told reporters, law enforcement, victim advocate officials, and BU affiliates. "For the victims, of course, it's a nightmare. Their lives, their livelihood, and their freedom are exploited for someone else's profit."
Despite the enactment in 2012 of the state's trafficking statute, Healey said her office has prosecuted only a handful of cases due to vast underreporting, partly because victims aren't aware of the law protecting them.
It's also difficult to identify victims, who often work in legitimate workplaces, from restaurants to convenience stores to construction sites to homes, doing what appears to be everyday work, she said.
Addressing that, the app offers questions investigators should ask suspected victims (Can you quit your job if you want? Have you ever been prevented from leaving, or threatened or hurt when trying to leave? Where do you sleep and eat? Do you get paid and get to keep your passport and necessary papers?). It also offers information about relevant law and resources available to survivors.
For a crime that often victimizes immigrants, there's another problem, Healey said: "The policies promulgated and pursued by the Trump administration have been incredibly detrimental" in spooking people away from seeking help. In Massachusetts, she vowed, law enforcement will "protect you as a matter of civil rights."
"We don't know the full extent" of the problem in-state, she said, but "we know it's a significant industry" worldwide, estimated to net traffickers $150 billion annually. IRHTP director Julie Dahlstrom, also appearing at the briefing, said her program handles 20 to 40 cases a year.
The app will be made available to police, health inspectors, municipal officials, and others who might have contact with trafficked workers. Her office will be holding training sessions for those responders throughout the state, Healey said, as well as a webinar November 19.
The app, which has been in testing for a year and a half, is intended to improve on a 40-page manual LAW students wrote to train prosecutors in labor trafficking cases. But students in IRHTP came to realize that "no one's going to read a long manual," Dahlstrom, a clinical associate professor of law, said in an interview. "Why not create an app" as a less unwieldy, more accessible reference for law enforcement.
She called coerced labor—through physical force, deportation threats, and other means—a problem "across citizenship divides. We tend to see noncitizen cases" but have worked on others involving native-born victims who have been homeless or cognitively impaired.
Meghan Poole (LAW'19), who worked on the app, got interested in trafficking after a high school reading of Half the Sky, foreign affairs columnist Nicholas Kristof's book on the topic. She came to LAW because of its Human Trafficking Clinic and worked on the policy manual.
"Along the way, we all agreed that a long manual wasn't the best way to convey information anymore," she said. "I'm so excited that the app has made so much progress. I think it really has the potential to help many people in the Greater Boston area and will definitely help law enforcement identify trafficking earlier in the process, which will ultimately provide better outcomes for survivors of trafficking."
Now working in the New York juvenile justice system, Poole says her practice might someday encompass human trafficking victims.
Piotr Nojszewski, a College of Arts & Sciences sophomore majoring in computer science, learned of the app-in-progress last year from Ziba Cranmer, director of BU Spark!, who "left me with a strong impression of the positive social impact of the project and convinced me to get involved," he said in an interview.
"I'm still speechless knowing that Attorney General Healey [discussed] the app that I developed," said Nojszewski, who attended Healey's rollout. "It is an honor."
The app "is meant to be an education and awareness-raising tool," Cranmer, former head of a national anti-trafficking group, said in an interview. Her program supervises student creation of technology products.
This is not the first collaboration between BU students and state law enforcement. LAW's Human Trafficking Clinic, the second such program in the nation, offers student legal representation of sex and labor trafficking victims and was founded with the support of former attorney general Martha Coakley (LAW'79). The clinic is a part of the two-year-old IRHTP.