POV: Mary Cain Launches a New #MeToo Movement—for Sports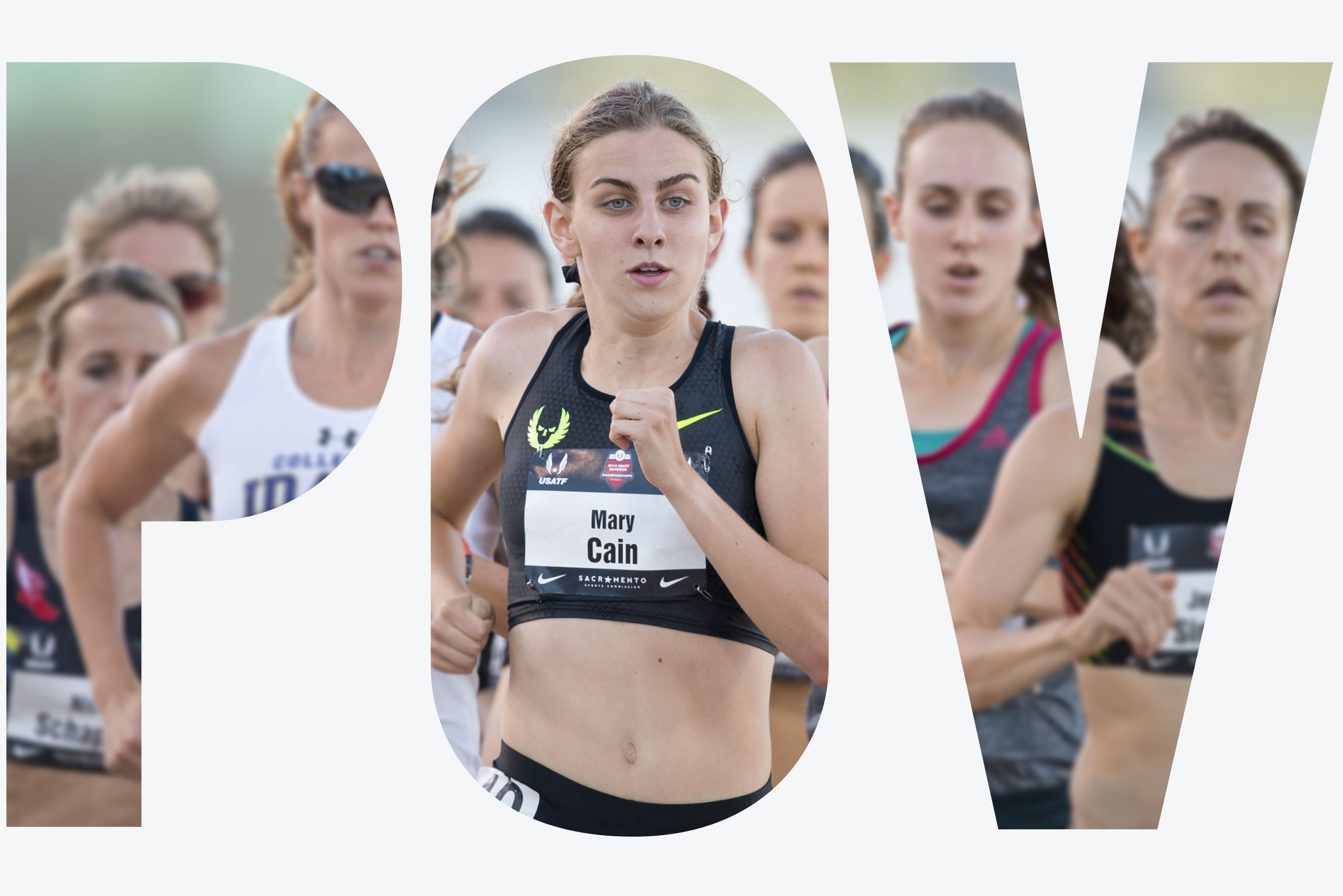 Voices & Opinion
POV: Mary Cain Launches a New #MeToo Movement—for Sports
By sharing her story of body-shaming, abuse, and nutritional neglect, a world-class runner opens a conversation all athletes, coaches, and parents must hear
Full of potential, with God-given talent, a strong work ethic, and a bright future ahead of her, Mary Cain was the fastest distance-running girl in America. At age 17, she was the youngest American track and field athlete to represent the United States at the world championships. She was a national record holder and a straight A student. In 2013, as a college freshman, she moved across the country to join the Nike Oregon Project (NOP), an elite team made up of the fastest runners in the world coached by the world's most famous track coach, Alberto Salazar. "It was a dream come true" is how Cain described that moment.
But that dream turned into a nightmare, a nightmare that almost claimed Cain's life and that became public last week when the New York Times published a riveting seven-minute video of her describing her experience. Instead of realizing her dream to become "the best female athlete ever," Cain left the NOP after three years in a precarious state of health, with depression, suicidal thoughts, a host of physical injuries, and a broken spirit. Her disclosure describes years of emotional and physical abuse endured while training and competing in a system designed by a team of male coaches and endorsed by Nike. At the center of the abuse was a relentless commitment to the coaching staff's belief system that in order to be the best, she had to be "thinner, and thinner, and thinner."
This issue is far more common than anyone wants to believe. It is time for system-wide changes to protect athletes.
While scientific research and clinical evidence has proven that this belief system is not only faulty, but dangerously threatening to an athlete's physical health, mental health, and athletic performance, what is especially alarming about Cain's story is that there was no accountability or oversight by sports medicine professionals to influence the behavior of the NOP coaching staff. Consequently, she succumbed to the effects of the abuse. She was made to restrict her food intake way below her nutritional needs in the context of her high training demands, causing a condition known as low energy availability (LEA). Her weight dipped dangerously low. She stopped having her menstrual cycle. For three years, she had no period. Her bones took the hit from the deprivation of calories and estrogen that her body required. She suffered five different broken bones. She became depressed and desperate. She was self-harming, cutting herself, mostly on her legs because she hated them for not running fast enough.
Not surprisingly, her performance suffered at the hands of this abuse. Cain was fully in the grip of RED-S, relative energy deficiency in sport, a life-threatening condition with devastating consequences to pretty much every organ system in the body, not just bones and hormones. RED-S affects an athlete's heart, brain, GI tract, immune system, you name it. And RED-S sabotages the very goal that athletes and coaches are chasing—it sabotages athletic performance by decreasing the body's available fuel and compromising muscle strength, endurance, training response, bone integrity, growth, development, and concentration. RED-S predisposes athletes to injury and depression.
Importantly, mental health disorders predispose athletes to RED-S. The bidirectional link between mental health and physical health is well established by the RED-S model, yet is poorly understood in the sports community. This understanding is key to appreciate the complexity of the situation. As Mary Cain was emotionally abused and became more and more depressed, she was at greater risk for RED-S. And as RED-S wreaked havoc on her body and her brain, she became more and more depressed, to the point of self-harm and suicidal thoughts. When she asked for help, she was ignored and dismissed. That there were no certified experts in sports psychology or sports nutrition inside the NOP, the top running program in the country, is of major concern, although sadly, not at all uncommon in sport. Feeling "scared, alone, and trapped," in her words, Cain believed her only option at that point was to make the painful choice to turn her back on her dreams and get out.
In a period of three short years, Mary Cain went from being an Olympic hopeful to someone "just trying to survive." She bravely spoke her truth to New York Times reporter Lindsay Crouse, and her story quickly made national headlines, with features on NBC Nightly News and Good Morning America. The video exploded on Twitter and YouTube (where it has had more than 3.5 million views in less than a week), with thousands of people joining the conversation to express outrage over this reveal.
Who is chiming in? Other athletes, male and female, who have experienced this too. Teammates who saw what was happening, saw Cain in distress, heard the constant body shaming comments from coaches, watched her be weighed in front of teammates, saw her cutting herself, and witnessed the public berating of her body weight after a race. Teammates who turned a blind eye and believed it was best to simply mind their own business. (Marathoner Shalene Flanagan tweeted: "I had no idea it was this bad. I'm so sorry @runmarycain that I never reached out to you when I saw you struggling. I made excuses to myself as to why I should mind my own business. We let you down. I will never turn my head again.") Sports psychology, sports nutrition, and sports medicine professionals have been commenting with outrage, endorsing how frustratingly common this avoidable situation is, and calling for mandatory coach education, oversight, and accountability and increased access to licensed health professionals inside sports organizations.
Salazar has denied Cain's accusations, and Nike says it will launch a full investigation of the NOP coaching staff. Yet in its statement, Nike chose to point out that neither Cain nor her parents had raised any concerns until this time. I am struck by Nike's need to add this caveat. Does that make it suspiciously not real? Is that meant to question Cain's credibility? Or is it a blanket acknowledgement that they were not overseeing any of this, such that they, themselves, were completely unaware? I am willing to bet on some version of the latter—that nobody inside the organization saw (or will admit to seeing) any of the warning signs of distress in their athlete, witnessed the coaching behavior or belief systems in action, or realized that they needed qualified sports psychology, nutrition, and medicine professionals inside the organization to not only maximize the achievements of their athletes, but to protect their well-being. But if they did, they will be exposed by this investigation.
Cain's courageous move to go public with her experience has ignited a #MeToo movement in sports. It has sparked outrage that is demanding a call to action. The solution is not to simply remove one coaching staff. Her efforts have the potential to galvanize athletes and sports professionals committed to change to ignite a path forward to address what Cain boldly labels as a "systemic crisis in women's sport."
The message I want to convey is this: this situation is serious. It is not just about winning or privileged opportunity in sport. It is life-threatening. It is not just about elite athletes. It happens at all levels of sport. It is not just about distance runners. No sport is immune. It is not just about female athletes. It's about all athletes. Any athlete who is chronically underfueling and overtraining is at risk for RED-S. Males are similarly vulnerable to body shaming, stereotypes about masculinity in sport, and faulty belief systems about body weight, shape, and size tied to athletic performance. Men are similarly vulnerable to RED-S. And even though men don't lose a menstrual cycle, they suffer from declining testosterone that affects their well-being and causes sexual dysfunction. These realities ought to get male athletes equally fired up about change and empowered to share their own #MeToo stories alongside female athletes.
The only way forward is by breaking the silence to raise awareness and demand change. When athletes tell their stories, as Mary Cain has, they protect other athletes and put an end to the suffering in silence. Together, no one is left alone wondering if they are the one who is broken. It's the system that is broken. And if it's this bad in professional sports, imagine what it might be like in collegiate sports, high school sports, and youth sports, where access to multidisciplinary teams of sports medicine providers is potentially even more limited.

A new kind of #MeToo moment has arrived in sports, and it's about time.