Marsh Chapel Dean Deplores United Methodist Decision on Anti-Gay Rules
"Our full embrace and affirmation of the LGBTQIA community will not change"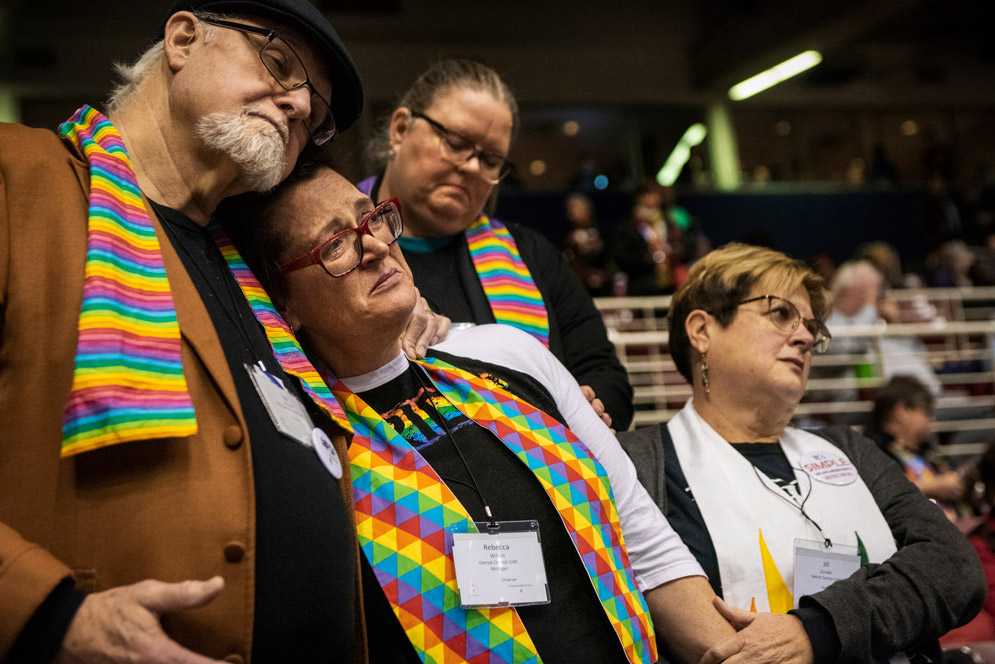 "You may love God or your [gay] partner, but not both at the same time."
That's how Rev. Dr. Robert Allan Hill, dean of Marsh Chapel, summed up United Methodist theology in his February 17 sermon at Marsh Chapel, just over a week before the United Methodist Church voted to tighten its ban on gay and lesbian clergy and same-sex marriages. "It is theologically tempting to shore up by keeping out," Hill continued. "But it has no future." (Historically, BU has been affiliated with the Methodist Church, having begun as a Methodist seminary in 1839.)
Hill—Methodist minister and longtime advocate of LGBTQ rights—opposes the tightening of LGBTQ restrictions approved this week at the United Methodist General Conference, the church's legislative body. Meeting in St. Louis, 864 delegates, including 350 from other countries, voted to keep prohibitions on gay ordination and marriage and to impose sanctions on ministers who perform the latter. Ministers who marry gay couples now face a one-year unpaid suspension; a second offense could lead to defrocking. Gay-friendly US churches say they might leave the denomination over the vote.
At 12 million global members, United Methodism is one of the largest Protestant denominations internationally. At Marsh, a nondenominational chapel not under any church's jurisdiction, non-Methodist ministers have performed gay marriages. BU Today interviewed Hill, who is also a School of Theology professor of New Testament and pastoral theology, about the conference's decision and the likely future of his church.
BU Today: The conference considered three plans addressing LGBTQ issues. Which did you support?
Hill: I have supported the One Church plan, which would have allowed freedom for local churches with regard to marriage, and for annual conferences with regard to ordination. There was also another plan, called the Simple Plan, which would have simply eliminated any references to homosexuality in the discipline, which I also would happily have supported.
How will Marsh Chapel accommodate the decision? Will any aspects of Marsh's ministry, from performing weddings to welcoming future Methodist ministers, change as a result of the decision?
Marsh Chapel, an ecumenical University chapel, has, and will continue to solemnize marriages for gay people, and has and will continue to employ and deploy gay clergy. (We had another such wedding submission for next year on Sunday.) Our full embrace and affirmation of the LGBTQIA community will not change at all, except that we will strive even further to energize our inclusive ministry here.
Given the outcome, do you fear the church will split? What effects would that have on Methodism generally and on Marsh Chapel's ministry?
Well, the church is already split. About two thirds of the delegates from the United States supported the One Church plan, and thus supported openness to gay people in marriage and ordination, as determined in churches and conferences. Opposition came heavily from abroad, especially Africa and the Philippines, and also significantly from a fundamentalist minority in the United States.
As Dr. Stephen Cady—one of the leading young liberal voices in Methodism today, the senior minister of Asbury First United Methodist Church in Rochester, N.Y.—put it: "Some in our denomination wish to maintain our current stance but others, like me, desperately wish to change it… Unfortunately our global nature, with roughly half of our denomination residing outside of the United States, also means that it takes us longer to progress on social issues like these."
Whether there will be an actual institutional split, and if so how so, I cannot yet say, but I would not fear it.
As to the effects of this, I will just have to refer you again to my Marsh Chapel sermon of February 17, 2019. It may be that local churches will begin to look more carefully at what they support in global giving.
This turmoil must be painful for you and for Methodist students at BU. How have you dealt with it personally, and have students sought your counsel for dealing with it?
Yes, it is painful, disappointing, and disheartening for all, but especially for those just emerging in life and leadership. Several students from Marsh Chapel attended the conference in St. Louis, and I am proud of their vocal leadership and faithful embrace of the LGBTQIA community. I am also proud of our chaplains and the pastoral care and counsel they are providing regularly, across the board, including for those Methodists and others affected by these issues.
Are LGBT issues a wedge dividing American Methodists or are they primarily a difference of opinion between developed-world Methodism and its developing-world brethren? Is this simply an unbridgeable culture divide?
It is both, but more the latter than the former. Lay and clergy conference members will want to make a point of attending  annual conference this year. United Methodist elections of delegates to the 2020 General Conference will be held this spring, and it will be crucial, for instance, that some retired clergy who do not always attend conference (but have a vote) do choose to attend, and so hopefully help to move the balance of US votes closer to 100 percent for acceptance, affirmation, and inclusion.
Every congregation my wife, Jan, and I have served has had gay men and women. That any of these good people have stayed, given our exclusion of them, is truly a wonder. I love my church and am staying with it. Born and baptized a Methodist, I will so die and be buried, a superannuated Methodist preacher. I am not giving over the church I love to a mode of exclusion contrary to the heart of the church in which I was raised, and in which I have lived and served. But we should be mightily circumspect about what bigotry against gay people has already done—to us. I pass over the innumerable women and men who have left our church for ordination in other denominations. I pass over the hurt to evangelism and stewardship that comes with ribald exclusionary doctrine. I pass over the diminishment of membership, particularly in the congregations of the US north and extended north, due to young adults, especially millennials, who sense the homophobia in our sanctuaries and find another place.
This is a spiritual issue, not one of numbers, a theological issue, not one of members, a biblical issue, not one of bodily strength, a homiletical issue, not one of disciplinary interpretation. This cuts to and cuts into our soul. Gay people are people, but we preach otherwise.