BU's Kenneth Elmore to Give Faneuil Hall July 4 Speech, Joining Pantheon Dating to 1773
In the City
BU's Kenneth Elmore to Give Faneuil Hall July 4 Speech, Joining Pantheon Dating to 1773
What did you do on your summer vacation? Kenneth Elmore will have a hell of an answer to that one come fall: this week, he'll deliver one of the most important speeches of his life, at Boston's iconic "Cradle of Liberty."
Elmore (Wheelock'87), associate provost and dean of students, will give tomorrow's Fourth of July oration at Faneuil Hall, the latest speaker in a tradition that dates back 246 years. The last time he was in Faneuil's second-story Great Hall, where he'll speak, was when he took his oath as a new lawyer in 2000. The invitation, from Boston Mayor Martin Walsh, to speak at the annual ceremony gives Elmore a stage before a potential crowd of almost 1,000 from around the nation and the globe.
He says his story is America's: "This notion that I can stand in Boston—in Boston, of all places. I'm a New Yorker…to be a person who is a part of American history from the standpoint of slavery, sharecropping, the great black migrations, school busing, Brown vs. Board of Education…to actually be someone who might have his name in a history space that people will look at from this time on—I'm really overwhelmed.
"I've got this opportunity, really, to rub up against history. And who am I to be that person who gets to rhyme with history? Wow."
He's given countless talks and presentations, he says, but the July 4 oration at Faneuil Hall stands out: "This is definitely the most important speech I've ever given, or at least the most important platform I've ever had."
Elmore's seven-minute oration will address this "fraught time in the nation's history," on the cusp of next year's election. "Are we ready for the future, especially in light of what I think…might be one of the most vitriolic, demoralizing presidential campaigns that we are about to see. My goal is to have this be a call for action, for us to be able to not fall prey to that.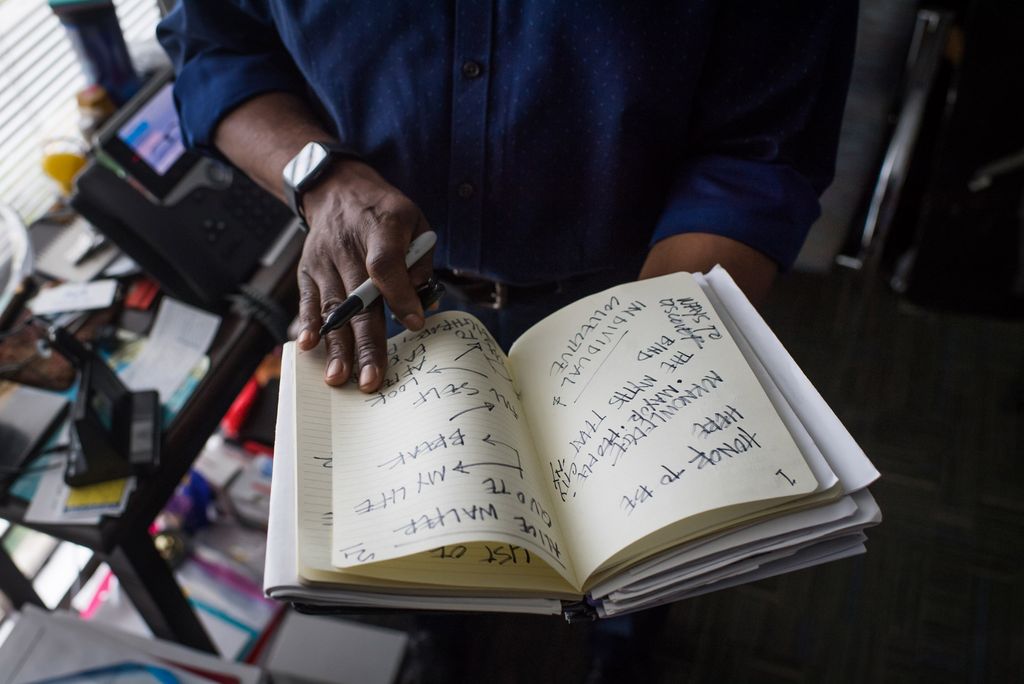 "For some people, it's going to be the call for civility, and for others, it's going to be, no, we've got to be ready to fight [injustice]. I think either one is an important piece to this conversation."
"Dean Elmore works hard every day to ensure that Boston University is a place where students feel included, respected, and safe, and we are honored to have him as our Independence Day orator this year," says Walsh, noting that Elmore's job at BU "is important now more than ever, and I look forward to him joining the incredible lineup of orators we've had in past years, as together we mark this important and celebratory day in our nation's history."
Elmore joins a roster of Fourth of July orators that includes future presidents (John Quincy Adams, in 1793, John F. Kennedy [Hon.'55], in 1946), aspiring presidents (Edward Kennedy [Hon.'70], 1961; Paul Tsongas, 1983; John Kerry [Hon.'05], 1984); a future Supreme Court justice (Louis Brandeis, 1915); Boston mayors (Martin Walsh, 2014; Thomas Menino [Hon.'01], who spoke four times; Raymond Flynn, 1986 and 2016); and celebrities (Julia Child [Hon.'76], 1993; Keith Lockhart [Hon.'01], 1995; late night TV host Craig Ferguson, 2008; and CNN anchor John King, 2011).
---

9"I've got this opportunity, really, to rub up against history. And who am I to be that person who gets to rhyme with history? Wow."

---
Elmore also will rub elbows with the ghosts of BU presidents who've given Faneuil orations, including John Silber (Hon.'95) (in the American bicentennial year of 1976) and Daniel L. Marsh (STH1908, Hon.'53) (in 1941).
Faneuil Hall has been the venue for an almost unbroken line of orators every year (save for two years when Faneuil was closed) since 1773, to mark the Fourth, as well as other momentous occasions.
During Colonial and Revolutionary times, Faneuil Hall hosted numerous meetings and protests, prompting later generations to "gather at the Hall in their own struggles over the meaning and legacy of American liberty," according to the National Park Service, which operates the city-owned building as a National Historical site. "Abolitionists, women's suffragists, and labor unionists name just the largest of groups who have held protests, meetings, and debates."
Aptly, for a location destined to host heated debates, the Hall was born amid controversy. When Peter Faneuil, a wealthy Boston merchant, offered to pay for construction of a centrally located market, opponents predicted it would ruin the competition. Then governed by town meeting, Boston approved the project by a razor's edge vote, and Faneuil completed the building in 1742.
Elmore's talk, open to the public, begins at 10:15 am, after he and other dignitaries process from City Hall to Faneuil Hall.