Joanne Chang Serves Up Life Lessons at SHA Convocation
Flour and Myers + Chang chef-owner on the importance of listening to your inner voice
Joanne Chang is unlikely to offer this four-course menu at one of her Boston-area restaurants.
Fruit kebabs. Peaches. A bowl of cereal. Dumplings.
But the pastry chef and co-owner of the popular Flour Bakery + Cafe chain and award-winning local restaurant Myers + Chang turned a series of food fables into life lessons as the guest speaker at the School of Hospitality Administration Convocation on May 18.
"By fruit kebab, I mean listening," Chang told the 127 temporarily mystified SHA graduates and several hundred guests gathered in the George Sherman Union Metcalf Ballroom.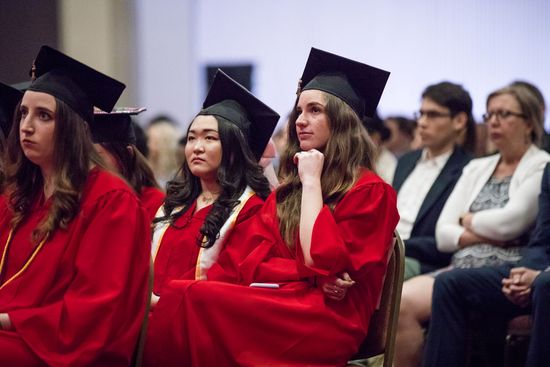 Specifically, she meant listening to the inner voice that tells you who you are. "On paper I was not supposed to be a pastry chef," Chang confided. She said that she came from a very traditional Taiwanese family, studied math and economics at Harvard, and became a management consultant. But she'd always liked making people happy with food, beginning with a gift of fruit kebabs for her teacher in third grade. Baking for her Harvard study group and hosting friends for weekend dinners after graduation, "all I thought about was food—how I loved to make it, eat it, and most of all, share it." Finally, Chang said, she listened to her inner voice and embarked on a culinary career.
In her imaginary menu, peaches represent patience and the cereal is symbolic of taking action—with each she told an anecdote that explained what she meant. The dumplings, she said, represent the simple truth that "we are all just trying to figure it out, so it's important to give yourself a break and laugh at yourself." And by way of explanation, she let her listeners in on the secret of one of Myers + Chang's most popular dishes.
"When we opened Myers + Chang, I wanted to put my mother's pork-and-chive dumplings on the menu, the ones I always imagined her learning from my grandmother as a child growing up in Taiwan," she said. "I called her up, asked for the recipe, jotted it down, went into the restaurant and taught all my line cooks, and off we went. Our opening chef practically wept the first time she ate one. By the time we opened, they had taken on a life of their own. The media loved them. They are our most popular dish. If you come to our restaurant, you are probably going to eat them.
"So a few years ago I asked Mom, 'What's the story behind the dumplings?'" Chang said. "I imagined a nostalgic trip down memory lane with her and her mom and maybe her grandmother, mom at grandmother's elbow learning old Taiwanese secrets. 'Oh, that recipe?' Mom said. 'I got that from a Good Housekeeping magazine when we first immigrated here.'"
When the laughter subsided, Chang, the 2016 James Beard Foundation Outstanding Baker Award winner, said, "You might think, now that you've graduated, you're supposed to have some idea what life is about. I'm telling you, it's OK if you don't.…We all have to be able to laugh at ourselves."
Arun Upneja, dean of SHA, began the festivities by recalling his efforts to recruit many of the Class of 2019 and watching their growth from "wide-eyed freshmen to calm, mature, assured, and global-minded graduates and hospitality professionals." He noted proudly that they had taken their education far beyond campus, with internships and other experiences from such Boston hotels as Liberty, Boston Park Plaza, and Nine Zero to the Beverly Hilton in Beverly Hills and the Surfcomber in Miami, and beyond to the Ritz Carlton Indonesia, Hotel Belludi 37 in Padua, Italy, and even the Taj Mahal Palace in Mumbai, India. Some 78 percent of students studied internationally, he said.
"Beyond where they've gone, what they've done in these stellar locations is even more impressive," he said. "Delving into real estate management, corporate affairs, design and style, development, and even advertising and public relations" in a changing business environment roiled by newcomers such as Airbnb.
During the ceremony, Upneja recognized Nicholas Washienko for his 42 years of service to BU. The SHA assistant professor of hospitality administration is retiring, or as the dean put it, "graduating from SHA straight onto a golf course."
Student speaker Parker Doyle (SHA'19) recalled a group project creating a restaurant concept during his sophomore year. Two weeks before the end of the semester, the team came together to practice the financial and marketing presentations they'd been honing for weeks. One team member, who'd been silent to that point, turned her laptop around to show a complete 3-D rendering she'd created of their eatery, stunning her team members. They won the end-of-semester competition, and one judge even asked if the "architecture school" had helped them, Doyle said.
"I knew immediately at that moment that I would never again underestimate any member of a team, even if they were the quiet one," he said. "Every person can bring a different perspective to solving a problem. She uniquely saw the world through a 3-D design perspective, while the other members of the team were only seeing it in two dimensions."
Along with the 82 undergraduates and 45 graduate degrees awarded at the Convocation were several individual awards. Pajaree (Mary) Suriyaprapadilok (SHA'19) received the School of Hospitality Administration Award for Academic Excellence, and Lacey Kirks (Wheelock'19, SHA'19) and Namrata Sridhar (SHA'19) earned the Dean's Service and Leadership Award. The Graduate Leadership Achievement Award was presented to Caroline Salas (Questrom'18, SHA'19).
Find more coverage of Commencement here.