Charles River, Medical Campus Faculty Promoted to Full Professor
Among areas of expertise: treatment of child anxiety, premodern Asian literature, violence prevention
From expertise in dating abuse, adult binge drinking and youth drinking, and the use of experimental therapeutics in the treatment of Alzheimer's disease to the social dynamics of cities and modern Spanish American literature, culture, and film, the 18 BU faculty recently promoted to full professor are leaders in their fields, bridging disciplines and finding solutions to some of the world's most pressing issues. They are also classroom leaders, inspiring new generations of scholars and professionals.
"Every day, BU faculty are helping to shape the future and our understanding of the world in new and important ways," says Jean Morrison, University provost. "We are proud of these scholars who exemplify through their teaching and research the very best that our community has to offer. Whether broadening our outlook on urban and community life, writing seminal works that further our knowledge and appreciation of global cultures, or advancing innovative approaches to everything from childhood trauma to vascular disease, all are leaders and pioneers in their fields. We are excited to see their work recognized as they become full professors at Boston University."
The Medical Campus accounted for 13 of the 18 BU faculty members attaining full professorships. "These recently promoted faculty are senior leaders from the Schools of Medicine and Public Health and experts in their disciplines," says Karen Antman, dean of the School of Medicine and provost of the Medical Campus. "We congratulate them for their accomplishments."
Charles River Campus faculty promotions:
Japonica Brown-Saracino, College of Arts & Sciences (CAS) professor of sociology
An ethnographer, Brown-Saracino studies the social dynamics of cities and community life, focusing on questions of gentrification, culture, sexualities, and identities. Considered one of her field's leading creative voices, she has published extensively in sociology journals and written three books, most recently How Places Make Us: Novel LBQ Identities in Four Small Cities (University of Chicago Press, 2017). In 2016, she received the American Sociological Association Jane Addams Best Article Award. Her A Neighborhood That Never Changes: Gentrification, Social Preservation, and the Search for Authenticity (2009) garnered the Urban Affairs Association Best Book Award. She directs the Urban Inequalities Workshop, sponsored by BU's Initiative on Cities.
Wiebke Denecke, CAS professor of East Asian literatures and comparative literature
An expert in premodern Asian literature, Denecke explores early thought traditions of philosophy, poetic and court cultures, the development of literary traditions in multiliterate environments, and views of ancient East Asian traditions in the global present. A past recipient of the Andrew W. Mellon Foundation New Directions Fellowship, she published Classical World Literatures: Sino-Japanese and Greco-Roman Comparisons (2014), one of two major volumes, and has been an editor on several Norton Anthology, Oxford Handbook, and Wiley-Blackwell Companion projects. She is currently researching early Japanese literature's relationship to China and Korea, as well as visions for the global transformation of the humanities.
A professor of Spanish and director of the Pardee School of Global Studies Latin American Studies program, Pineda researches modern Spanish American literature, culture, and film and their relationship with political history, particularly Mexico's. A leading scholar of transnational cultural phenomena and the 19th- and 20th-century modernismo movement, she has written 16 book chapters and the 2016 Mexican government Malcolm Lowry Fine Arts Literary Essay Award winner, Steinbeck y México. Una mirada cinematográfica en la era de la hegemonía estadounidense, one of two widely cited books. A forthcoming book explores Hollywood's depiction of the Mexican Revolution.
Katherine Zhang, College of Engineering professor of mechanical engineering and materials science and engineering
Zhang studies the mechanical behavior of soft biological tissues and composites across multiple scales, using experimental techniques and computational modeling—research with translational implications for the diagnosis and treatment of vascular disease. Supported by numerous major National Institutes of Health and National Science Foundation grants, she is a past NSF CAREER Award winner, a past Clare Boothe Luce Professor, an elected fellow of the American Society of Mechanical Engineers, and the author of dozens of widely cited papers in biomedical and biomechanical journals.
Amie Grills, Wheelock College of Education & Human Development professor of counseling psychology
A specialist in the treatment of child and youth anxiety in school settings, as well as the resiliency factors in individuals of all ages following traumatic events, Grills is a frequent presenter at national conferences. She has received BU's United Methodist Scholar/Teacher of the Year Award, and her research is supported by significant National Institutes of Health grant funding. She is the author of 2 books, nearly 40 papers in high-tier, refereed journals, and 17 book chapters or encyclopedia entries. Her most recent coedited book, Critical Issues in School Mental Health: Evidence-Based Research, Practice, and Interventions (2015), received Choice Magazine's Outstanding Academic Title award.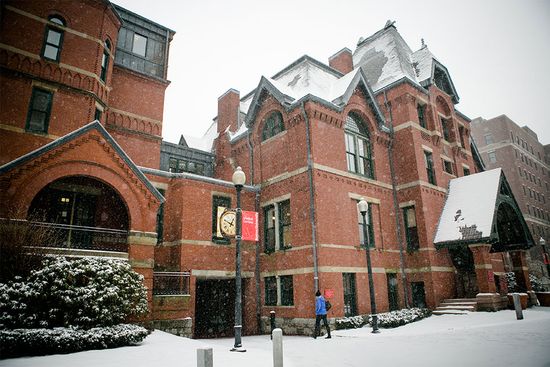 Medical Campus Promotions
Christopher Andry (Graduate School of Arts & Sciences'87,'89, School of Medicine'94), School of Medicine (MED) professor of pathology and laboratory medicine and of family medicine
Andry is well-recognized in the field of biospecimen science. In a team-based setting at BU and Boston Medical Center, he has established evidence-based protocols and standards to ensure curation and distribution of high-quality, well-annotated biospecimens. He has been the principal investigator (PI) on more than $2 million in grants and contracts to set standards for the science of biospecimen collection. A mentor for many medical and graduate students, he directs MED's Master of Science in Pathology Laboratory Sciences program and is course director, lecturer, and laboratory instructor in medical, dental, and graduate courses. Andry has raised BU's profile in biobanking and provides the expertise for obtaining usable tissue samples for Medical Campus research faculty. He has chaired the BU Laboratory Safety Committee for 12 years and directs the BU-BMC Cancer Center Cancer Tissue Archive for Precision Medicine.
Lawreen H. Connors (GRS'86) MED professor of pathology and laboratory medicine
Connors' research focuses on uncovering the protein and genetic determinants that underlie the formation of amyloid. Early in her career she worked on structural studies of amyloid-causing transthyretin (TTR) mutants, mainly those causing cardiac dysfunction. More recently, she has focused on wild-type TTR amyloidosis, an age-related disease now recognized as an underappreciated cause of heart failure in the elderly. She has had continuous support from the National Institutes of Health and foundation grants, as well as industry-sponsored research agreements. In 2009, she played a major role in the establishment of the MED and Boston Medical Center Amyloidosis Center Amyloid Pathology Diagnostic Testing Laboratory. She is director of the center's Gerry Laboratory and codirector of the Amyloid Pathology Diagnostic Testing Laboratory. Connors has mentored more than 20 master's, doctoral, and postdoctoral students, and has served on multiple local, national, and international committees.
Shoumita Dasgupta, MED professor of medicine and of biomedical genetics
A scientist educator whose scholarly work focuses on integrating genetic and genomic science in medical and graduate education, Dasgupta has made significant contributions to the reform of medical school genetics education, introducing curricula using team-based teaching and flipped classroom learning, with an additional focus on education in diversity and ethics. She has constructed and published several innovative teaching activities that integrate cultural, ethical, and genetic-genomic concepts. Through her leadership in the Association of Professors of Human and Medical Genetics Medical Course Directors, she's had a major role in the revision of the Medical School Core Curriculum in Genetics, the foundation for genetics courses taught at most US medical schools. She has written several articles featured in the Centers for Disease Control and Prevention's Public Health Genomics Knowledge Database. Dasgupta also was selected to lead NIH genomic medicine education initiatives on emerging genomic technologies and their responsible, inclusive implementation for trainees and providers.
Karen E. Lasser, MED professor of general internal medicine
A primary care physician researcher, Lasser is dedicated to improving health conditions in vulnerable populations, spanning primary care practice-based research; interventions to promote preventive services in vulnerable populations; outpatient medication safety; and interventions related to addiction. She is the first author on more than 50 peer-reviewed articles, including an influential JAMA Internal Medicine publication investigating how patient navigation and financial incentives promote smoking cessation among primary care patients served at an urban safety-net hospital. She has been continuously funded by the NIH, nonfederal foundations, and intramural programs with more than $5.2 million in direct costs since her 2009 promotion to associate professor. She has received numerous awards and has been appointed to several national and international committees.
Stephanie Lee, MED professor of medicine and of endocrinology, diabetes, and nutrition
A national expert in the clinical management of thyroid diseases, Lee has done research that has led to improving differentiation of malignant versus benign thyroid nodules. She is currently the PI on two externally funded grants, using ultrasound for diagnosis of thyroid nodules and developing a multi-institution thyroid cancer registry. In 2015 she received the American Thyroid Association Woman of the Year award, has served on the association's guidelines committee for managing patients with thyroid nodules, and has been on the Thyroid World Congress faculty. She developed a two-year didactic curriculum for the Endocrine Fellowship, developed and directs a monthly multidisciplinary Endocrine-Pathology-Surgery Clinical Conference on thyroid cytology and pathology, and created an 80-hour curriculum, required for the certification of endocrinologists, for the human administration of radioactive iodine. In 2018, she was selected as an Evans Clinician, a lifelong designation awarded to department of medicine faculty recognizing outstanding clinicians.
Mark Miller, MED professor of psychiatry
A clinical psychologist in the VA Boston Healthcare System National Center for PTSD Behavioral Sciences Division, Miller is an internationally recognized expert in the genetics, neurobiology, and assessment of post-traumatic stress disorder. As a PI, he has been continuously funded by the National Institute of Mental Health and/or the US Department of Veterans Affairs for almost 20 years. He has published more than 100 peer-reviewed papers on PTSD and related conditions and his work has been cited about 6,000 times. He is currently an associate editor of the Journal of Abnormal Psychology, the American Psychological Association flagship publication, and previously was an associate editor for two other leading traumatic stress journals. Miller is a frequent grant reviewer for the NIH and other US and international funding agencies and he has been a research mentor to numerous pre- and postdoctoral trainees in BU programs.
Joanne Murabito, MED professor of general internal medicine
A clinician-scientist trained in epidemiology, with specific interests in aging, cardiovascular disease, and genetic epidemiology, Murabito has used the Framingham Heart Study database for research focusing on the epidemiology and genetics of longevity, healthy aging, and reproductive aging (menopause). She is investigating the use of mobile health technologies to study overall and cardiovascular health. Her research has been funded by the NIH, and she is the author of over 170 original peer-reviewed articles in such journals as Nature Genetics, Circulation, and JAMA.
Timothy Naimi, MED professor of general internal medicine
Naimi is a CDC-trained epidemiologist with a focus on adult binge drinking, youth drinking, the health effects of moderate alcohol consumption, and substance use policy that includes the impact of alcohol control policies on youth and adult alcohol consumption patterns. He has been the PI on three NIH-funded projects to develop better measures of state alcohol policy environments and study their relationship with excessive alcohol use and related outcomes, such as fatal motor vehicle crashes and alcohol-related homicides and suicides. He has written more than 100 peer-reviewed papers.
Elizabeth Pearce (School of Public Health'04), MED professor of medicine and of endocrinology, diabetes, and nutrition
Clinical investigator, endocrinologist, and epidemiologist Pearce has made contributions in iodine nutrition, thyroid disease in pregnancy, environmental thyroid disrupters, and the association of thyroid function with cardiovascular risk. Her internationally cited publications have changed US recommendations for iodine supplementation and iodine use in pregnancy. Among her 87 articles, 22 include a mentee as first author. She is president of the American Thyroid Association and has received its Van Meter Award. Pearce has been a leader in the Iodine Global Network, an NGO dedicated to eliminating iodine deficiency disorders, since 2007.
Jillian C. Shipherd, MED professor of psychiatry
Shipherd is a leader in the field of PTSD and LGBT health. She has directed the national LGBT Health Program for the VA since 2012 and her national fellowship program on LGBT Health has been adopted at VA sites across the country, including Boston. She worked at the national level to develop a VA policy on care for transgender veterans and a policy for veterans who identify as lesbian, gay, or bisexual. She has served on numerous national committees and editorial boards. The recipient of the American Psychological Association's Award for Distinguished Contribution to Education and Training and the Health Professionals Advancing LGBT Equality 2018 Achievement Award, she has published more than 100 peer-reviewed papers.
Weiming Xia, MED professor of pharmacology and experimental therapeutics
Xia is an expert in Alzheimer's disease and related neurodegenerative disorders. His 1999 Nature paper about his postdoctoral research linking presenilin and gamma secretase directly led to a specific therapeutic target for Alzheimer's disease. His current research focuses on identifying therapeutic targets for Alzheimer's and developing biomarkers for Alzheimer's diagnostics and therapeutics. He is the PI on VA Merit and Pilot Awards and on a Cure Alzheimer's Fund foundation grant. He has 95 peer-reviewed journal articles, 13 invited peer-reviewed critical reviews in journals such as Nature, PNAS, and Cell and in leading Alzheimer's disease and neuroscience journals, and 12 book chapters, and is an editor of Amyloid Precursor Protein: A Practical Approach.
Ching-Ti Liu, School of Public Health (SPH) professor of biostatistics
Liu, an expert in statistical genetics and its applications, specifically on obesity, type 2 diabetes, and musculoskeletal disorders, is a biostatistician and statistical geneticist on several large research consortia and coleads the African American Genetics of Glucose and Insulin Consortium and the Anthropometric and Adiposity working group in the Cohorts for Heart and Aging Research in Genomic Epidemiology Consortium. He has had more than 100 peer-reviewed journal articles in Nature, Nature Genetics, Genome Biology, and the American Journal of Human Genetics. Liu has a portfolio of externally funded research, most from the NIH. An exemplary teacher and mentor, he has developed three new courses and has twice received the SPH Excellence in Teaching Award.
Emily Rothman, SPH professor of community health sciences
Rothman's research focuses on violence prevention in the areas of dating abuse and sexual violence, human trafficking, and community violence. Her scholarship on relationship violence has been ahead of its time, well before the #MeToo movement. Her research has been funded by the NIH, the National Institute of Justice, the Department of Justice, the US CDC, and the Robert Wood Johnson Foundation. She has more than 85 peer-reviewed publications, many in such high-impact journals as the New England Journal of Medicine, the American Journal of Public Health, JAMA, and Pediatrics. Rothman's honors include three SPH teaching awards and the Linda Saltzman New Investigator Award from Futures Without Violence and the CDC Foundation. She has facilitated psychoeducational groups and individual counseling interventions for perpetrators of partner and sexual violence since 1997.