Dorm Design Tips from BU and Professional Design Experts
Style
67 Dorm Design Tips
Cheap, easy DIY ways to outfit your new room 
Bland. Bare. Boring. That's the canvas you face when you first walk into an empty dorm room. White cinder blocks, harsh lighting, worn carpet. But with some sparkling creativity and clever hacks, you can make your space into a new home. And it doesn't have to cost a lot.

After interviewing students for our "Decked-Out Dorm" series, we felt inspired to compile a comprehensive list of dorm design tips, from professional designers, big box stores, and stylish students, as well as from innovative solutions we came across on Pinterest and Instagram.

Feel free to borrow, steal, or tweak our ideas for your own room, and while you're at it, share your favorite design tips in the Comment section below.
First things first: P-L-A-N
Before you start buying new stuff or schlepping things from home, check out your dorm's floor plan to get a rough idea of square footage and layout. Also, be sure to connect with your roommate to make sure you're not both bringing big items. You need only one MicroFridge and one ironing board, for instance.

YouTube dorm tours are great for life-hack ideas, says Kat Ungvary (COM'22).

Save valuable packing space

Save room in your suitcase for that big puffy jacket you'll need in like…three weeks. Big box stores near campus like Target and Bed Bath & Beyond offer pickup options if you order online.

Safety first

BU Housing has a list of banned items, including hoverboards and halogen lamps, so don't bother bringing them: you'll only have to ship them home.

Go green

Think carefully about what you purchase. Not only as a money-saving measure, but also because many items likely will end up in a landfill one day (where do you think the remnants from Allston Christmas go?). To save money as well as upcycle, head to your local Goodwill (or wait until you get to campus—there's a big Goodwill at 965 Comm Ave)—to pick up things like wall art, lamps, and furniture.

Keep it clean
Beware of clutter: get rid of stuff and don't store books and whatnot on your desk.

Get colorful
Dawn Thomas of After Five Designs in Jackson, Miss., is often called upon to create those swoon-worthy (read: not cheap) rooms that attract thousands of Instagram likes. She says blue is the most popular color this year, and that she's receiving a lot of requests to mix in shades of pink.

"When selecting colors, shades of warm whites, soft grays, pale blues, or pinks tend to have more of a calming effect, whereas yellows, reds, or oranges are more invigorating," says Bed Bath & Beyond's Leah Cascarano. "Whether going for a neutral look like the UGG Devon Collection or a vibrant pattern, this will set the stage for the rest of the room. Depending on the bedding pattern selected, dress up the rest of the space by adding small, decorative pieces, like an area rug, statement pillows, and throws."

Go up
Placing your bed on risers gives you a few valuable inches and lets you fit big, bulky items (like suitcases) underneath.

Remember, you are not allowed to dormer your beds, like you sometimes see on Instagram. Why? Think of what happened to Will Ferrell and John C. Reilley in Step Brothers. Enough said.

Get comfy cozy
To achieve an uber-comfortable bed, Thomas uses a three-inch Tempur-Pedic mattress pad, a featherbed cover, and a mattress pad, reminiscent of The Princess and the Pea.

Nightstand options
Find a tutorial here on how to make your own floating headboard above your bed with a magazine file.

Target also sells mini shelves and bed caddies that you can click on to your bed frame to keep items close by.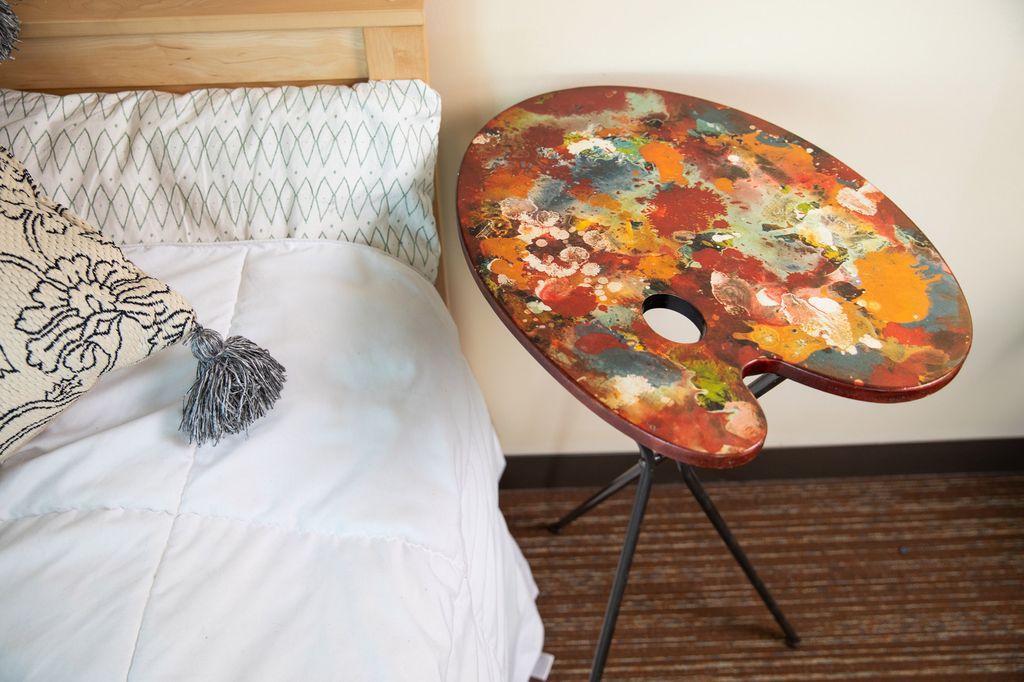 Headboards
Make your own headboard out of cardboard and fabric or buy a ready-made one that can be attached with 3M hooks (we talk a lot about 3M hooks on this list). A more expensive option is this headboard/shelving combo.

Smart lighting
Unlike at many other college dorms across the country, fluorescent lights have been phased out by Campus Planning & Operations and the Office of Sustainability, replaced by higher-performing fluorescent or LED lights. But dorm rooms can still benefit from some additional light, whether it be a stand-up lamp in the corner, a hanging pendant, or Christmas lights strung across a wall.

Christmas lights, again? Break the mold
What about a curtain string of lights, photo clip string lights, or even penguin lights?

Set the mood with (fake) candles
Real candles are forbidden in campus housing, but flameless candles, like these battery-powered ones, are safe, not to mention glamorous.

Showcase those views
BU rooms come with blinds, but consider hanging curtains with a 3M hook. Find a tutorial here.

To make her room less "dormy," Julie Fager (CGS'17, COM'19) lowered her bed as much as possible and removed the hutch shelf from her BU-supplied desk. This gave her more light and a better view of Nickerson Field.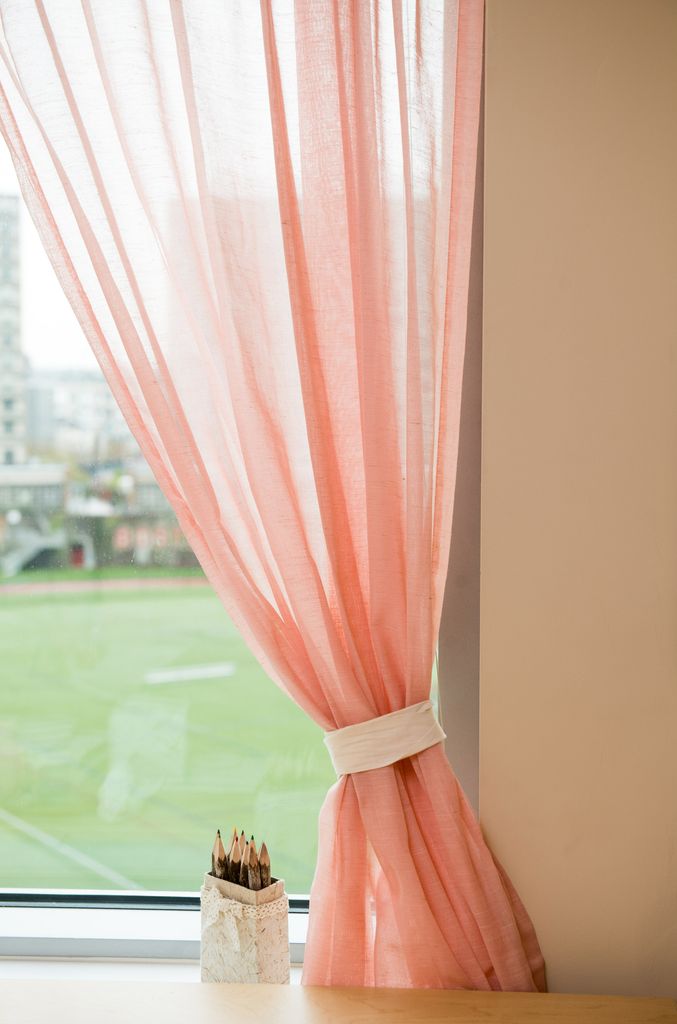 Hamper out or in?
There are two schools of thought. The first is to keep your hamper tucked away in your closet. If you decide to go the other route and display it, try to find one that matches your color scheme instead of the standard Target-issued white.

Bring the outdoors in
Plants make a space feel homey. You just have to decide whether to go with real (they provide air circulation and give you something to nurture) or fake (you can't kill them).

Take a seat
Plan to do a lot of entertaining? Don't forget the seats. Buy additional pillows that can be tossed on the floor for added seating when guests come calling. Space-friendly options can be found on Amazon and can be folded up and stored under your bed.

Also, don't forget a cover or cushion for your BU-issued desk chair. Find a DIY slipcover tutorial here.

Invest in items that pull double duty
Use a rolling bar cart as a nightstand. A storage ottoman or a trunk at the end of your bed can hold blankets and other big, bulky items, while also providing another place to sit.

Picture wall
You'll want to display pictures that remind you of home. Frames are one option, but get creative and consider making a cool wall display; find a few ideas here and here. We especially envy the way these photos are displayed on top of a desk.

Evan Dann (ENG'21) is a big fan of framing stuff. It looks much neater than just taping a photo on the wall. He recommends creating your own art with free downloads, then cropping to the appropriate size, and frame.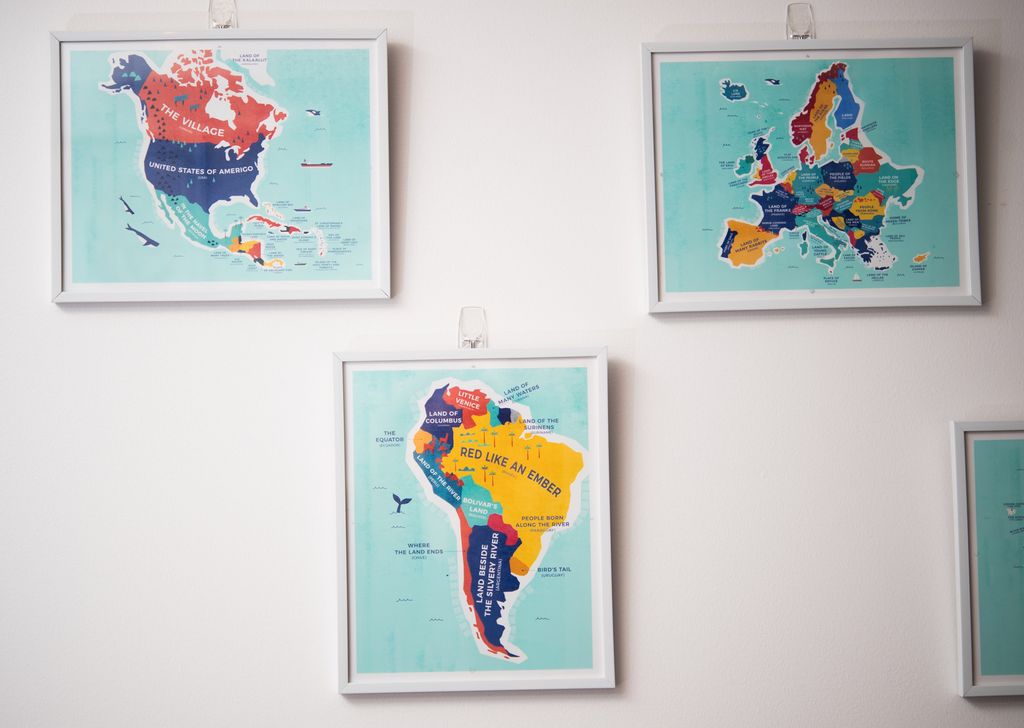 Be playful with sizes
Whether you're displaying photos or art, don't feel like you have to keep them all the same size. Mix it up to add visual interest.

Hang wallpaper
Companies like Chasing Paper and Dormify sell removable sticky wallpaper. Faux bricks, anyone?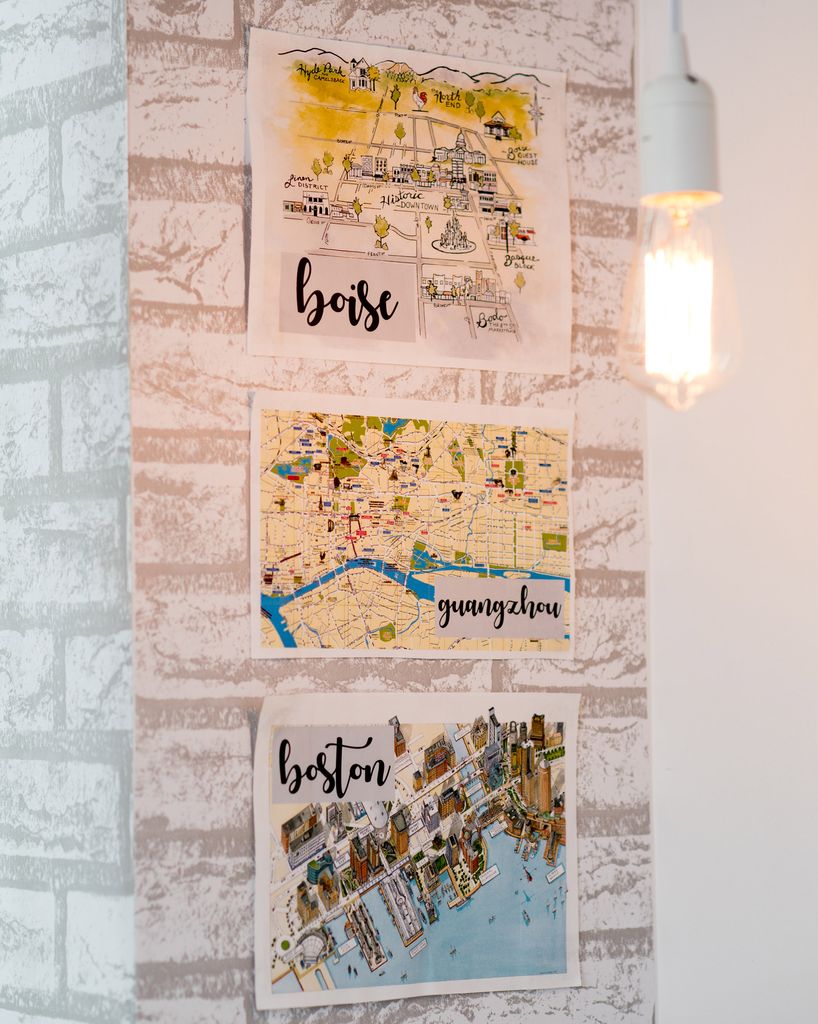 Dress up that MicroFridge
Buy or make planters for your fridge to hold succulents, pencils, change, etc.

Drape a tapestry
Tapestries are a quick, easy way to add a lot of color and another focal point to your room. The website Society 6 has hundreds to choose from.

Tapestries can also be draped across a closet to keep the mess contained.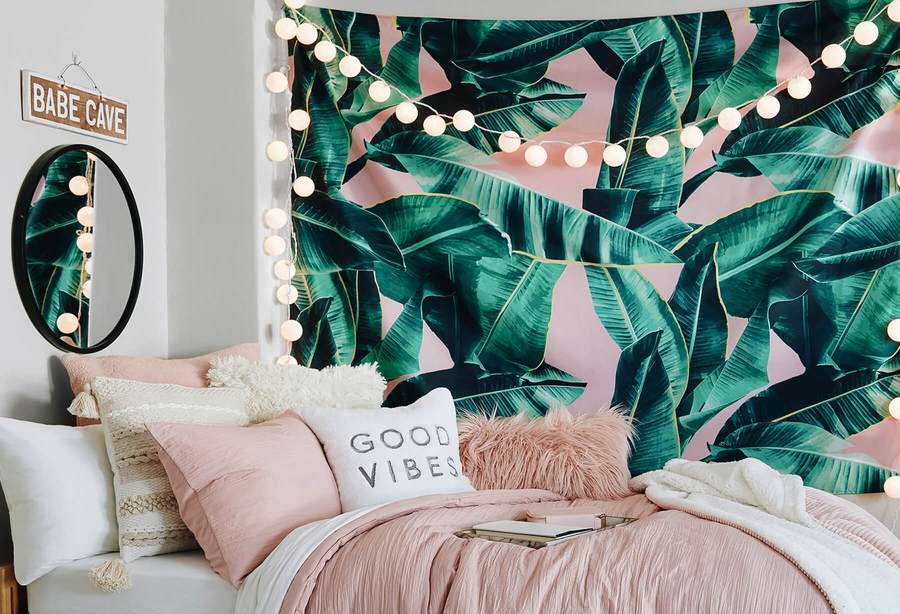 Mirror, mirror on the wall
Hang a full-length over-the-door mirror, both for convenience and to reflect light and make the room brighter.

Cover up
Even if your dorm already has a carpeted floor, think about adding a rug for added coziness. Here's a breakdown of the different types:
Shag is trendy but is more likely to collect dust and dirt.
Woven cotton isn't cheap but it's easy to care for.
Indoor/outdoor is made to withstand a lot of wear-and-tear and will be especially resilient in our Boston winters.
Keep it smelling fresh
Don't let your room smell like dirty laundry. Keep a can of room spray or scented beads handy. A more eco-friendly option, says sustainability@ BU, is to use a box of baking soda, which leads to better air quality.

Pillow talk
Pillows aren't just for sleeping. Try using pillows with different shapes, bolster pillows, accent pillows, a pillow repping your home state, or one with "BU" or your sorority or fraternity letters on it.

"Add a body pillow to create a 'day-bed' look that's perfect for hosting a bunch of friends, since it turns your bed into a couch when it's pushed up against a wall," Amanda Zuckerman of Dormify.com says.

The many uses of washi tape
Worried that all of your charging cords and blocks will get confused with your roommates'? Those things aren't cheap, so personalize with washi tape. Or make a headboard or a city landscape. Washi tape can even be used to personalize a boring MicroFridge.

Make your desk work for you
Cover your desk with removable contact paper for an instant upgrade—choose from marble, tile prints, nautical maps, and a whole lot more.

Ungvary recommends this hack she came up with to make more efficient use of her space: she moved the bookshelf originally on her desk into her closet to use as a shoe rack and bought a new desk cubby to store her books, skincare products, and jewelry.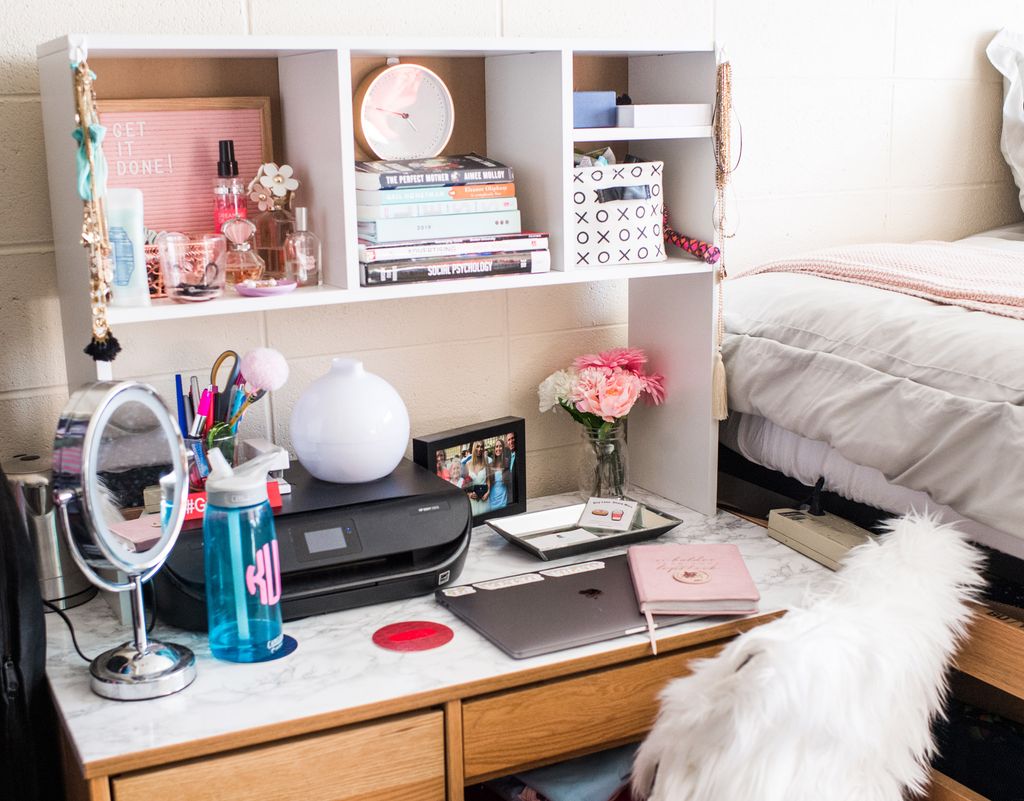 3M adhesive hooks are your friends
These non-paint-peeling stick-on hooks can be used to hang curtain rods, frequently used items like keys, headphones, hair straighteners, and pretty much anything else.

Junk drawer, dorm-style
Hang an over-the-door organizer to store things you need to access quickly, like your wallet, jewelry, cords, snacks, pens, etc. Another option is this bedskirt organizer or consider using a shoe organizer as a pseudo-shelf.

Don't be afraid to change your look
Freshman year Julie Fager's room was all hot pink and orange. "When you're a freshman, you go to one store—Target—and only shop the things they have out," says Fager. "I toned it down as I grew up."