Building a Pipeline of Talent in Boston
They are determined to use their experience, influence, and positions to help make their business, organization, and world a more inclusive place. They are breaking barriers—and then reaching back to help those behind them overcome the same hurdles. They are mentoring students or younger colleagues, hiring diverse candidates, offering opportunities, and ensuring that employees succeed and are promoted so that their workplace and their communities reflect the richness and talents of the country's increasingly diverse population.
They are BU alumni, faculty, and staff—of every race, ethnicity, age, and gender—and they are "Opening Doors" for the next generation.
In 2009, Danielson Tavares had graduated from UMass Amherst and planned to attend law school. He'd grown up in Dorchester and had seen what happens to people who couldn't afford legal representation. Too often, he says, "they got left behind."
But after landing a job as a legislative aide at the Massachusetts State House, he began to rethink his plans. "If I were to become an attorney, I could work on issues on a case-by-case basis," says Tavares (MET'17). "At the State House, I could work on criminal justice reform, mandatory sentencing, healthcare, employment. I could work on a whole bunch of issues, because politics touches everything."
After two years as a legislative aide, Tavares went to work for the city of Boston, where he's been special assistant to Mayor Martin J. Walsh and deputy chief operating officer. In 2016, Walsh appointed him the city's chief diversity officer.
Tavares has deep roots in the community. Born in Cape Verde, the youngest of six children, he was two years old when he arrived in the United States with his family. He is currently building a home next door to his parents in Dorchester—his father, who is helping him on the project, works in construction, and his mother is on the housekeeping staff at Boston Medical Center.
His position allows him to focus on employment and other issues that face the city's neighborhoods. "Every once in a while, you get that one call that says, thank you so much, this really helped. And you're like, OK, it's worth it."
Tavares spoke with Bostonia about growing up in Dorchester, the important role his middle school has had on his life, and the importance of diversifying the city's workforce.
Bostonia: Tell us about your childhood.

Tavares: When we came, my uncle owned a three-family house in Dorchester, so we took the top floor. Pretty crowded. Think about a three-bedroom with six kids and two parents—it was always sleeping wherever we could find space.

What was it like growing up in Dorchester?

I [have] fond childhood memories. We come from a large family, and we have all been lucky enough to live in close proximity. And then I started in the Boston public school system….The big shift for me came in the fourth grade when…a teacher approached my parents and said, "There's this great school called Nativity Preparatory School of Boston. It's a tuition-free Jesuit school serving low-income families." At the time, there were 60 kids in the school, grades five through eight. It was a rigorous curriculum, all-boys school, 7 am start and you get done at 5 pm. You'd go home for two hours for dinner and then you're back from 7 to 9 pm for homework.

It kept me out of trouble and it gave me a safe space to grow and have really good teachers. It was my first introduction to service: we'd do community service field trips on the weekend; before school started we had chores; we couldn't go out to recess until we vacuumed the classrooms, wiped the chalkboards. If we wanted to raise money for something, we had to sell snacks. So they really taught us at an early age the importance of all that stuff and really ingrained the motto of the school: "Men for Others." So, service in the Jesuit way, giving back—that's always been ingrained in me.

That's a lot of time spent at school. It's almost like boarding school.

It is. And it prepares you very well. From Nativity, I ended up getting into Thayer Academy in Braintree. I grew up in the inner city, in a safeguarded community where everyone kind of looks like you, has the same interests as you. Thayer was the first time in my life where I was exposed to race in a real, meaningful way. For example, when I got to Thayer, I was an honors student in every course. Two months later, I was not in any of those courses. Two months after that, I was dropped even further down, and I remember the headmaster called me and said, "Do you really want to be here?"—not realizing that I was never able to get comfortable at the school, where you're the only person of color in your classroom or where you're reading Huckleberry Finn and the n-word is being dropped every other phrase, and you notice your classmates look at you every time it's being said. It's very hard to focus on being a student when half the time you're trying to figure out, how do I fit in and where do I belong in this equation? So, I think that was a challenge for me. But [it also was a time] of growth for me—to be able to face those issues head-on.

You went on to graduate from UMass and then worked as a legislative aide. Why did you want to take on the role of chief diversity officer for the city?

I looked at the chief diversity officer role as an opportunity to work on everything that I've always cared about. I've felt neighborhood kids didn't have access to these jobs. They weren't politically connected. They didn't have anyone advocating for them. Now, you have a neighborhood kid with the ability to help get folks in the door. And not just in the door in city hall, but also to other industries. That was part of the conversation around my role, and I think the fact that it was pretty loosely defined gave me an opportunity to make it mine, to say, well, we shouldn't just have a lens on city hall, we should have a lens on the entire city of Boston. We have the private sector. We have nonprofits. We have partners in every sector, right? So if we can leverage the conversation on diversity—saying that the mayor's championed this—then companies are going to follow suit….They want to do all the things that paint them in a positive light….I can kind of bridge those divides and get things done and also focus on the populations that I felt were being left behind and do something about it.

What does the work involve?

I think the first thing we try to do is understand what we look like as an administration. I think when we took over in 2014, about 37 percent of the workforce was people of color, and about 53 percent of the city of Boston is now….We're a majority-minority city. So, the first question to ask was [about] representation. How do we get those numbers up? Which is tricky, in that you have a heavily unionized workforce—you've got to wait for these positions to become available. So, the first piece was to get our data: what do we look like? We have what's called a diversity dashboard, so that if you go to cityofboston.gov you can see all of our demographic information. For us, it's a conversation around: well, if we're serious about moving the needle, it's actually to our benefit to state where we are. We didn't create these issues, but we're serious about working on them. I think that transparency was big.

We also do internal reporting, where all departments get quarterly reports that say, over the last 90 days here's what you look like in your administration. We don't set any race quotas or anything like that, but it's just saying, here's where you are in terms of representation. It gives them a nice little snapshot in terms of where they need to work.

The biggest piece, I think, is our pipelines—how do we make sure that we're growing people through the administration, we're bringing in new talent, and as we bring in new talent, how do we make sure that we use these positions to potentially offer them to some kids who traditionally haven't had these opportunities. So, whether that's looking at the building trades as partners or different private sector organizations, I think having this office, being that coordinator, has really paid dividends.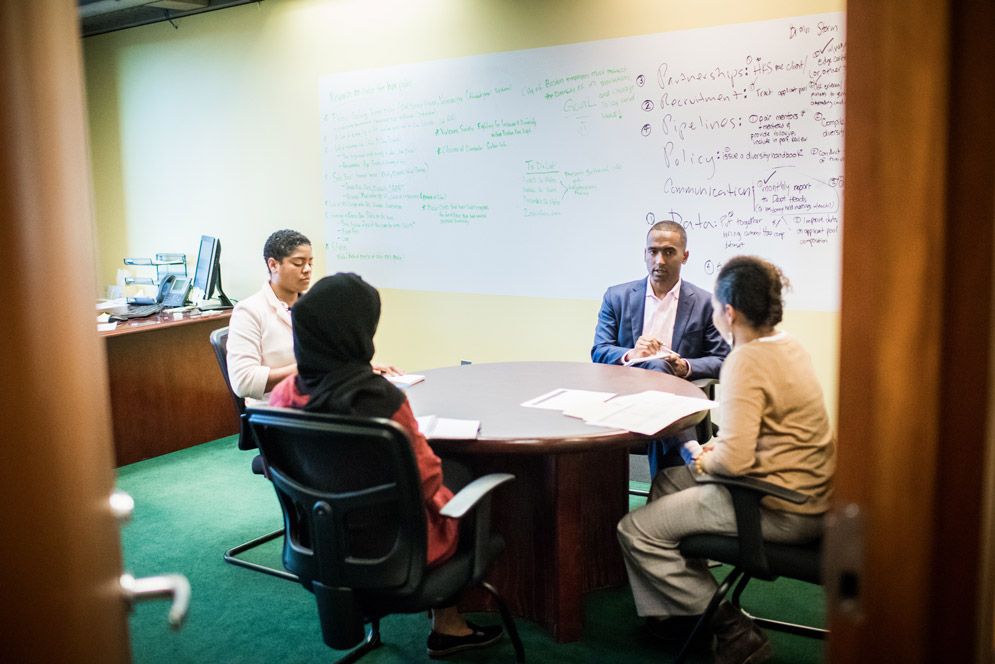 Is it difficult to hire people given the city's history of racism?

We have a residency requirement: to work for the city of Boston, you have to live in the city. I think we have enough talent in the city that it's not as big of an issue as people make it out to be. I also think that there's something to be said for the value of understanding the pockets of the city….Boston is just so nuanced and so specific in that way. I don't think it's been too much of an issue for us, to be honest.

In trying to diversify the city of Boston's workforce, have you encountered any pushback?

I think the biggest pushback is that you're trying to change culture, and I think that can be difficult. Whether it's an aging workforce or a new administration, I think all of that is sort of intertwined and can be a challenge. Even in my role as chief diversity officer, I never lose sight of the fact that I still have to deal with the issues of race and I still have to deal with the issues of being someone who is perceived to be young in this role. So I am always thinking about, how do I collaborate, how do I try to make sure that I'm pulling people in so that they're buying in and not feeling like this is a top-down approach, which I don't think works well. I'm always being mindful of how I'm approaching people.

It was big news when William Gross was appointed police commissioner, the first person of color to hold the position. What progress have you seen?

I think what this administration has done is try to build a pipeline of talent. And one thing the mayor is great about is supporting careers, whether it means you leave the administration or not. I think he's superkeen on that, and so I think that the biggest change I've seen is the willingness to grow talent, to allow people to develop, and to foster that talent. I think that's the biggest area where we're going to make an impact. I think it's going to pay dividends 5 or 10 years from now. Whether it's working with the transportation department to hire more engineers of color or working with the city planner to hire more planners of color, I think all of those are going to pay dividends down the line for us.
Do you know BU alumni, faculty, and staff who are opening doors or breaking barriers themselves? Email Cindy Buccini at cbuccini@bu.edu and recommend them for our series "Opening Doors."
This Series
Also in
October 9, 2021

September 15, 2021

May 5, 2021