BU Women's Hockey Beats Northeastern in Beanpot Shootout
Terriers will now go after their first title as a varsity squad
The No. 8 BU women's ice hockey Terriers upset No. 3 Northeastern, 4-3, in an overtime shoot-out Tuesday night, after an action-packed game at Harvard's Bright-Landry Hockey Center. The win propels them to next week's Beanpot Tournament final.
The final will be played on February 12, with BU going up against Harvard, which beat BC, 4-1, in the night's second semifinal game.
In the early game, BU defender Reagan Rust ('19) flicked a wrist shot past Huskies goaltender Aerin Frankel in the fourth round of the shoot-out to win the game for the Terriers after regulation ended in a 3-3 tie.
The Terriers, under head coach Brian Durocher (Wheelock'78), entered the tournament gunning for their first Beanpot title as a varsity squad. Their only Beanpot championship came in 1981, when they were a club team. In last year's tournament, BU lost to BC in the final—a 4-3 overtime heartbreaker.
Tuesday's first period was an exercise in frustration for the Terriers, who came out strong, quickly running up five shots on goal to the Huskies' one, but they were unable to sneak one past Frankel.
By 11:28 of the first, the Terriers were leading in shots by a lopsided 11 to 3, but it was the Huskies who scored first. Northeastern defender Skylar Fontaine fired home a rebound of teammate Mia Brown's shot in front of goalkeeper Corinne Schroeder ('21) to make it 1-0, and that was how the period ended.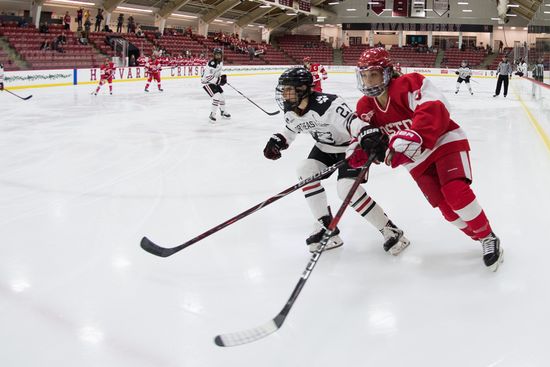 In contrast to the first period, the second turned out to be action-packed—and penalty-packed.
With 3:41 gone, a BU rush ended with a shot driven home by forward MacKenna Parker ('22) off an assist by Breanna Scarpaci ('20) to tie it 1-1. But that didn't last long. A cross-checking penalty against BU's Natasza Tarnowski ('20) and a tripping call against teammate Parker left the remaining Terriers to survive a 5-3 situation for more than a minute. They almost made it—but BU was still short one body when Northeastern's Veronika Pettey got the puck from Alina Mueller in front of the BU net and rammed it home to put the Huskies back in front.
The Terriers would answer. Mueller was sent off for two minutes for an illegal check, giving the Terriers a turn on the power play. At 9:50, BU's Abby Cook ('20) fired a shot from the point, and forward Sammy Davis  ('20) slammed in the rebound to knot the game at 2-2.
Two more penalties gave each team another power play, but Schroeder made a couple of nifty glove saves and the period ended tied at 2.
Just 17 seconds into the third period, a Northeastern rush broke the tie: Mueller scored off assists from Anderson and Chloe Aurard to take a 3-2 lead. But as the game had proven by now, no lead was safe. No sooner had Northeastern gone back up than Terrier forward Jesse Compher ('21) got a step on the defense coming across the blue line and put it past Frankel, being knocked to the ice in the process. After a video review determined she was onside, the goal was counted, and again the game was tied, at 3-3.
From there came several minutes of end-to-end action, with pucks flying, bodies hitting the ice, and key saves by both goaltenders. But with no more scoring, the teams moved to an even wilder sudden death overtime that included a scary loose-puck scrum in front of the BU net with just seconds left. But the five-minute overtime ended with no goals, and it was on to the shoot-out.
Schroeder stopped Northeastern's Tori Sullivan, then Frankel frustrated Davis. Mueller switched stick angles and fired it home for the Huskies, but Compher couldn't do the same for BU. Aurard was frustrated easily by Schroeder, but Nara Elia ('21) put one home for BU, knotting the shoot-out at 1-1 and setting up the final drama. Huskie Veronika Pettey was rejected by Schroeder with a leg save, and Rust skated onto the ice and put an end to the suspense.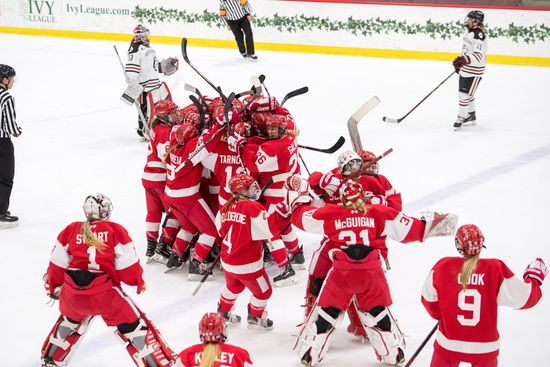 The 41st Annual Women's Beanpot Tournament: The Terriers play in the championship game on Tuesday, February 12, at 8 pm against Harvard. Northeastern takes on BC in the consolation game at 5 pm. All games are at Harvard's Bright Landry Hockey Center, 65 North Harvard St., Boston. Purchase tickets online here. Games will be broadcast on ESPN+ and on WTBU.