BU Track & Field to Compete in Patriot League Indoor Championships This Weekend
Team unity and added depth pushing the Terriers forward
When Jordan Coverson was in South Carolina visiting family during intersession, a stranger noticed her BU T-shirt and came over to talk to her. Learning she was also a BU student-athlete, senior Coverson (Sargent), one of BU's track and field captains, asked her: "Oh, what sports team are you on?"
"I'm on the track team," replied freshman distance runner Kalie Mathis (CAS).
"The BU track team?" Coverson asked. "Are you sure?"
It's rare that two athletes on the same team don't know each other. But considering that there are 91 student-athletes on BU's track and field teams—40 on the men's team and 51 on the women's—it's not so surprising.
Such a sizable roster is rarely an issue, since most events, barring relay, are performed individually. But that changes when athletes compete this weekend in the 2019 Patriot League Men's and Women's Track and Field Championships, where each individual performance counts toward a combined team score. The championships begin Saturday at the US Naval Academy in Annapolis.
"In track and field, your whole team can be not that great, but you as an individual can go to the national championships, be an All-American, and possibly even be a national champion, without any of the rest of your team ever being there," BU track and field and cross country director Robyne Johnson says. "So it's a challenge to feel like a team on all occasions.
"But the beautiful thing that I see this year is that everybody wants to know everybody," she adds. "Everybody's encouraged by all aspects of the team getting better."
That collegiality has motivated both teams this season, says sophomore sprinter Nikolas Smith (ENG): "It's good to have that foundation, built from just being friends with people, so when it comes to crunch time, you're going out there and putting your best foot forward and working as hard as you can for your friends, for your teammates."
Last season's indoor Patriot League Championships results were disappointing for both sides: a fourth-place finish for the women and fifth place for the men. Those results were a stark departure from their first few years in the Patriot League, which BU joined in 2013. The men finished in the top-three three years in a row, and the women captured two Patriot League championships and were two-time runners-up during their first four years in the conference.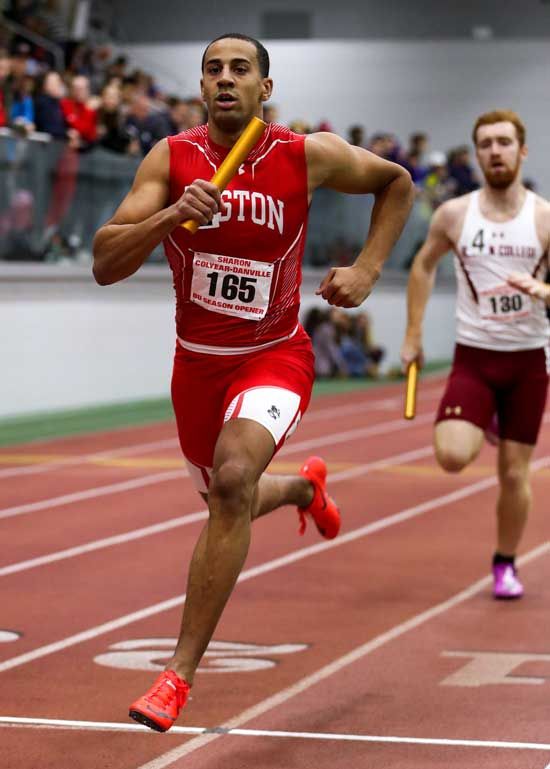 Senior jumper Lovie Burleson (CGS, CAS) says last season's struggle is now fueling the Terriers. "Last year, we dealt with a lot of injuries on both sides. We're definitely more confident this time around, and we're definitely taking what happened last year as a motivation to do better this time around." Burleson was named the Patriot League Indoor Player of the Year in 2017.
Some injury bugs continue to plague the Terriers, but Johnson is confident the teams are still in position to compete for the top of the podium. "The team we have moving forward is in a good position to do better than we did last year," she says. "I think we're just in a better place with how healthy we are, and our mind-set is focused on being a lot better than we were last year. All our kids are focused on wanting to be better."
Also contributing to the teams' confidence is the arrival of two new assistant coaches, Jarred Rome and Dan Lefever. Rome, whose specialty is in throws, and Lefever, whose is jumps and multis, have added depth across the board this year.
Throwers credit two-time Olympian Rome, who has coached several national champions at the Division 2 level, with helping them become better athletes.
"He's had a huge impact," says senior Sarah Cicchetti (Questrom), who broke the school's 31-year-old weight throw record in December, then broke it again in January. "He knows so much about the events, and not just the technical aspects, but also how to get ready for meets and how to compete… For the first time in my tenure, we have throwers going into the Patriot League Championships in top slots."
As the assistant coach for jumps and combined events, Lefever brings extensive experience working at big programs, like Stanford and Missouri, to guide the Terrier athletes. "Coach Lefever has done an absolutely great job," Johnson says. "He's brought our multis and our vaulters to a place they weren't last year….He's very dedicated, very structured. And the kids have really benefited from that."
"Those added points make a huge difference," says junior sprinter Leah Fowlkes (Questrom). "A lot of pressure used to be on the sprinters to score, but now we have some extra help."
While Johnson believes the Terriers are the best team in the conference, she says that what counts is how they perform on game day. "You can talk a lot, but if you can't do it on the day, it is what it is. You've got to put up or shut up," she says.
"We always want to win, and we're just gonna keep moving towards that goal."
The BU track and field teams will compete in the Patriot League Indoor Track and Field Championships tomorrow, Saturday, February 16, and Sunday, February 17, at the Wesley A. Brown Field House, 71 Prince George St., Annapolis, Md. Saturday's events begin at 9 am and Sunday's at 10:30 am. The awards ceremony is Sunday at 5 pm. Sunday's events will be streamed on the Patriot League Network.
Senior Jonathan Chang (COM) can be reached at jchang19@bu.edu; follow him on Twitter at @jonathanychang.