CAS Class Explores Women in the Muslim World
Challenges dominant narrative of Muslim women's exclusion from leadership and governance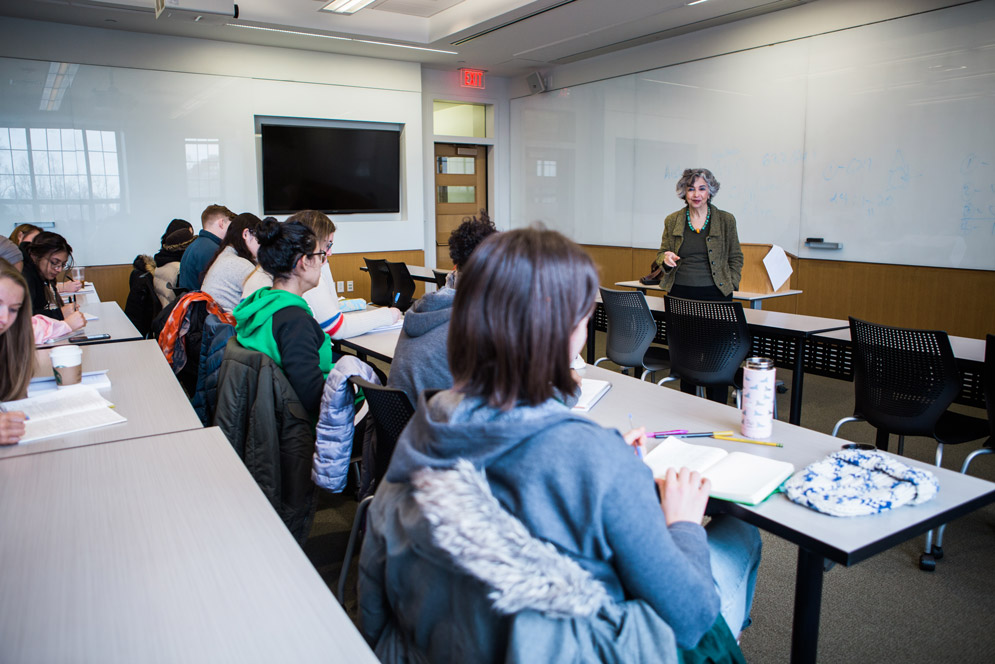 Class by class, lecture by lecture, question asked by question answered, an education is built. This is one of a series of visits to one class, on one day, in search of those building blocks at BU.
The timing could not be better for Shahla Haeri's BU class Women in the Muslim World, as women in hijab are speaking out, and standing out, in the United States and abroad.
First, there was 22-year-old Alaa Salah, a leader in an Arab Spring–style revolution in the Sudan that earlier this month toppled the presidency of Omar al-Bashir, that nation's leader of 30 years. A dramatic image of Salah in flowing white garb standing on the roof of a car leading chanting protesters went viral on Twitter.
Then, the same week, US Representative Ilhan Omar (D-Minn.), one of the first Muslim women elected to Congress, made remarks about rising Islamophobia in the United States. Her words prompted outrage from conservatives and President Trump, who tweeted an inflammatory video of Omar's face next to the burning Twin Towers.
This is what happens when women become outspoken in the political sphere, says Haeri, a College of Arts & Sciences associate professor of women's studies and anthropology, who has been teaching the class for 15 years.
"People are paying attention to them, and of course, there is a backlash," Haeri says. "The more successful they become politically, the more patriarchal societies try to stifle them."
Muslim feminists are not new—but they are having a moment. In Saudi Arabia last year, a ban on women driving was lifted, a historic change issued by royal decree that upended the status quo and prompted 120,000 Saudi women to apply for driver's licenses within hours of the change. Debate still rages in the United States about whether women in the military should be allowed to wear a hijab, but global athletic apparel company Nike is already selling a breathable mesh sports hijab to women athletes.
The students in Haeri's class, 15 women and 2 men, learn to question the stereotypes of Muslim women, in the United States and in Muslim societies, and examine the religious and historic forces that have kept women away from political life for centuries. Haeri guides students through Quranic and religious examples of Muslim women leaders, like Aisha, Muhammad's third and youngest wife, or the Queen of Sheba and the women sovereigns of medieval Yemen and contemporary Pakistan, noting how these texts and women are being studied by contemporary female scholars with fresh interest. And she uses these examples to explain the legacies of contemporary female leaders, such as former Indonesian president Megawati Sukarnoputri or former Pakistani prime minister Benazir Bhutto, who was assassinated in 2007.
Because a woman wears a headscarf does not mean she has no brain, Haeri says. Students watch movies like Feminism Inshallah: A History of Arab Feminism (inshallah is the Arab word for "God willing") and submit weekly journal entries reflecting on the class readings. They also write weekly entries related to the readings and classroom discussions, and for their final paper, the assignment is: Adopt a queen.
The women studied in the class are not passive or subservient, dispelling Western and Muslim stereotypes of how women should be or behave, Haeri says.
"I want students to realize they're part of the larger human civilization," she says. "We are all in this culture, this civilization together. There is nothing peculiar about Islam, even though people try to make it as much. We need a more representational, truer form of knowledge."
"People get afraid of a woman in power. To ease that fear, they attack to try to lower their status."—Junior Saira Majid (CGS'18, CAS) 
Born and raised in Tehran, the granddaughter of a prominent ayatollah, Haeri came to the United States in the early '70s, before the shah was deposed in 1979, to pursue an education. She earned a PhD from UCLA, and her dissertation was the basis for her first book, Law of Desire: Temporary Marriage in Shi'i Iran (Syracuse University Press, 1989), which has been reprinted more than a dozen times, most recently in 2014, and translated into Arabic and Urdu. It examines the controversial Shi'i custom of temporary marriage, which many professional Muslim women view as legalized prostitution.
Haeri emphasizes that feminism has been a part of Muslim societies for more than a century, from early Egyptian pioneers to the feminist activists who led viral internet campaigns during the Arab Spring. Now a new generation of Muslim feminists are increasingly using Twitter hashtags like #Lifeofamuslimfeminst, and online discussion forums to advocate for their rights and discuss the complexities of being a Muslim feminist, both to men and to Western feminists who may see Islam and feminism as incompatible.
The class has changed over the years, intensifying its focus on Muslim women in the political realm. Haeri, who describes herself as "culturally Muslim," says that was largely inspired by Hillary Clinton's historic run for president. She is also at work on the forthcoming book The Unforgettable Queens of Islam: Succession, Patriarchy, Gender (Cambridge University Press), and she is interested in a new body of research by Muslim feminists that helps reinterpret historical and religious texts.
For example, the coursework assesses the way the teachings in the Quran and the revelations and sayings, of the Islamic prophet Muhammad may at times be incongruent. Haeri notes that it's a delicate area, requiring careful research, discussions, and conversation.
One class examines the political legacy of Aisha, Muhammad's third wife. When she was accused of adultery at age 14, Muhammad was urged to divorce her, but she was vindicated through a series of revelations in the Quran. One said that a person accusing a chaste woman of adultery without four male witnesses to the adulterous act should be lashed. Many Westerners still believe that women are stoned for such activity, Haeri says, even though the practice is obsolete in most Muslim nations.
Aisha later went to war, lost, and returned to her hometown, where she became an influential source of religious knowledge. Her political activism led to an alleged teaching by the Prophet Muhammad that presumably prohibits women from assuming political office.
"That has tamped down women," Haeri says. "That is why it's so difficult for Muslim women to get involved, though that is changing with time."
Junior Saira Majid (CGS'18, CAS) says she sees parallels with the way Alexandria Ocasio-Cortez (CAS'11) (D-N.Y.), a first-term US congressional representative, has been cut down by conservatives for the way she looks, dresses, and dances. Majid is angry at the way many supporters of President Donald Trump, and Trump himself, have tried to shame her.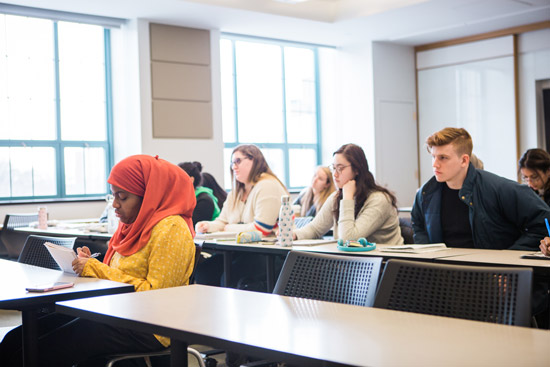 "People get afraid of a woman in power," she says. "To ease that fear, they attack to try to lower their status."
Responding to Majid, Haeri recalls the 2001 presidential elections in Iran, when women ran for elected office for the first time, despite massive and heated opposition from the political elite. None of the 47 women won, but the effort helped others break new ground.
"You have to have a seat at the political table or nothing can happen," Haeri says, imploring students to vote and get involved in politics. "They broke the ice, and that's the whole idea of this course. Women in power. Women in authority."
Majid, who is from Queens, says she isn't affiliated with any religion, but the class is helping her reflect on the values of her father, a Pakistani taxi driver in Manhattan. She says she calls him weekly to tell him what she's learning and discuss it with him. They don't always see eye to eye, she adds.
"But because of this class, I'm closer to him," she says.
Sophomore Myles Silsby (CGS), one of the class' two men, says learning the distinctions between the teachings of the Quran and hadith helps him better understand how religion has helped keep women out of authority. The international relations major was raised Catholic, and says he sees similarities in the ways Western religions prohibit women from some activities, like being a priest.
"The more I learn, the more I realize I don't know," Silsby says of the coursework, adding that the experience has been "equally frustrating and refreshing."
Graduate student Corina Morton (GRS), who wears a hijab, is studying international relations and religion. She says the class has been affirming. People often underestimate her intellectual capacity or seem surprised when she does routine activities like driving a car, she says, making comments like, "I didn't know Muslim women were allowed to do that."
Morton's adopted queen is Sultan Razia of India, the only female sultan to rule in Delhi, and her history is often a footnote. She was a 13th-century woman who was given power and authority as a daughter of a sultan and later came into her own political power. She did not wear a veil and adopted the male clothing of the era. Morton says she was intrigued by the part of Razia's story involving her forbidden love affair with an Abyssinian slave with dark skin.
It's taboo to talk about racism in the Muslim community, Morton says, as well as the ways women rise to power with help from their fathers.
"There have always been many different Muslim women who have achieved power," she says. Haeri's course "made me think about those relationships—between power, authority, family and race. It's definitely opened my eyes."
Megan Woolhouse can be reached at megwj@bu.edu.