BU, City of Boston Hold First Joint Observance of Martin Luther King, Jr., Day Monday
US Representative Ayanna Pressley will deliver keynote address
Newly elected Bay State Congresswoman Ayanna Pressley (D-Mass.), one of the country's rising political stars, will keynote a joint University–City of Boston celebration of the annual Martin Luther King, Jr. (GRS'55, Hon.'59) holiday on Monday, January 21.
The 90-minute ceremony, which will begin at 1 pm at the George Sherman Union Metcalf Ballroom, is the first MLK Day observance to be cosponsored by BU and the city. Mayor Martin Walsh and BU President Robert A. Brown will also speak.
"Every year, we come together on this day, as a community, and recommit ourselves to the shared value of service to others," Pressley says of the King Day event. "In these times, when every civil right and freedom we have fought for is under assault, I can think of no more important purpose."
"In solidarity with families who have been separated at our southern border, workers not receiving a paycheck, and survivors not receiving justice, I look forward to adding my voice to all of those fighting injustice in all its forms."
This past November Pressley became the first African American woman elected to represent Massachusetts in Congress. The former Boston city councilor, who attended the College of General Studies before leaving to help support her mother, breezed to victory, winning the state's Seventh District congressional seat after upsetting longtime incumbent Michael Capuano (Hon.'09) in the Democratic primary in September. She is considered among the vanguard of the party's ascendant and diverse progressive wing.
Walsh says Monday's ceremony is part of the city's ongoing efforts to realize King's dream of social justice: "Every day, Boston works to achieve Dr. King's vision of freedom and equality in our communities, in our neighborhoods, in our businesses, in our schools—everywhere. We honor Dr. King by creating a Boston where everyone has the opportunity to succeed. I'm proud to be celebrating the life of Martin Luther King, Jr., surrounded by friends and neighbors at Boston University, and look forward to continuing to honor his legacy by striving to be the beloved community he dreamed of."
"We are proud to host this event honoring Dr. King's service and sacrifice," Brown says. "His legacy is immense and timeless. We count it a privilege to be able to claim him as an alumnus and find continuing inspiration from his words and deeds."
The joint celebration was the brainchild of Kenneth Elmore (Wheelock'87), associate provost and dean of students. Last year on Martin Luther King, Jr., Day, BU hosted two events commemorating its most famous alumnus, one for the University and one for the city. As celebrants at the city of Boston's observance were filing out, those attending the University's were filing in.
"I thought, how silly," says Elmore. "Why not pull it all together?"
Student Government President Devin Harvin (CAS'19) and Archelle Thelemaque (COM'21) will also speak, and Augustine Jimenez (CAS'20) will read an excerpt from King's papers, which are housed at the Howard Gotlieb Archival Research Center. Music will be provided by BU's Inner Strength Gospel Choir and the Boston Youth Symphony Orchestra.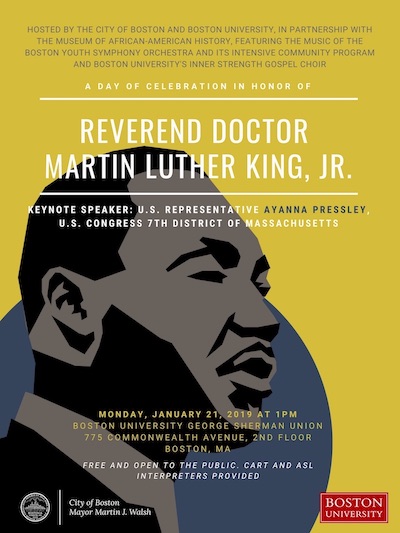 "It's a tremendous honor to represent the student body and the University as a whole as we celebrate and honor BU's greatest alum," says Harvin. "I am also excited to join forces with the city of Boston and spread the message of King all throughout the city.…Dr. King was just one man, and he impacted multitudes of communities. We all have that ability, and Dr. King is a reminder of that idea."
The joint celebration, Elmore says, will expose two different audiences to speakers and events they'd otherwise miss. BU students will hear prominent Bostonians like Walsh and Pressley," he says, "and if you are coming from outside Boston University, you're going to see Boston University talent," from the Inner Strength Gospel Choir to Brown and Harvin.
"We talk a lot about being 'in the city and of the city,' " Elmore adds, tweaking a quote from Lemuel Herbert Murlin, BU president from 1911 to 1924. "Here's that great opportunity to really experience that. I hope it's a wonderful tradition that will go on."
BU was a fulcrum in the theological training of 1964 Nobel Peace Prize winner King, who donated more than 80,000 of his papers, letters, and objects to the University.
A Day in Honor of Reverend Doctor Martin Luther King, Jr., a joint celebration between BU and the city of Boston, will be held on Monday, January 21, at the George Sherman Union Metcalf Hall, 775 Commonwealth Ave., at 1 pm.