BU Celebrates Community on #GivingTuesday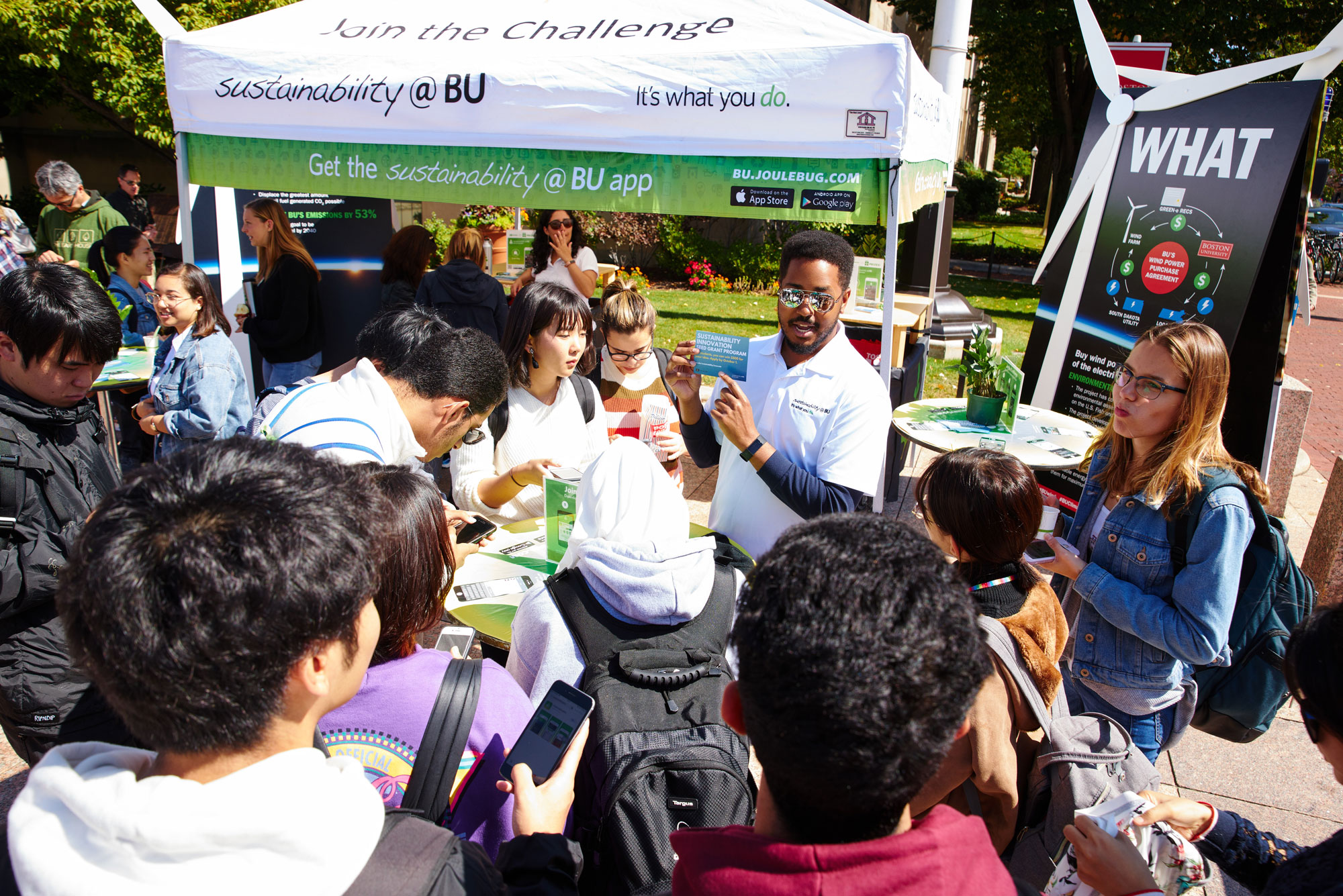 Giving
BU Celebrates Community on #GivingTuesday
University's sixth annual effort will support programs across campus making an impact on the world around us
First came Black Friday. Then Cyber Monday. And in 2012, Giving Tuesday arrived.
Unlike those two earlier days of shopping frenzy, Giving Tuesday (the Tuesday after Thanksgiving) encourages people to support the causes they care about. Nonprofits around the world—including Boston University—have embraced this opportunity to make a difference in their communities—to the tune of nearly $400 million last year in the United State alone.

For this year's Giving Tuesday, today, December 3, BU is focusing on causes around campus that promote community and embody the University's founding principle of service to the wider community: from the Community Service Center (CSC) to sustainability@bu and the Undergraduate Research Opportunities Program (UROP) to the Bloom Family Leadership Initiative and more. Each school and college will also be highlighting a fund of its own that speaks to making a positive communal impact.

One recently established fund highlighted this year for BU's sixth annual Giving Tuesday is the deneen zarada Community Service Memorial Fund. Established in memory of deneen zarada (Sargent'02), who died shortly after graduating, the fund was spearheaded by her friends Chris Weber (CAS'01) and John Ruda (CAS'03), with support from alumni, friends, and family, to benefit the Community Service Center (CSC).
A Scarlet Key honoree, zarada was a First-Year Student Outreach Project program manager and a CSC coordinator. Weber cited her inspiring leadership in describing the purpose of the fund: "to inspire others to serve, regardless of their financial ability to participate in activities organized by the Community Service Center."
Last year, 836 Giving Tuesday gifts to BU brought in $152,980. That marked a 39 percent increase in the number of gifts over the year before—and a 450 percent growth in gifts since the first BU Giving Tuesday campaign in 2014.
With a dedicated webpage, emails, texts, messages on social media, and tables around campus, organizers hope to do even better this year. Travis Roy (COM'00, Hon.'16) is signing appeals to students, alumni, and other friends of BU, and online videos demonstrate the impact that gifts can make. During the day, Telefund's student callers will hold a 12-hour marathon of calling in the Student Philanthropy Center, with food, prizes, and games to keep them going.
All gifts made on December 3 (midnight to midnight, EST) will count toward #GivingTuesday 2019. This form lets donors choose the particular cause they want to support.
Learn more about #GivingTuesday at BU here.