Bringing a Whale of a Show to Life
Arts & Culture
Bringing a Whale of a Show to Life
Constructing the costumes for A.R.T.'s Moby-Dick, Chelsea Kerl (CFA'14) contends with a hoop skirt, fake blood, and more 
Chelsea Kerl has designed costumes for nearly every theater company in the Boston area since graduating from the College of Fine Arts five years ago: Gloucester Stage (A Measure of Normalcy), New Repertory Theatre (The Little Prince), the Huntington Theatre Company (A Midsummer Night's Dream), Commonwealth Shakespeare Company (Beckett in Brief), and Wheelock Family Theatre (James and the Giant Peach) among them. In any given season, Kerl works on about 30 productions, and she's also costume shop manager, costume designer, and an adjunct costume professor at Wellesley College. She is an instructor in BU's Summer Theatre Institute as well.

But as staff costume technician at the American Repertory Theater (A.R.T.) in Cambridge, Kerl (CFA'14) has taken on one of her most ambitious projects to date: constructing some of the dozens of costumes for the world premiere of a musical adaptation of Herman Melville's classic tale of man vs. whale, Moby-Dick. The show is helmed by Dave Malloy and Rachel Chavkin, the creative team behind the A.R.T's 2015 production of Natasha, Pierre & The Great Comet of 1812, which went on to a successful Broadway run.

For this production, which runs December 11 to January 12, Kerl is responsible for bringing to life the period-inspired costumes designed by Brenda Abbandandolo. Over the past few months, she has been working with head draper Caitlin Menotti (CFA'10) to execute Abbandandolo's whimsical designs, which incorporate elements of high fashion—not something you'd expect in a play set in a fishing village. Kerl has been cutting out pattern pieces, sewing, and preparing samples for different techniques to determine the best way to work with fabrics they haven't used before. It's exacting work.

"I might do three to five samples of different stitching techniques to figure out what we like best, and then I help Caitlin put things together and finish them," Kerl says.

On a recent afternoon, she was in the A.R.T.'s costume shop at the Loeb Drama Center in Harvard Square laboring over an orange skirt for the character Queequeg, a harpooner from the Pacific Islands. The skirt is so voluminous that it will take her and two colleagues nearly a week to construct it.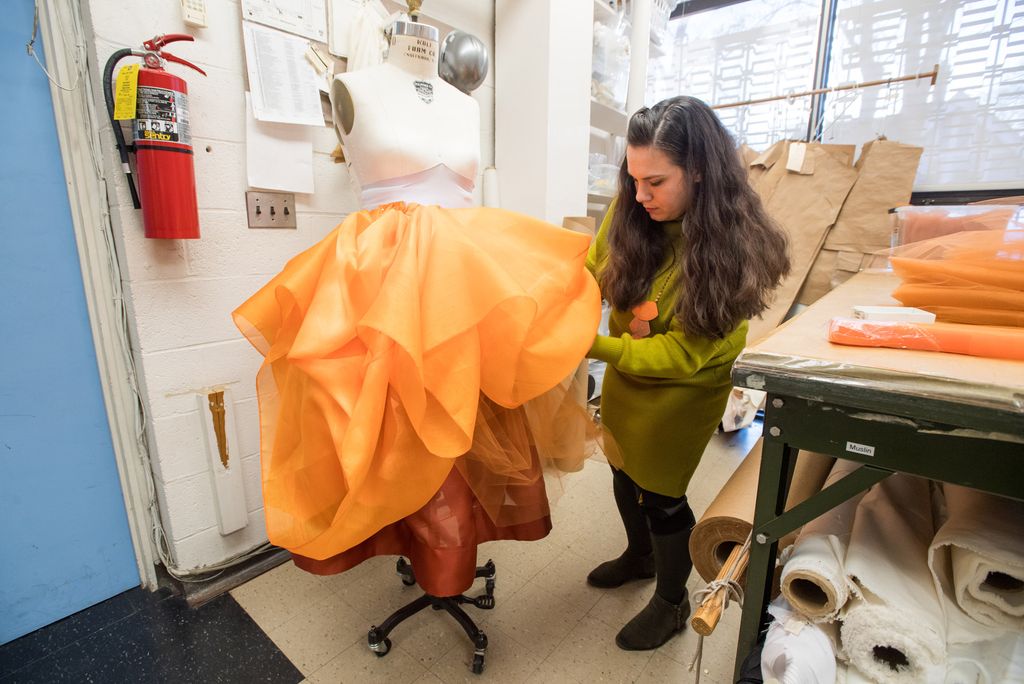 "It's a lot of layers of difficult and delicate fabrics that are all very lightweight, but need to have some structure to create the volume of the garment," Kerl says, adding that the costume requires laying different shades of orange together to create an ombré effect.

Just as challenging was creating a hoop skirt for Dawn L. Troupe, who portrays several ship captains in the musical. "We made a hoop skirt that is caged, so you can see all of the wires in it, which looks really cool," she says. "But this woman has to climb a crow's nest in one scene. The challenge was, how do we make sure her heel isn't going to get caught and that her costume is the right length so she won't injure herself or rip the cage."

Those are the kinds of details that drapers and costume technicians have to worry about.

"We have to make sure that a costume is going to be able to withstand a really long run, where people might be climbing a ladder in it or getting blood all over it," Kerl says. "It's not like the clothes we wear in our day-to-day life, which are worn occasionally. These clothes are getting worn at least eight times a week and people are hard on them. It's important for us to make sure they're strong enough to withstand that."

Kerl and her colleagues also make sure that when actors have to change onstage in front of an audience, they can put on their costumes quickly. "When hundreds of people are staring at you and you have to remember your blocking and lines and you're supposed to be getting dressed, crazy things happen," she says. "So trying to actor-proof garments to make sure they're as easy as they can be to get on—but also look as extravagant as the designer wants them to look—is always a challenge."

Finally, there's all that fake blood to be reckoned with.

"A whole aspect of the costuming involves the fact that the characters are going to be working on a 'whale' onstage," says Kerl. "So there are a lot of fake blood effects. There's a whole set of rubber costumes specifically to do the dirty work of getting involved with the whale, and all of those costumes have to be cleaned after each night's production."

A lifelong passion for sewing and designing

Kerl was seven when she started taking sewing lessons. That year, she says, Santa brought her a sewing machine. It was love at first sight. "I sewed the whole time I was growing up; when I was in middle school, our science teacher also directed the plays and she knew I could sew, so she asked me to help. 

"It seemed to be the place where everyone was having a lot of fun," she says.
Kerl graduated from the University of Maryland with a double major, in theater and literature. She chose to go to BU for an MFA after meeting Mariann Verheyen, a CFA associate professor of costume design. "She and I got along great, and I knew that was who I wanted to spend the next three years learning from," Kerl says.

She credits BU with teaching her how to "think through a show and design on the page and in my head….I expanded my understanding of what could happen, instead of just trying to make something happen with the materials I had on hand with limited budgets. The program expanded my design perspective and helped me to imagine all these new things I could make."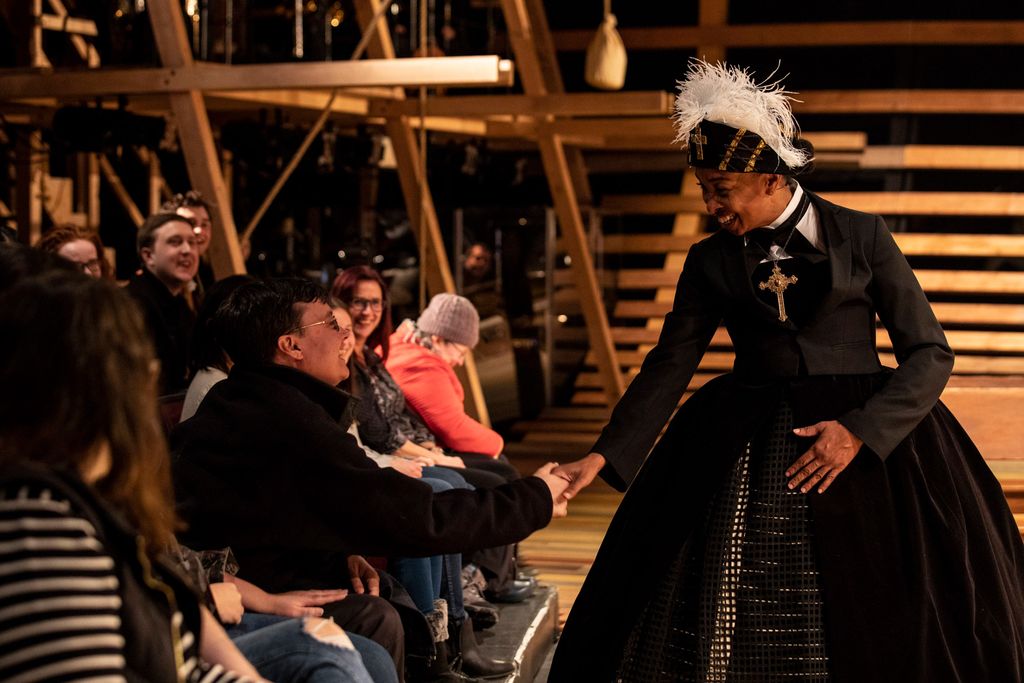 Today, Kerl is one of the Boston theater scene's most sought-after costume designers. She recently designed the costumes for Wheelock Family Theatre's Willy Wonka: The Musical and for a production of Shakespeare's A Midsummer Night's Dream at Merrimack College. Her next project is designing the costumes for the latest Moonbox Productions show, Parade.

"Chelsea simultaneously achieves the height of imagination in storytelling and grounds the team in the reality of the world," says Emily Ranii (CFA'13), Wheelock Family Theatre artistic director and BU Summer Theatre Institute program head, who has worked with Kerl on six productions (they'll team up again this spring on Wheelock's production of The Little Prince). "She appreciates how to design fantasy and the clothing of everyday humans. Whenever a design team goes down a rabbit hole of tangents, Chelsea is always the one to bring us back to the story. She's a truly collaborative theater-maker: forever playful, full of ideas, and loads of fun."

Kerl's favorite part of the costume design process occurs early on, during the renderings. "It really allows me time to think while I'm drawing things out. I start with a pencil sketch, let myself erase and start over, have conversations with the director, and then draw renderings in watercolor, which was not a skill I had prior to BU. As I paint, I think about all of the possibilities: I can think about specifics, like what shoes is this person wearing? I don't want to draw a generic shoe—I want to know exactly which shoe I'm going to be looking for. The drawing time lets me think through those details."

Working as a costume technician for a big theater company like A.R.T. informs her work as a costume designer for smaller companies. It offers a chance to be part of large-scale productions with bigger budgets and to learn from veteran designers.

"Normally, when I'm designing, it's about what the director and I think, which is great," Kerl says. "But working at the A.R.T., it's nice to see other designers' work and to encounter different artists. On this show in particular, we've been working with some fabrics that I've never seen before, so trying to make things out of materials I didn't even know existed, that's pretty cool."
Moby-Dick runs at the American Repertory Theater's Loeb Drama Center, 64 Brattle St., Cambridge, through January 12, 2020. Ticket prices begin at $25. Purchase tickets online, by calling the box office at 617-547-8300, or by visiting the box office, which is open Tuesday through Sunday from noon until a half hour before a scheduled performance. Student rush tickets are available for $15 with a valid college ID, subject to availability, by calling 617-547-8300 or visiting the box office. Limit one ticket per performance for each ID.