Adeena Sussman's New Cookbook Is Inspired by Her Life in Israel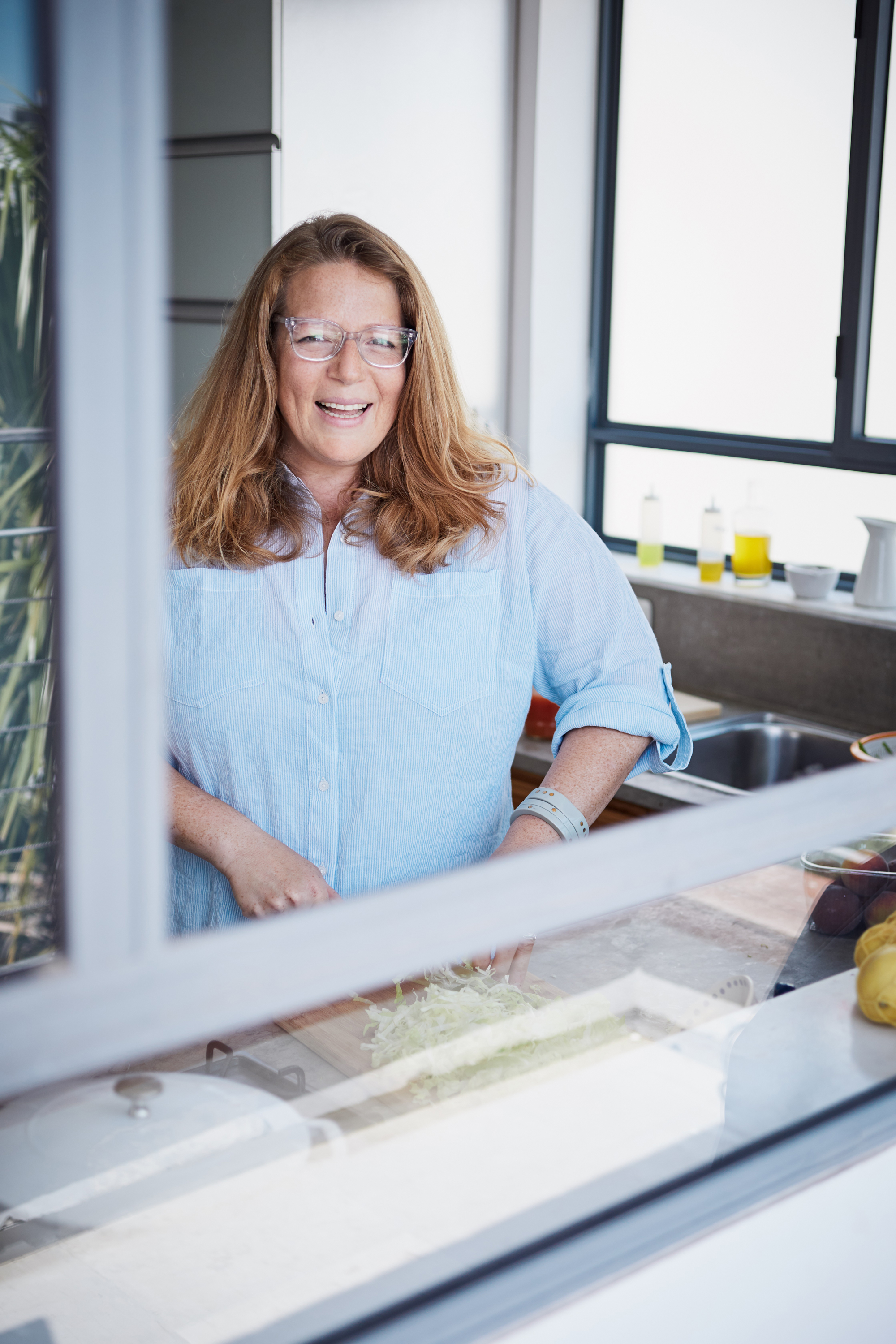 Books
Adeena Sussman's New Cookbook Is Inspired by Her Life in Israel
COM alum's Sababa brings the country's vibrant flavors to US kitchens 
Adeena Sussman lives steps from the legendary Shuk Ha'Carmel in Tel Aviv, Israel, an outdoor market packed with stalls teeming with lush produce, fragrant spices, fresh fish, and more. Every day, she visits the sprawling marketplace to pick up the tools of her trade—a jar of tahini, a bunch of thyme, dates, pomegranates, lemons. Sussman (COM'93) is a recipe developer and cookbook writer and with her new cookbook, Sababa: Fresh Sunny Flavors from My Israeli Kitchen (Avery, 2019), she hopes to bring a taste of Israeli cuisine to readers' kitchens stateside.

Sussman had been living and working in New York City five years ago when she was set up on a blind date with her now-husband, an expat living in Israel who was visiting New York on a business trip. A long-distance relationship ensued, and they married in 2017. In December 2018, she "made Aliyah" and became an Israeli citizen. But Sussman has a much longer personal history with the country.

"I grew up in a really Israel-centric Orthodox Jewish home," she says. "We went there on vacation when I was a kid, I did a gap year in Israel between high school and college." After graduation, Sussman wanted to spend more time exploring Israel, and went about pursuing a job there.

"The College of Communication really pushed us out into the professional world. By the time I graduated, I felt really confident in just reaching out to people and asking for opportunities, and really confident that I had something to offer," she says. The school also provided her with a list of alumni in Israel who were working in media, whom she proceeded to cold-call. She connected with a woman who had earned a master's degree at COM and whose husband was a managing director of Channel 2, a new television station in Israel at the time. "I had really wanted to try working in television," Sussman says. "Unbeknownst to me, she forwarded my resume to her husband, and he connected me with my eventual boss."

Sussman spent five years living and working in Jerusalem. "It was during that time when I first really encountered Israeli food," she recalls. She fell in love with the cuisine and soon realized she wanted to fuse her passions for food and media. So, she moved back to New York, where she thought there would be more opportunities, and landed a job as copy director for the now-defunct Gourmet magazine in 2000, working on the publication's marketing side.

She remained at the magazine until 2003, when she realized something was missing from her job—cooking. To hone her culinary skills, she enrolled in the Institute for Culinary Education in New York City and after graduation, pursued freelance writing and recipe development full time. From there, Sussman's career took off. She found an agent and went on to coauthor 11 cookbooks, including best-sellers like Cravings (Clarkson Potter, 2016) and Cravings: Hungry for More (Clarkson Potter, 2018) with Chrissy Teigen and The Sprinkles Baking Book (Grand Central Life & Style, 2016) with Sprinkles Cupcakes founder Candace Nelson.

Fast-forward to her latest project, Sababa. "It was the confluence of a lot of different things at once," she says. "When I moved to Israel, I had some free time on my hands and wrote the book proposal, which sold. Israeli food is really having a moment, and I had become a little bit better known because of my work with Chrissy Teigen and others. So it just seemed like the time was right."

The book's title is a popular word in Israel that means "cool" or "everything is awesome," which Sussman thinks is an apt description for the recipes inside, like a hearty root vegetable and medjool date stew, lemony salmon with fennel and orange salad, and chocolate-orange babka. Recipes feature her takes on traditional Israeli dishes as well as dishes from her American childhood infused with distinctive Israeli flavors. Recipes are flanked by vibrant photographs that capture the dazzling colors of the Shuk Ha'Carmel market. But Sussman emphasizes that "it's a book to cook from—not to just look at. It's a cookbook for home cooks to really enjoy and use, and get the pages dirty."

The book, she says, is filtered through a lens of an American living in Israel. "I think that there's an advantage to being a bit of an outsider in a culinary culture because it allows you to look at ingredients, techniques, and tradition from a bit of a different perspective. You don't take anything for granted—everything is new and interesting."

The challenge in writing the book "was figuring out how to recapture my own voice after writing and helping other people channel their voices for the better part of the decade," says Sussman. "It took months of soul-searching and gaining back the confidence that I had something that was important enough to say."

The book has earned rave reviews, landing on the New York Times "13 Best Cookbooks of Fall 2019" list; Food and Wine's "18 Essential New Cookbooks for Fall" list; Bon Appetit's "Fall Cookbooks We've Been Waiting All Summer For" list, and Eater's "Best Cookbooks of Fall 2019" list, which praised it for bringing "the culinary wonderland of Israel to life."

"I've really been heartened by seeing people posting on Instagram what they're making from the book," says Sussman. "The Amazon reviews have been very much about how 'cookable' the book is, yet how interesting and different the flavors are. And that was always my goal."
Find Adeena Sussman's recipe for Freekeh Vegetable Soup here.
Find Adeena Sussman's recipe for Chewy Tahini Blondies here.