Women's Ice Hockey's Abby Cook Looks to End Career on a High Note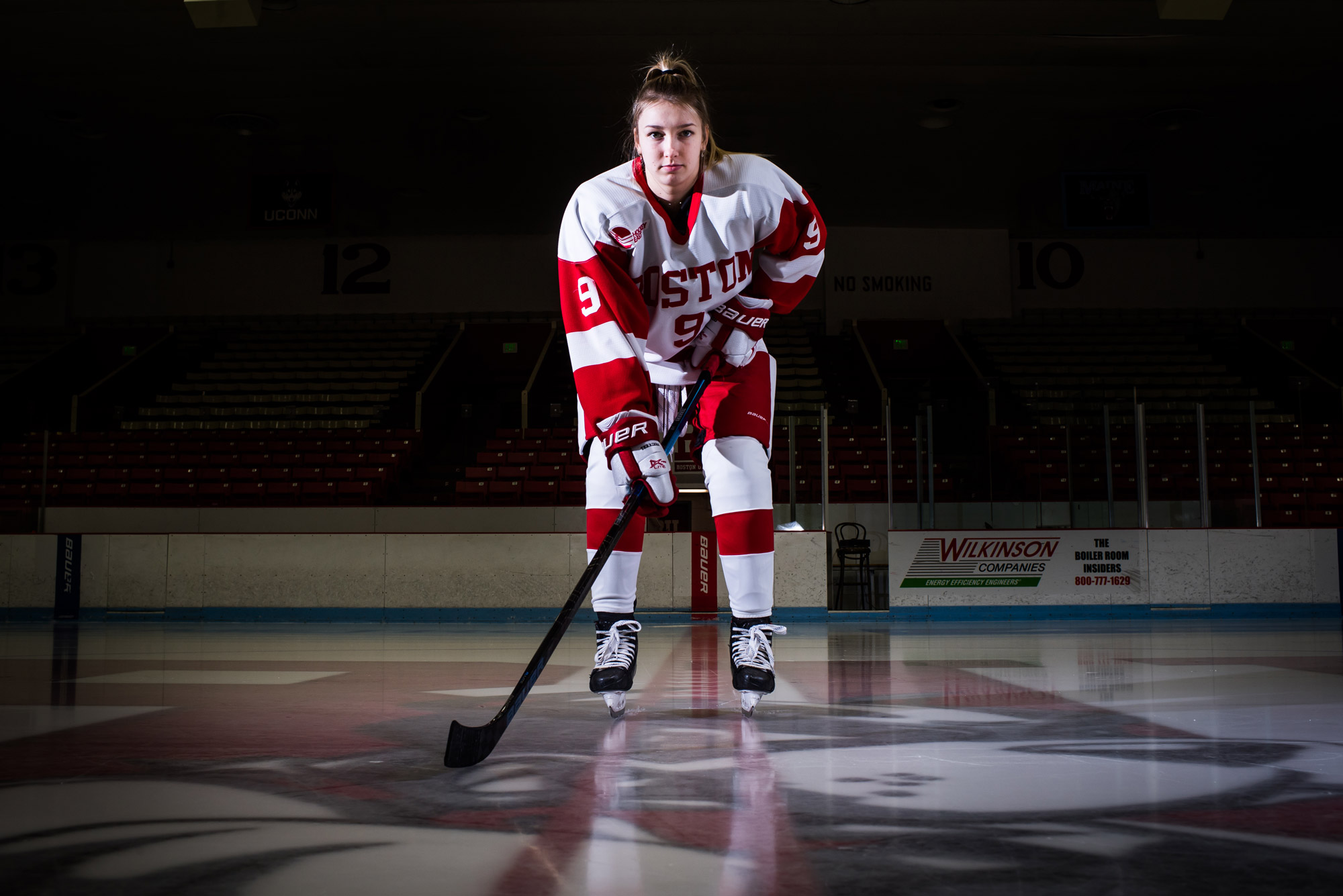 Ice Hockey
Women's Ice Hockey's Abby Cook Looks to End Career on a High Note
Team's star defenseman hoping for a shot at the Frozen Four
Abby Cook grew up playing ice hockey in Kelowna, British Columbia, on Canada's western side, but it's on the US East Coast where Cook (CGS'18, Sargent'20) has earned a reputation as a college hockey standout.  

A two-time Hockey East All Star, the defender hopes to continue to lead the Terriers to new heights during her final season. Her ambition? To steer the team to a Hockey East championship, followed by a run in the NCAA Tournament.
With Agganis Arena hosting this year's Frozen Four, Cook is intent on helping the Terriers land a spot in the NCAA national finals.

Through her time as a Terrier, big name stars like Mary Parker (MET'17), Victoria Bach (CGS'18, COM'18), Rebecca Leslie (Questrom'18), Sammy Davis (CGS'17, Sargent'19), and Jesse Compher (SHA'21) have garnered most of the attention. And if Cook has remained somewhat under the radar, she has proven to be one of the most capable and steady players over the past three seasons.

Women's hockey head coach Brian Durocher (Wheelock'78) knows what makes an impactful defender. Not only has he coached the BU team since it became a varsity sport 15 years ago, but he played goalie for the Terriers under Jack Parker (Questrom'68, Hon.'97).

"She starts out as a high-percentage defensive defenseman, but thankfully for herself, for our team, and for our success, she has subtle offensive skills," Durocher says. "She's also the kid who plays her position first."

Over the course of her BU career, Cook has earned a reputation as a keen and willing playmaker from the blue line. Her job is to move the puck and create scoring opportunities. She has posted at least 20 assists in each of the last two seasons, and is on pace to reach that mark again this year. She is the leading scorer among the six skaters in her class.

"The two or three things that can create offense she does very well, but they're not flashy," Durocher says. "Making a good flat pass is one, having a good low shot that is not just a slap shot, but a wrist, is very important."

Compher is a beneficiary of many of Cook's assists.

"She makes my job easier on the ice a lot; she's a pretty solid D who can get the puck up when we need it," says Compher, a 2019 Patty Kazmaier Award finalist. "Since the moment I've stepped on campus, she's been a leader in the locker room. I've always looked up to her. She knows how to bring up the team, get everyone's energy going."

Those low shots create deflections, and that's where Cook accumulates the assists. She came into BU a bit hesitant with her shot: by her own admission she didn't develop into an offense-minded player until her senior year of high school, but says her BU coaches and teammates helped her build the confidence to let it fly.

"After my freshman year they were like, 'You have a shot, you should use it,'" Cook says. "When sophomore year rolled around, I started shooting the puck, last year the same, and this year it's been really working out well."

The stats reveal her development. She scored just 11 points as a freshman and 26 as a sophomore. Last year she posted a career-best 8 goals to go with 20 assists and is on pace to surpass those marks this year: 15 games into her senior season, she has 4 goals and 10 assists.

While the concept of an offense-minded defender sounds confusing, Cook has it down. "If we're losing, keeping the puck out of the net comes first," she says.

"She has a huge role on our team," Compher says. "She's a very good defenseman who is solid in the D zone. She also can play on the power play and the penalty kill."

Legacy of camaraderie

As she prepares for the end of her college career, Cook and her fellow seniors are proud of the team cohesion they've built. "I think that we'll be remembered as an upbeat, get-everyone-going class," she says. "That was quickly learned by the younger girls. They look to us when they want to know how to act."

She's also determined to make sure her younger teammates find time to enjoy the game. "I like when people are building off each other, smiling, having fun," Cook says. "I think that's a very important part of day to day."
The BU women's ice hockey team motto this year is "Demand more." It's written on a board in the locker room, and it's an apt description of Cook's mind-set during her final season. She's determined to make it to an NCAA Tournament before her BU career ends. To get there, the team will need to earn a Hockey East championship appearance.

"There's no question that's a big focus for them, because we were real close last year. A couple of the leaders, the seniors on the team, talked to me and made it known that we can't be content with ties," Durocher says. "They want to try to get over the hump and close the deal."

The Terriers (10-4-1, 5-4-1 Hockey East) are currently ranked 10th in the country.

BU went to the NCAA Tournament every year from 2010 to 2015, and captured Hockey East championships in all but one of those years. So Cook's eye is on winning Hockey East, and even advancing to the Frozen Four—right here on BU's campus.

"Every day we're coming here, that's what we're thinking about," Cook says. "We just want to keep going for that."