50 Years Ago, the BU Football Team Played Its Only Bowl Game
Football
50 Years Ago, the BU Football Team Played Its Only Bowl Game
Captain Pat Hughes reflects on the season, the game, and his crazy journey to Boston
From 1884 to 1997, Boston University had a varsity football team. Over the course of those 113 years, the Terriers played in exactly one Bowl game, before the program was disbanded. On December 6, 1969, 50 years ago, the Pasadena Bowl capped the best season in BU's football history, a 9-1 record that earned them one final game, against San Diego State University in Pasadena's fabled Rose Bowl Stadium.

BU lost 28-7. But for team captain Pat Hughes (Wheelock'70), who went on to play 10 years in the NFL, with the New York Giants and the New Orleans Saints, the lopsided score is not what sticks with him five decades later. The journey to get there is what he remembers—especially a short period between 1969 and 1970, when he got married, played in a bowl game, and became a father all within about a year.
Bostonia caught up with Hughes, now 72, in Maine just after Thanksgiving, where he was spending time with family, not far from his home on New Hampshire's seacoast. He reflected on the game, the season, and how he ended up playing at BU instead of one of the country's football powerhouses.

The journey
An All-American in high school in Everett, Mass., Hughes was recruited by the best Big 10 schools in the country and signed a letter to play college football at Ohio State University after meeting with legendary coach Woody Hayes. "I had room, board, books, and tuition—a free ticket to Ohio," he recalls.

But the West Point football coach pestered his father to get Hughes to attend the US Military Academy, and Hughes' father, a former Marine, thought it was a better choice than Ohio State. But before attending West Point, Hughes needed to spend a year at Valley Forge Military Academy—and that's where his life took a dramatic turn. After only a few months there, he knew it wasn't for him.

"I ran away," he says. "I just decided that was enough. My girlfriend back then, who's now my wife, was a junior at BU and she went to the athletic director and suggested he call me."

Hughes came to BU in 1966 and has never regretted it (even though Ohio State went on to win the national championship in 1968).

"I got a great education," he says. "Met some really great people. It turns out the way it's supposed to turn out—you just need to keep putting one foot in front of the other."

The dream season
Hughes remembers that 1969 season well. "It was a group of seniors who came in as freshmen and were together for four years," he says. "A solid group of guys who wanted to do something to get people's attention—that we play football at Boston University, and at a high level."

The seniors were especially committed to influencing the younger players. "We felt like we were as good as any folks. We were on a mission. It was important for us."

Hughes, who wore number 55, the same number he had in high school, knows that the era of Harry Agganis (Wheelock'54) in the early 1950s was special for football at BU. An education major like Agganis, he says the players in the 1960s wanted the same sort of respect: "BU had a football team and we wanted to put an accent on that—we've got a football team!"
A team so good that three players from that 1969 season were drafted into the NFL: Bruce Taylor (Wheelock'70), Fred Barry (Wheelock'70), and Hughes.

Of all the games from that memorable 9-1 season, Hughes remembers one especially fondly. After losing badly to the University of Delaware the year before, Delaware came to Boston. "They came up to our home and we beat the living hell out of them," he says. "Football, it was a serious game for those of us who played."

The Bowl game
Not all the Terrier players were thrilled about playing one more game after a 9-1 season, even a Bowl game, Hughes recalls. Some seniors, he says, were ready to be done with football. Not him.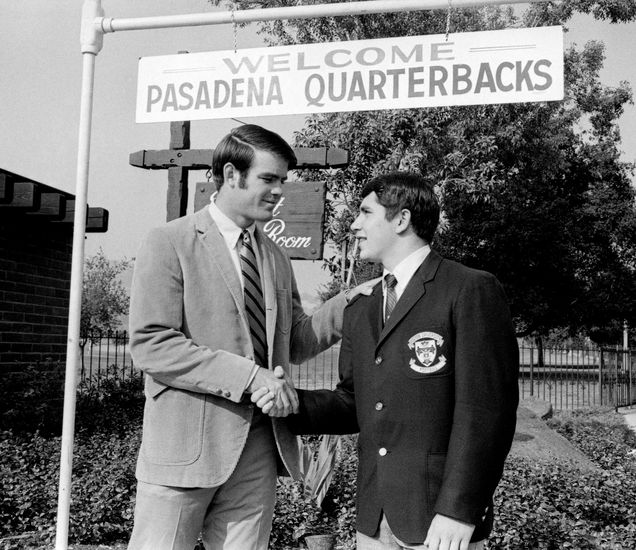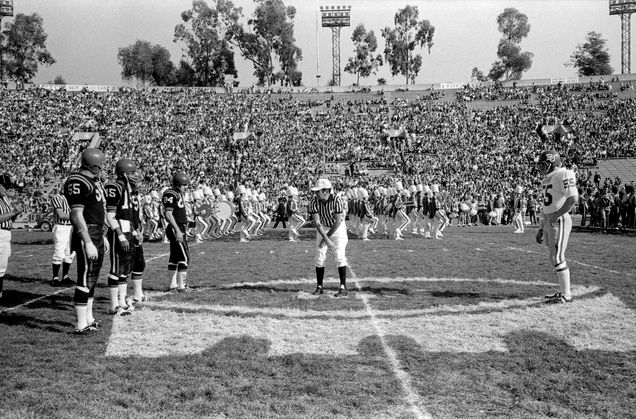 "I was up for playing another game. I didn't know if I would ever play another game. The NFL was a big question mark. I was excited. We eventually got our heads screwed on right and decided to go out there and do the best we could."

Meanwhile, the players from San Diego State weren't thrilled about playing a little-known school from the East Coast with not much glory in its football program. "We felt we had something we had to prove," Hughes says. "They were deep with talent. They were a tough opponent. We still carry it with us that we brought BU to its last and only Bowl game. It was good fun."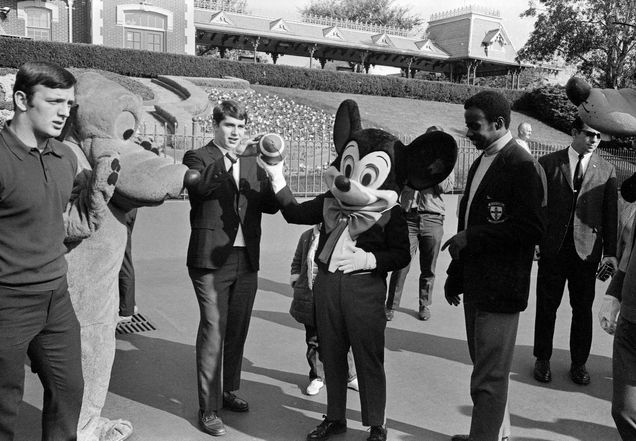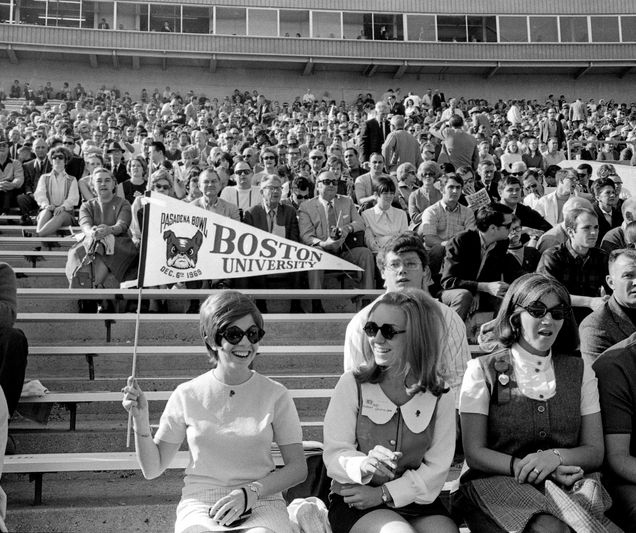 After the 28-7 loss, Hughes was quoted saying, "We taught them to respect us." And BU coach Larry Naviaux said at the time: "I'm just as proud of the team in defeat as I would have been in victory. They made a great effort, and we did prove one thing—that we can play football."

The program
BU's decision to eliminate football in 1997 bothered many, players and fans. Hughes shrugged it off—and he still does, despite occasional efforts to bring the sport back.

"Guys have lobbied to get football back to BU," he says. "They made a business decision, not a sports decision. I can't fault them, having run businesses in my time. You make the best decision for the organization. Nothing to do with the game, everything to do with how the University was going in a different direction with athletics and hockey becoming the big sport."

For Hughes, when he wasn't playing for the Giants early in his career, he worked on Wall Street, and after leaving football, he remained in financial services for years before transitioning to healthcare.

He has stayed close to BU and supports the University's pioneering research into concussions, football, and CTE (chronic traumatic encephalopathy) by participating in surveys and even occasional brain research. "I was proud that BU was taking a strong step," he says. "To help young players today, I am hugely supportive of the research. It's about time they did this and not try to hide it. It's a violent game. I wouldn't change it; it's a contact sport. But players want to play. You want to be on the field."
He says that during his playing days, players, not trainers, decided if someone was hurt and needed to leave the field. "Your teammates made the decision and looked at you and said, 'Get outta here,' because it was going to affect everybody."

Asked if it feels like 50 years since that one and only Bowl game, Hughes laughs. "It's hard to believe."

He and his wife, Carole Basino Hughes (Wheelock'67) celebrated their 50th wedding anniversary in June. The big game came just a few months after the wedding. And their daughter arrived soon after that, making for a whirlwind stretch.

"On her 100th birthday, my nana said life goes by quick as a wink," Hughes says. "And she was right."