2019 Beanpot Champion BU Women's Ice Hockey Preview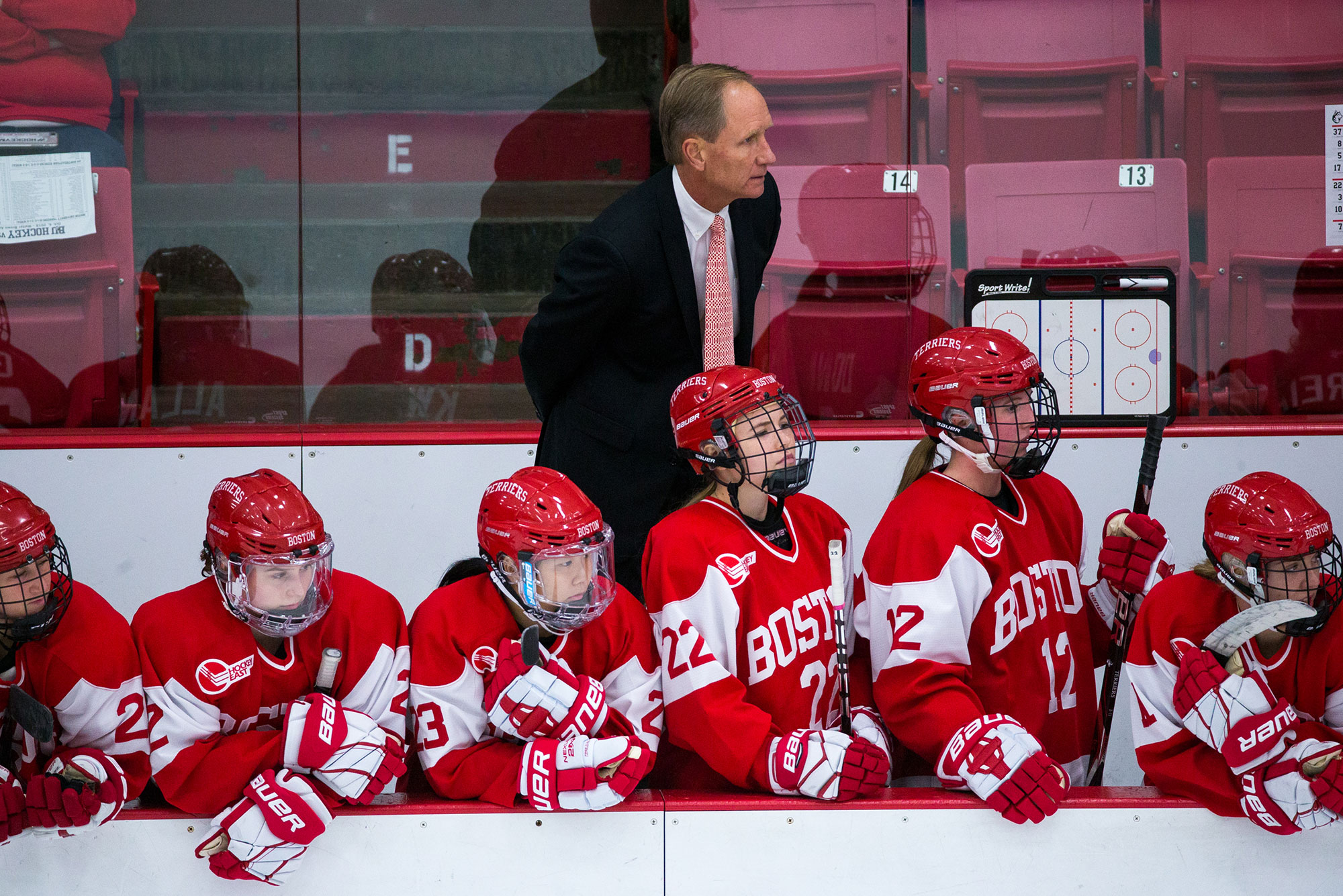 Women's Hockey
2019 Beanpot Champion BU Women's Ice Hockey Preview
Coach Durocher gears up for big 15th year in charge
Coming off a season where they missed the NCAA Tournament by one game, the Boston University women's hockey Terriers are back, with much of the same talent and hunger as last year as they prepare to host their home opener against Merrimack Friday at Walter Brown Arena.

Entering his 15th season in charge of the women's team, head coach Brian Durocher (Wheelock'78) has collected 285 wins, including 21 during the 2018-2019 season, the seventh time one of his teams has won more than 20 games. And his Terriers achieved a longed-for goal last February: their first Beanpot championship since winning as a club team in 1981.
BU returns 2 of last year's top 10 players in the country in points per game average. But Durocher says that while he's thankful for the top-end offensive talent that Jesse Compher (SHA'21) and redshirt senior Sammy Davis (Sargent'20) provide, he cares more about the team's work ethic and toughness.
"We block shots," Durocher says, "not only in games but in practice."

Flying, freezing, rock-hard projectiles hurt. It takes a lot of bravery to put yourself in front of a shot in a game. Showing that intensity in practice? That's another level.

"There's a term in hockey, 'the dirty areas,' in front of the net at both ends, down along the walls," Durocher says. "Those are areas where I thought we played well. And it wasn't one person or one line, but I think everybody did that."

The team's top scorers have combined to win a Beanpot MVP, four Hockey East Player of the Week awards, two NCAA Three Stars of the Week honors, a unanimous vote to the Hockey East All-Star First Team, and a Second-Team All-American award. And when those players jump in front of flying pucks with as much enthusiasm as they score and assist on goals, it galvanizes the whole team.

Compher finished fourth and Davis seventh in the country in points per game last season, with Compher contributing 1.65 per contest and Davis chipping in 1.41. With 61 total points for the season, Compher came in 2nd in the nation and Davis, with 52, finished 13th. Compher set the school record for assists (44) last year as well.

BU Durocher has tabbed Mackenna Parker (CAS'22), BU's fourth-highest scorer last year and the third player on the first attacking line with Compher and Davis, to step up this year. Parker made the Hockey East All-Rookie Team playing alongside two of the most prolific players in the nation. It was the 11th consecutive year that the BU coach saw one of his players make the league's All-Rookie Team.
A lot of the team's offense will come from the first line, but other players need to step up in order to accomplish this year's goals. Durocher says forward Natasza Tarnowski (CAS'20), the third captain, adds a lot of toughness to the team. Additionally, he has pinpointed the forward line of Deziray De Sousa (CAS'20), Nara Elia (CAS'21), and Kristina Schuler (Questrom'21) to have a greater role this season and add the goals and assists to the potential they showed last campaign.
"They played as a line together last year and did a great job with puck possession, defending well, being hard to play against because they're strong kids on their skates," Durocher says, "but they maybe didn't turn it into as many points as they would've liked or we might've liked."

He says he played younger skaters in "elevated roles" in the 2018-2019 season, and the team will need juniors Elia and Schuler and senior De Sousa to fill those roles to the best of their ability. Durocher sees his team competing with the best teams in the league, and potentially the entire nation, so the hope is that they will supplement the points Compher and Davis will provide.

"I think our team's growing a lot, lots of girls worked hard this summer, and we prepared and have a good team this year," Davis says. "I think several girls are going to step up and play a big part in the team." 

All 10 of the team's top scorers from last year have returned. In terms of new faces, Durocher thinks defender Nadia Mattivi (CAS'23) will stand out this season because of the experience she brings and that all five freshmen can contribute this season.
Mattivi will "be our first European international player," the coach says. "She's played with the Italian national team and spent the year up in Sweden playing in a pretty competitive league and certainly comes with what would appear to be a lot of the offensive skills: the passing, the shooting, the stick-handling skills."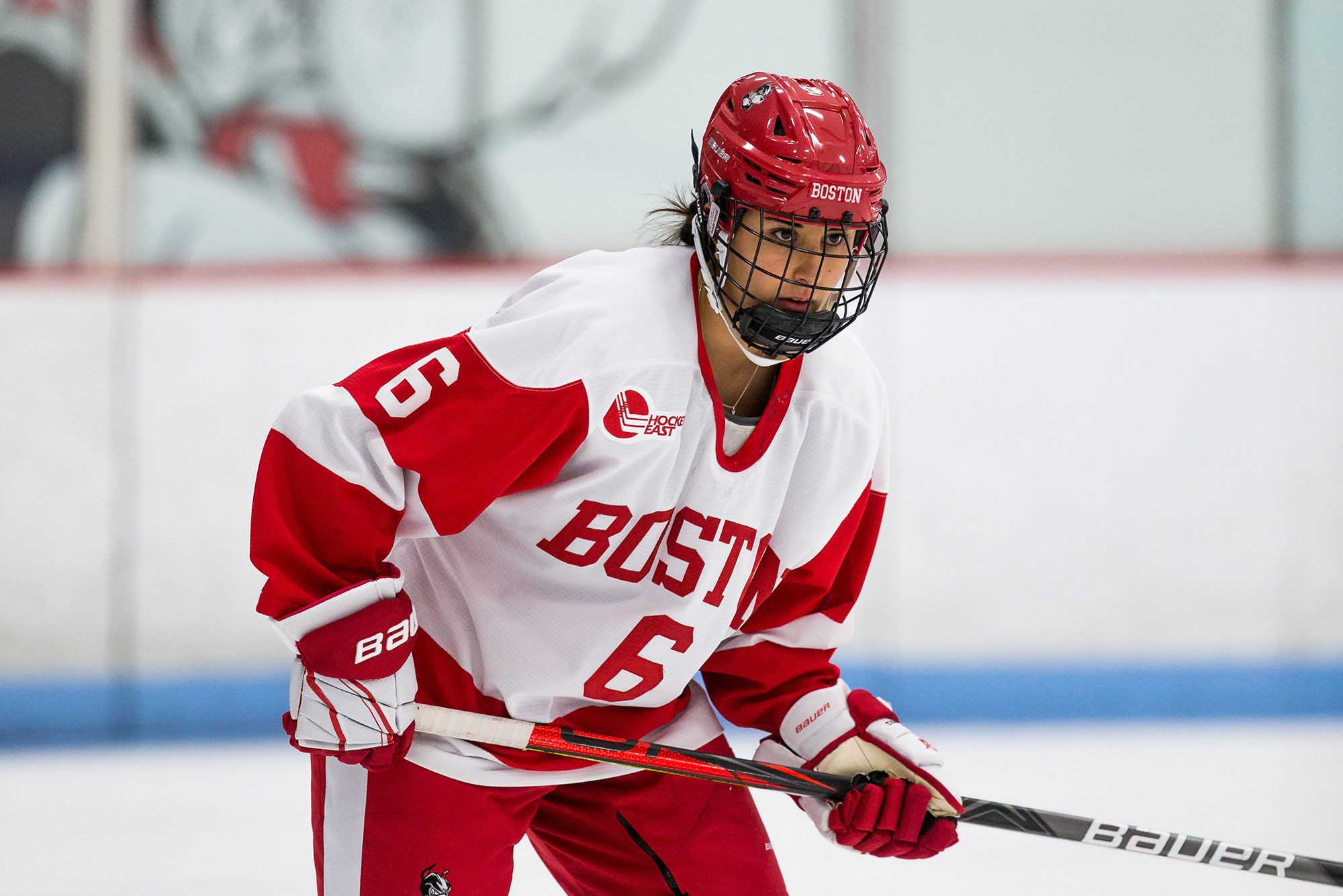 Last season, the third-highest scorer, defenseman Abby Cook (Sargent'20), finished with 24 fewer points than Davis. Durocher wants his team to tighten that gap to become more well-rounded offensively. The defense did its job last year, though: BU tied for second with BC and Providence in Hockey East in goals conceded per game, with 1.95. Only Northeastern had a better mark, allowing 1.85 goals per game in 27 games against conference opponents.
In addition to the team's toughness on defense, Durocher points to strong goaltending. Corrine Schroeder (Sargent'21) started 32 games in net, and for the whole 37-game season, the team held opponents to a shot success rate of 0.066: only 6.6 percent of opponents' shots found the back of the net. Schroeder was a four-time Hockey East Defensive Player of the Week, won a National Goaltender of the Month award, and earned a spot on the Hockey East All-Star Third Team at the end of the season.
The Terriers finished the season ranked eighth in the nation, but unranked Syracuse University qualified for the NCAA Tournament ahead of them by winning the College Hockey America tournament. To qualify for their eight-team tournament this time around, the Terriers need to win this year's Hockey East tournament. If they don't win that tournament, they can earn an at-large bid to the NCAAs if they come in first or second in the Hockey East regular season. Boston College qualified that way last year.

"I think we can win a lot of games this year. We have good depth, which will be helpful," Compher says. "I think it's important to focus on winning every single game because any points we can get matter, as we learned by getting so close to making the NCAA tourney last year."

"In our league, clearly Northeastern and Boston College have been the top teams the last two years," Durocher says of his team's biggest rivals. "Providence took a big step last year and returns what I think is a pretty darn good squad this coming year."

As for the must-see games, the Terriers face Northeastern three times this coming season, and possibly a fourth if both make the Beanpot final. The first matchup comes at Walter Brown Arena on November 1, the second the next day at Northeastern. BU plays BC for the first time in a home game November 15, following that up with a home-and-away on December 6 and 7, and then they meet up the first round of the Women's Beanpot on February 4.

The BU women's hockey Terriers host Merrimack College in their home opener Friday, October 11, at 7 pm, at Walter Brown Arena, 285 Babcock St. Tickets for Friday's game are free. The game will be broadcast live on Collegesportslive.com.