10 Trendy New York Restaurants and Bakeries Now in Boston
Food
10 Trendy New York Restaurants and Bakeries Now in Boston
From cake truffles to poke to pita, these spots have something for everyone
During the summer months, BU Today is revisiting some of the past year's favorite stories. This week, we feature food and dining.
New York City is a cultural hotbed, so it's no wonder that many popular restaurant chains have started there. But you no longer have to visit, or live in, the Big Apple to experience lots of those great eateries. Many have expanded to Boston in recent years, and we've put together a list of some of our favorite must-tries. Have a recommendation for a place that's not on the list? Post it as a comment below.
1. Fuku
43 Northern Ave., Seaport, Boston
This fast-casual spot from David Chang, founder of the popular Momofuku restaurant chain and star of the hit Netflix show Ugly Delicious, serves up a variety of tasty fried chicken sandwiches, wings, salads, and slushies. The list of offerings might sound simple, but Fuku's chicken—super-crunchy, juicy, and flavorful—is worth a trip to the Seaport. Trust us on this. A couple of menu items are special to Boston, like the BOS, a spicy fried chicken sandwich with squash rings, ranch, and an "extremely spicy" glaze, and the BFC, a dine-in only feast: a half habanero fried chicken, sweet and spicy chicken fingers, chicken wings, macaroni salad, fries, a variety of sauces, two potato rolls, and house drinks (bring a friend).
2. Milk Bar
1-3 Brattle St., Harvard Square, Cambridge
Milk Bar was founded in 2008 by Christina Tosi, who started the dessert program at Chang's Momofuku, where she created the concept for Milk Bar before branching out on her own. She opened the first one in New York City's East Village in 2008, and has since expanded to Washington, D.C., Las Vegas, Los Angeles, and Toronto. The local spot, attached to an &Pizza, opened February 2 and draws legions of fans willing to stand in line for an hour or more for the bakery's cake truffles, crack pie (a tasty concoction with a toasted oat cookie crust and a gooey, buttery filling), and salty sweet cereal milk soft-serve.
3. Magnolia Bakery
200 Faneuil Hall Marketplace, Boston
First opened in 1996 in NYC's West Village, Magnolia became known for its pastel-hued cupcakes after Carrie Bradshaw and Miranda Hobbes chowed down on them in the third season of Sex and the City. Since then, the bakery has opened spots across the country and internationally. In 2018, Boston got its own in Faneuil Hall Marketplace. Besides cupcakes, Magnolia is renowned for its creamy banana pudding, which comes in vanilla or chocolate or a rotating monthly flavor. The signature dessert at Faneuil is a Boston cream pie banana pudding, with ribbons of chocolate fudge throughout.
4. Num Pang Kitchen
800 Boylston St., Prudential Center, Boston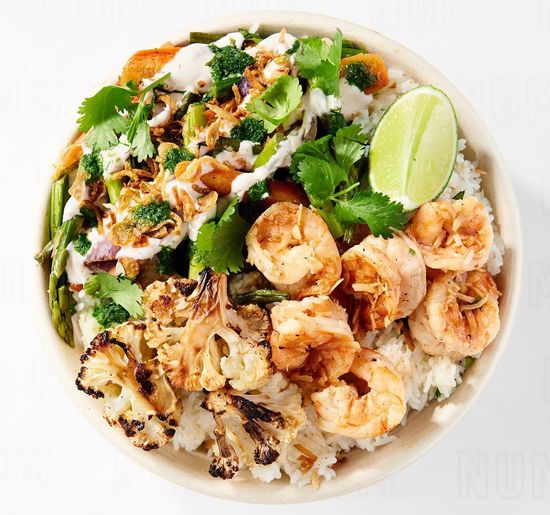 Num Pang's only spot outside of NYC is right in the Prudential Center. Head to this Cambodian sandwich place for a quick but flavor-packed meal. Sandwiches are served on a freshly baked semolina or quinoa baguette, with a smear of chili mayo and topped with cucumber, pickled carrots, and cilantro. Must-tries are the coconut tiger shrimp sandwich with toasted coconut flakes and the roasted cauliflower sandwich with a chili soy eggplant spread. If you're not in the mood for a sandwich, Num Pang also offers an assortment of rice and grain bowls.
5. Shake Shack
234-236 Newbury St., Boston (and several more around greater Boston)
By now you've heard of Shake Shack, but did you know that it started as a food cart in Madison Square Park in 2001? It now has more than 200 outposts around the world, several of them around greater Boston. For the ultimate Shake Shack experience, try the Shake Stack, a combo of a cheeseburger with a Shroom Burger (deep fried portobello mushroom filled with melted cheese), topped with lettuce, tomato, and special ShackSauce (a Thousand Island–type sauce). Get that with a shake, of course.
6. Pokeworks
1440 Massachusetts Ave., Harvard Square, Cambridge
261 Elm St., Davis Square, Somerville
Poke, a Hawaiian dish of diced raw fish, has gained increasing popularity around the country over the past few years. Seizing on the craze, the first Pokeworks opened in 2015 in Midtown Manhattan, and there are now franchises around the country and in Canada and Mexico. You can get your poke served in a bowl of rice or greens or in a seaweed wrap burrito. Choose from ahi tuna, albacore tuna, salmon, scallops, and shrimp—or for those who don't like raw fish, tofu and chicken—and then tack on a variety of add-ins, toppings, and sauces. There are also plenty of signature bowls to pick from. We recommend the Hawaiian Classic, with ahi tuna, green and sweet onion, ogo seaweed, cucumber, chili flakes, sesame seeds, sesame oil, Hawaiian salt, and Pokeworks classic sauce.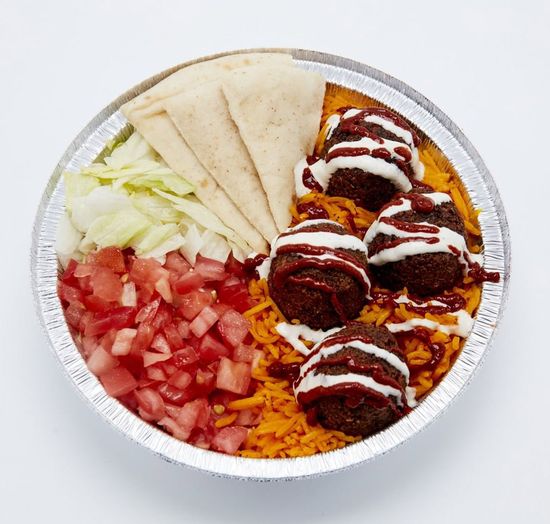 The Halal Guys began as a hot dog cart in Manhattan in 1990 and now has carts and brick-and-mortar franchises around the world. The restaurant is famous for its pita sandwiches and halal platters of chicken, beef gyro, or falafel with rice, pita, lettuce, and tomatoes. Don't forget to add the legendary Halal Guys White Sauce—creamy and flavorful, it kicks up any platter or sandwich.
8. Dig Inn
800 Boylston St., Prudential Center, Boston (and several more around the city)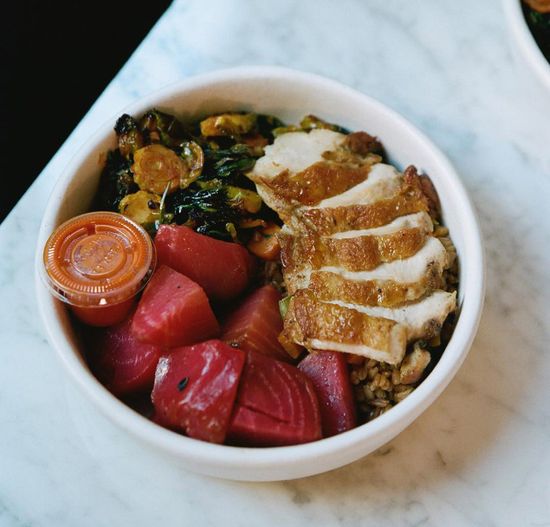 Yes, we know, grain bowls and salad bowls have been à la mode for the better part of the decade—and Dig Inn is at the forefront of this trend. You can get a quick and healthy meal that doesn't skimp on flavor and heartiness, and from proteins to vegetables, Dig Inn uses regionally sourced and seasonal ingredients. Named the best fast-casual restaurant of 2017 by Boston magazine, Dig Inn gives you the option of customizing your bowl with a variety of interesting sides—from roasted carrots with harissa to maple cauliflower with a chickpea crumble.
9. By CHLOE
100 Van Ness St., Boston (and two more around the city)
If you're vegan, it's often difficult to find restaurants that have tasty dishes you can eat. Cue By CHLOE. The entirely vegan menu features exciting takes on popular comfort foods—think burgers and fries, macaroni and cheese, and ice cream—that'll appeal to vegans and non-vegans alike. The air-baked fries and classic burger (a patty made with tempeh, lentil, chia, and walnuts, and topped with tasty beet ketchup) are good, but the restaurant really excels with its tasty vegan desserts. Try the kale (you read that right) cookies and cream ice cream or the cinnamon espresso cookie.
10. Taiyaki NYC (coming soon)
121 Seaport Blvd., Seaport, Boston
You may have seen Taiyaki NYC's fish-shaped cones topped with swirls of soft serve all over Instagram. The popular New York ice cream joint has two places there and another two in both Miami and Toronto. It will soon open a fifth storefront in Boston's ever-booming Seaport. The shop specializes in a unique spin on the popular Japanese dessert taiyaki, traditionally a fish-shaped cake filled with red bean. Taiyaki NYC has made the dessert into a cone that you can top with your choice of creamy ice cream (get the matcha and black sesame swirl) and then add toppings like cotton candy sprinkles, crushed oreos, or mochi.