Women's Ice Hockey Forward Victoria Bach Is Breaking Records
Hoping to close out BU career with a Beanpot win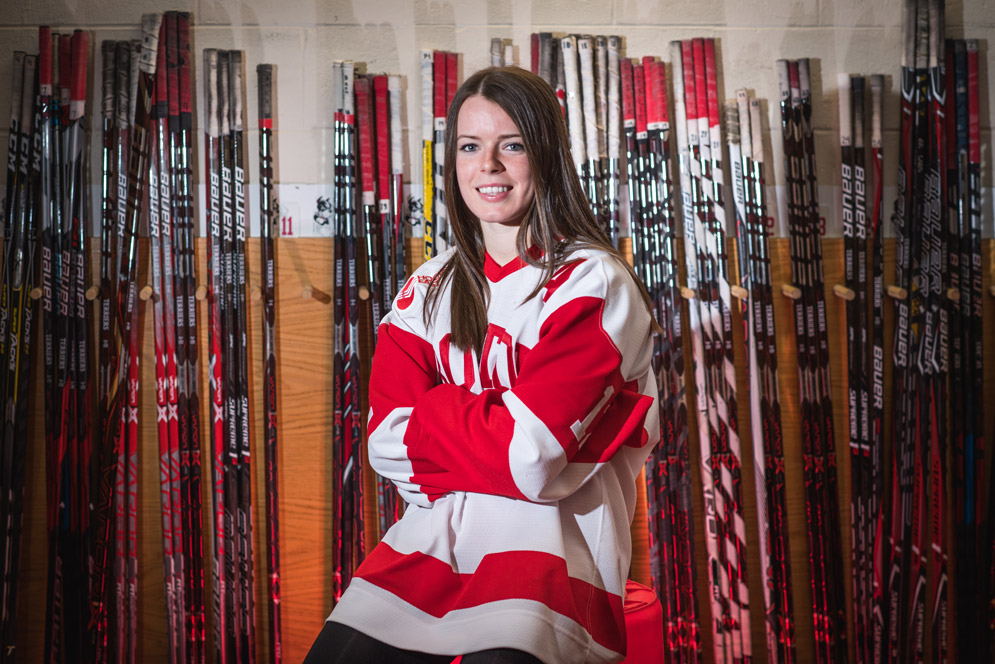 • Victoria Bach is one of the country's best college ice hockey players
• She recently broke BU's all-time goal and scoring records 
• An Ontario native, she's hoping for a spot on the 2022 Canadian Olympic team
---
As a child growing up in Ontario, Victoria Bach was an avid soccer player. It wasn't until she watched the 2002 Salt Lake City Winter Olympics that she decided hockey was the sport she wanted to pursue.
"Watching Canada win gold on the world stage really encouraged me to play hockey and aspire to one day represent Canada at the Olympic winter games," Bach says. Her father, who was a hockey player, also inspired her and helped spark her love for the sport.
Bach (CGS'16, COM'18) began her hockey career at what she calls the relatively advanced age of eight. Many of her classmates had been skating for four or five years at that point. "I'm not gonna lie. I wasn't very good at hockey," she confesses.
That was then.
Now an assistant tri-captain of the BU women's ice hockey team, Bach is one of the best players in women's collegiate ice hockey. In a game against Northeastern last month, she earned her 93rd career goal, breaking the BU record set by Sarah Lefort (Sargent'16) in 2016. Just 11 days later, her 184th career point, against conference foe Merrimack, smashed another school record, and she took over the all-time scoring leader spot. She currently needs just three goals to become the first woman in program history to reach the 100-goal mark, which could happen tonight when the Terriers host Vermont at Walter Brown Arena.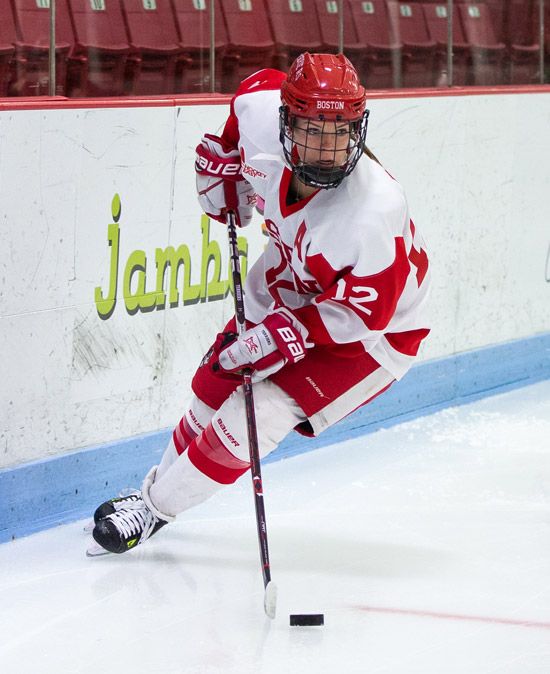 Watching Bach on the ice, women's head coach Brian Durocher (SED'78) says two qualities stand out: her speed and her wrist shot. He describes her as a world-class skater, who has what he calls an "extra glide," a trait found in only one or two out of every 100 hockey players. And she has a dead-on wrist shot.
This season, Bach has used these skills to post an amazing offensive production. She currently ranks third nationally in points (54) and second in goals (32). With a stellar performance in November that saw her lead the nation in points (21) and goals (13), she was named the WHCA National Player of the Month.
Bach's achievements are the result of a disciplined work ethic. While many players rest during the off-season, she has spent her summer months playing for Team Canada and refining her game.
"Every opportunity that I get to wear the Maple Leaf is definitely a huge honor and a great experience," says Bach, who led Team Canada in scoring last year to help win a silver medal at the 2017 Nations Cup and was recently named an assistant captain on the 2018 Nations Cup roster. "I think just being there with the best of the best, it makes me that much better as a person and a player."
A dazzling BU debut saw Bach named Hockey East Rookie of the Year freshman year, and her game has improved season by season. Beginning her college career as an offensive-minded player, she's become an accomplished defender as well.
"I want to do something each game that basically gets better," Bach says. "Do one thing better today than you did yesterday."
Olympics: A lifelong dream
Durocher says that aside from the talent she brings to the game, she has become someone who leads by example.
"Sometimes, people aren't always the easiest leader to recognize because they aren't vocal or they aren't people who talk all the time in the locker room," Durocher says, "but oftentimes your production, your effort, and concern for others far outweigh your voice, and she displays all those things tremendously."
Teammate Nara Elia (CGS'19) says the senior forward is a player others rely on for advice. "Even in the dressing room, in between the periods, she's a good person to look to if you need some guidance." And she's earned a reputation as an easygoing, affable teammate, whether demonstrating what others on the team call her "terrible" backhand at the shooting range or her willingness to belt out a song at the top of her lungs in the dressing room, even when she doesn't know the lyrics.
"When I first came to BU as a freshman, I definitely wasn't the person I am today," Bach says. "I just think I've matured so much as a person and as a player, and I have BU to thank for that. I'm definitely excited and confident going onto the next chapter of my life."
As she prepares to close out her BU career, Bach says there's one goal she'd still like to achieve, one that has thus far eluded her, and has eluded the BU women's team since it became a varsity sport in 2005: a Beanpot title. The country's oldest women's ice hockey tournament begins next Tuesday, with BU taking on Harvard in round one at Boston College's Conte Forum.
"That tournament—it's pretty awesome. I look forward to it all year," she says. "As a senior, that's one of my huge goals. It would be awesome to leave BU saying that we won a Beanpot. There have been close games, and I think we can do it if we play our game. Every game's been a close game, so it should be good. I'm excited to play Harvard."
A College of Communication advertising major, Bach plans to pursue a degree in graphic design after graduation. And she wants to continue to play hockey. Last year, she was chosen as the seventh overall pick in the 2017 National Women's Hockey League draft by the Metropolitan Riveters. And she's hoping to earn a berth on Canada's 2022 Olympic team.
"Playing in the Olympics has been a lifelong dream of mine," she says. "I believe that representing your country is the highest honor in sports, so it would be a dream come true for me to represent Canada at the Olympics."
"Victoria definitely has those aspirations. She wants to play in an Olympic game," Durocher says. "She's going to do what she can and what's within her means to play at that level. There's still one stage to get on, and I think she's very determined and willing to do whatever it takes to try to get there in 2022."
"I'll be betting on her."
The BU women's ice hockey team hosts Vermont tonight, Friday, February 2, at 7 pm, at Walter Brown Arena, 285 Babcock St. Admission is free for students with a sports pass, $5 for faculty, staff, and students without a sports pass, and $8 for the general public. The Patriot League Network will broadcast the game live.
On Tuesday, February 6, at 5 pm, the BU women's ice hockey team takes on Harvard University in round one of the 40th Women's Beanpot Tournament semifinals, at Boston College's Conte Forum, 140 Commonwealth Ave., Chestnut Hill, Mass. The final will be the next Tuesday, February 13, at Conte Forum, pitting the first round winners in the championship game after the losers play a consolation game.
Jonathan Chang can be reached at jchang19@bu.edu