It's Tip-off Time for Women's Basketball, Opening at Home Monday
Former player returns as head coach, ushering in a new era
The last time BU's women's basketball team reached the NCAA Tournament was in 2003. The Terriers were led by two-year captain Marisa Moseley. After leaving BU, Moseley (CAS'04) joined the coaching staff at the University of Minnesota, then the University of Denver, before becoming an assistant coach at UConn—the country's most successful team in recent years.
Now, 15 years after leading her team to the NCAA Tournament, Moseley has returned to BU as head coach, hoping to replicate her success as a player here and as a coach at UConn, where she was instrumental in helping the team win five national championships.
So expectations are at an all-time high as BU's women's basketball team prepares to open the 2018 season at home Monday night against Brown.
When Moseley was introduced as head coach in April, Drew Marrochello, director of athletics, described her appointment as a "banner day for Boston University women's basketball."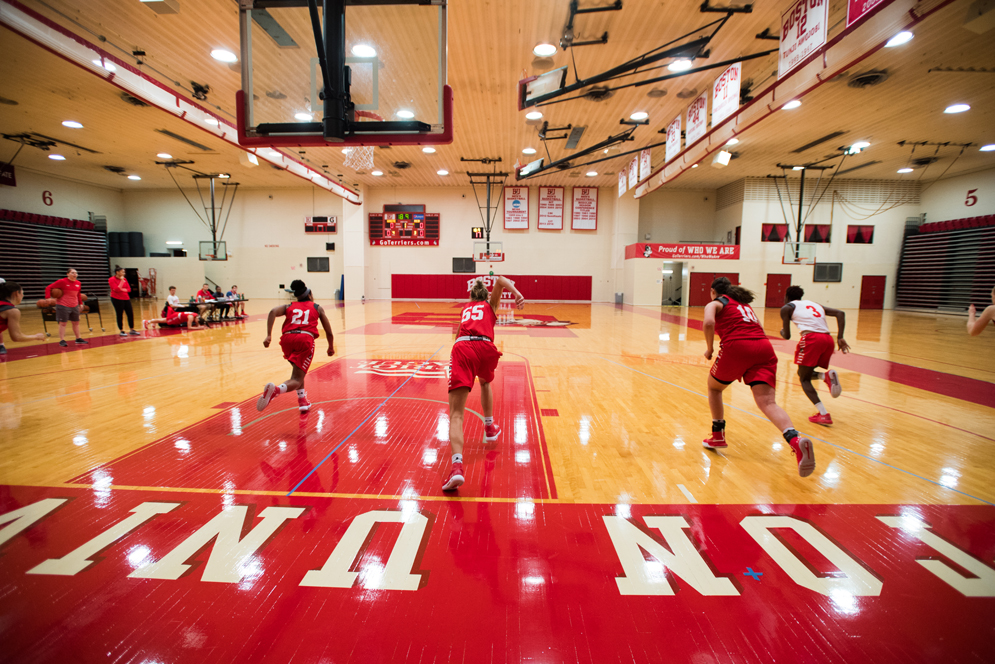 As she prepares to helm her first season at BU, the new coach says her priorities are recruitment and the mentality of her players. "The first step is the people: you have to make sure that you have good people and you're recruiting good people," she says. "The second step is having high standards and making sure the players understand what the expectation is every day."
Moseley is coming from a school that has a huge winning tradition, and she knows that creating that tradition here will take work. The team finished last season with a 5-13 Patriot League record, and this year the league's preseason poll has the team second to last.
But talk to the players, and they exude confidence. "We definitely have the potential to be top three in the conference this year—we could make it way further than we usually do," says Naiyah Thompson (Sargent'19).
"Confidence levels of everyone in the team have definitely skyrocketed," says Lauren Spearman (Sargent'19). "We're planning on winning the Patriot League. For us, that's a realistic expectation."
Both Spearman and Thompson attribute that optimism to Moseley. "She's instilled confidence in everyone, from freshmen to seniors," Spearman says. "We feel like we know what our strengths are and what we can do, that's the biggest thing for us."
"There's a lot of energy, but also a little bit of nervousness, not only because it's our last year, but also because there's so much change," says Thompson. "New players, new coaches, new playing style. But I'm excited. I'm pumped. I think we can do some damage this year."
Players say they've been trying to strike a balance between running more sets and playing a more up-tempo game this season than last. Having lost a number of tight contests last year, they're hoping that a more energetic style of play will tip the close games in their favor.
Key to their hopes will be junior Nia Irving (CAS'20), who led the team last year with 13.6 points and 6.8 rebounds per game. She was named to the All-Patriot League Third Team and was a two-time Patriot League Player of the Week.
The Terriers will also be looking to Katie Nelson (CGS'19), hoping she can build on an excellent rookie season. As a freshman, she recorded nearly double the amount of assists of any other player on the team, and she's a proficient three-point shooter. She was named to the Patriot League All-Rookie Team and snagged Patriot League Rookie of the Week on two consecutive weeks.
Despite the optimism, Moseley won't be drawn into talking about expectations, saying she has no idea how many games the team could win. One thing's for certain though: a win in front of BU fans against Brown in the season opener at home would be an auspicious start to the season.
The BU women's basketball Terriers play their season opener against Brown University tonight, Monday, November 12, at 7 pm, at Case Gym, 285 Babcock St. Tickets are $8 for the general public, $5 for faculty, staff, and students without a sports pass, and free for students with a sports pass. You can watch the game live on New England Sports Network (NESN) or on the Patriot League Network.
Harry Jones can be reached at joneshj@bu.edu.