Window Woman of New England: Restoring 103-Year-Old Windows, Pane by Pane
Alison Hardy (Questrom'83) and crew worked for a year on BU's Dahod Family Alumni Center windows
Alison Hardy comes from a family of doers. Her father designed jet engines for General Electric. Her mother ran a dairy farm for years and taught her daughter to sew at a young age.
It's unsurprising, then, that Hardy (Questrom'83), who studied theatrical costuming at Denison University and earned an MBA at BU, spent her first career in textiles, designing fabrics for companies like Izod Lacoste and Mast Industries. Or that her second career is repairing and restoring windows on projects from cottages to, well, a Castle.
For the past year, Hardy, owner of the Amesbury, Mass.–based Window Woman of New England, and her team have been restoring the 300 or so windows of BU's 103-year-old Castle, now the Dahod Family Alumni Center.
Hardy is entirely self-taught. In 1998, she and her husband bought a 200-plus-year-old house in Chelmsford, Mass., whose windows were hard to open, drafty, and covered in paint. She learned how to restore them by reading books, watching videos, and calling up tradesmen out of the blue for advice. A friend was so impressed with her work, he asked if Hardy would do the same for his windows. Word spread. "The great thing about old houses is old-house people talk to old-house people," Hardy says.
She opened her first workshop in 2003, after she and her husband moved into an 1850s farmhouse in Topsfield. One of her first jobs was the historic Hawthorne Hotel in nearby Salem. "Nothing like diving into the deep end," she says. "No pressure there." The work has been steady ever since.
So has the press. The New York Times interviewed her for a story on restoring rather than replacing antique windows, and two years ago, Yankee magazine profiled her and her business.
A local news story led to a job restoring the windows of an 1894 Queen Anne Victorian in Beverly, just as the owner, Kevin O'Connor (Questrom'99), was starting his new job as host of WGBH's This Old House. Hardy appeared in three episodes of the home renovation program in 2011.
Now, she and her staff of 11 juggle 10 to 20 projects a month, both simple—such as repairs of broken glass or sash cords—and complex, like the restoration of 151 windows at Beverly City Hall. The Dahod Family Alumni Center is her biggest job to date. "It's kind of fun getting a project from my alma mater," she says.
The work began in October 2017.
After workers removed the windows from the Tudor revival building, Hardy and her team loaded them into vans and brought them to her shop. The problems varied from window to window: loose glass, chipped paint, crumbled lead, and frames splintered or damaged by rot. Then there was the grime. "Honestly, the degree of dirt on these. They are just filthy," Hardy said last spring. "It's to be expected—it's city dirt."
Hardy's 5,000-square-foot shop overlooks the Back River in Amesbury.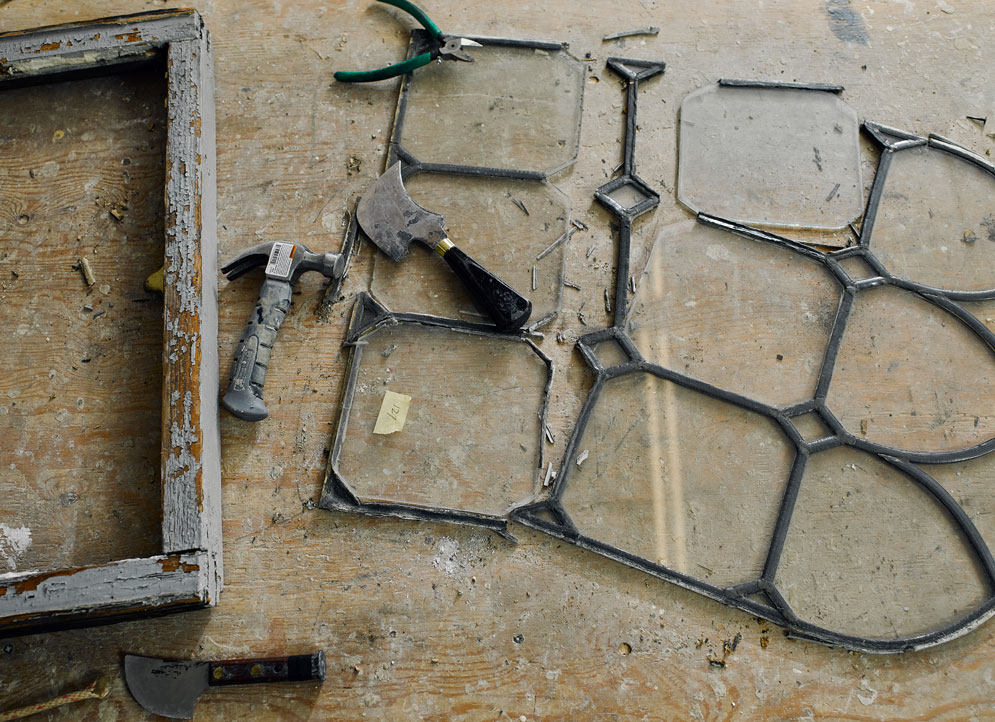 To keep track of the location of the windows, each one was assigned a number corresponding to the same number on the architect's plans. Most of the windows have thick, polished plate glass, preferred for its insulation and noise-deadening properties.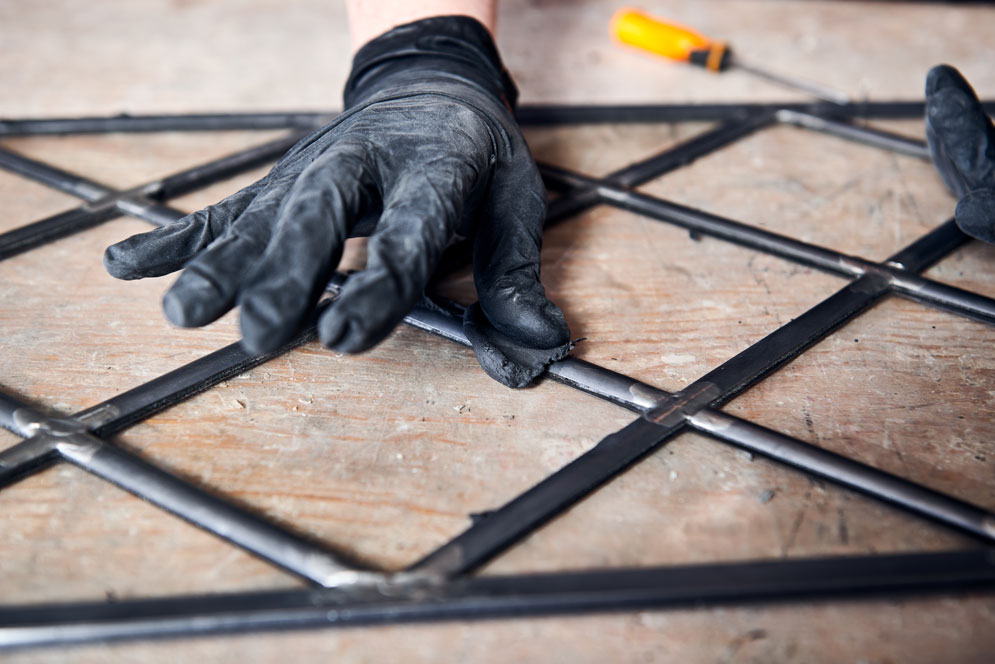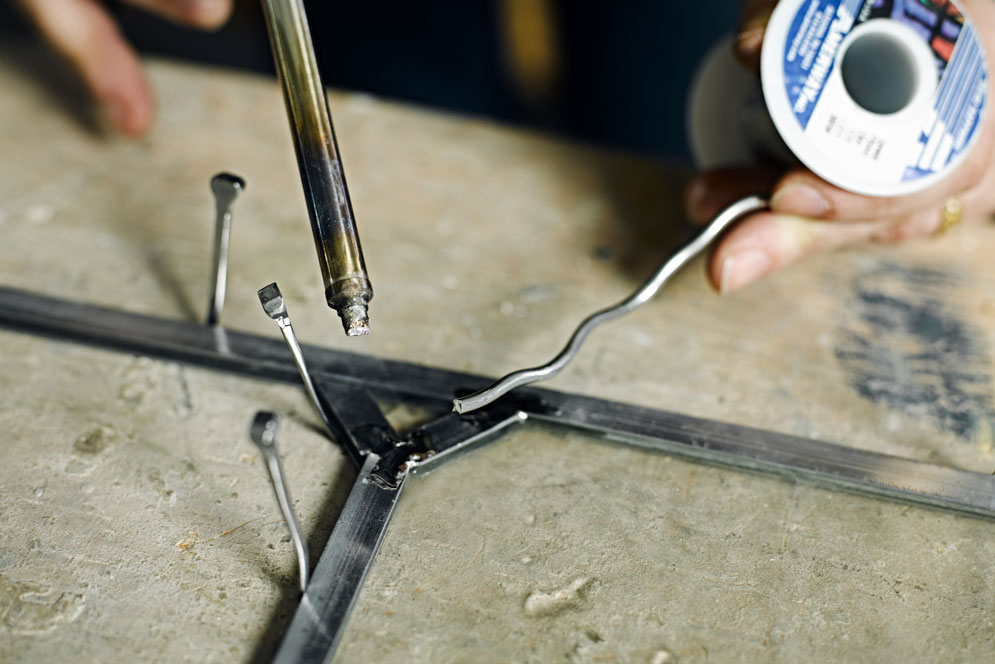 The first step is removing the glass. About a third of the windows have leaded glass panels, and for their restoration, Hardy partners with an expert, Cathryn Blackwell, owner of Blackwell's Stained & Leaded Glass in Wakefield, Mass. Blackwell removes the leaded glass panel from the frame and gently pulls off the lead came (the slender grooved rod holding panes together) that separates the panes. She replaces cracked glass—she purchases and salvages glass and cuts it to size—and reassembles the window, soldering the lead into place and cementing it all to keep out wind and rain.
At the same time, Hardy's staff goes to work on the wooden frames. At the Dahod Family Alumni Center, the window sash are primarily pine—"a nice, dense grain," Hardy says. Here, she uses pressurized steam to soften the old paint so it can be easily scraped off, with minimal dust.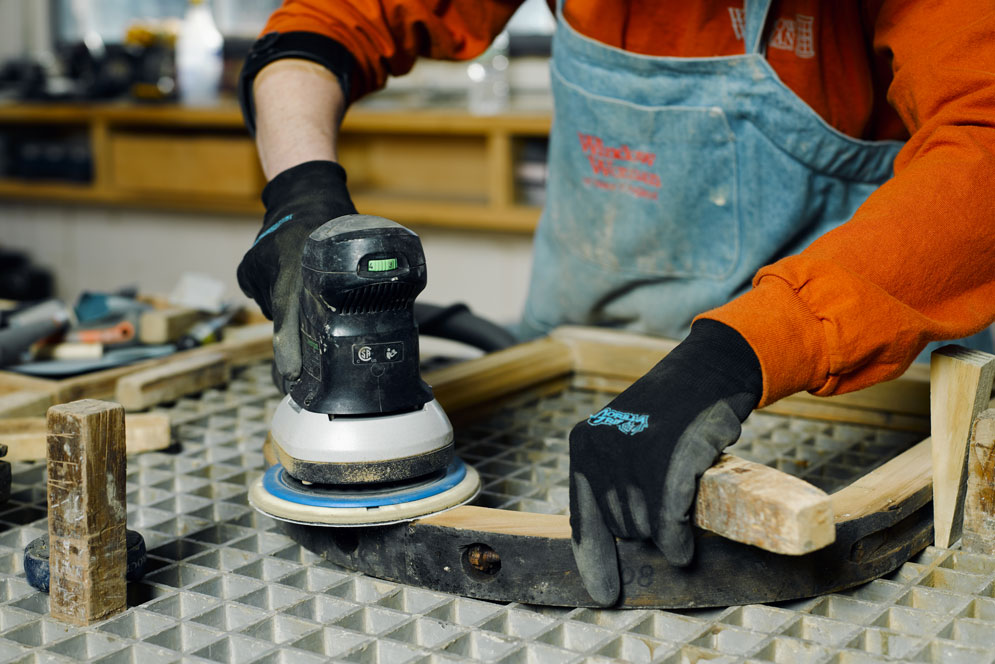 On this April day, employees Steve Hall and Laure Rowan are stripping paint and stain from the frames, sanding, and patching nicks with wood filler. One of the most common problems is rot in the joints, says Hall, caused by water that pools in the window wells and rots the lower rails (the horizontal pieces on the sash). If necessary, they will replace the bottom rails.
Next, Elaine Kenney paints the windows—a color called Queen Anne's Lace inside, a dark brown on the outside. The blackened hardware, now restored, is reattached, and the windows get a final wipe down. They're wrapped in plastic and stored in the attic, ready to be loaded back into the vans and returned to BU.
This past summer, Hardy and her crew were on campus to help reinstall the windows. Here, Hardy installs a copper-dipped chain. She occupies an unusual place in the industry: only 9 percent of the US construction workforce is women, according to the US Bureau of Labor Statistics. "It's pathetically low," she says.
She is proud to be among them. Window restoration "is very much a dance between the craft and the art," she says. "We don't want things to look perfect. We want them to look pretty, and it's hard to teach that to people who don't have an artistic eye."
Hardy says her staff faced some quirky repairs at the Dahod Family Alumni Center, particularly to the leaded glass in the library—bowed and arched, with center motifs. But overall, she says, "the windows on this property were beautifully built and generally held up well over the last century. My whole crew is looking forward to the open house this weekend."