Wheelock Family Theatre Stages Gooney Bird Greene and Her True Life Adventures
Adaption of Lois Lowry book series, with BU alum in title role, kicks off new season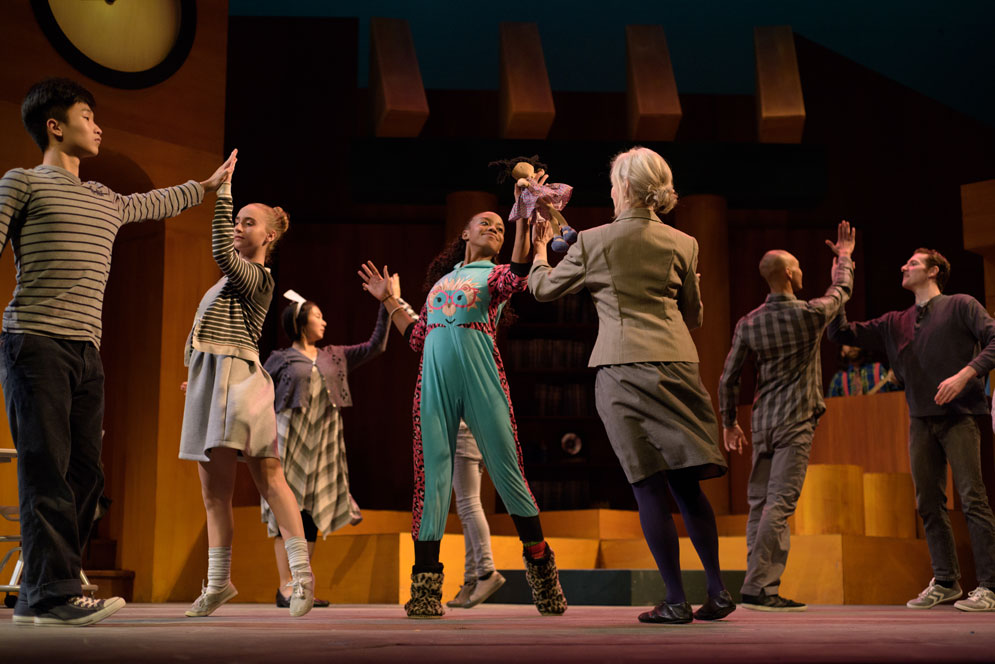 If you notice a little extra kick in Gooney Bird Greene and Her True Life Adventures, opening tonight at the Wheelock Family Theatre at Boston University, it's because the actors playing Gooney and her teacher have played these parts before—in real life.
Hayley Spivey (CFA'16) stars as Gooney, a rambunctious second grader with a flair for the theatrical—and for turning her classroom topsy-turvy. Gooney's teacher, Mrs. Pidgeon, is played by Paula Langton (CFA'03), a College of Fine Arts associate professor of voice and speech and program head of acting, who taught Spivey when she was a first-year theater arts student.
"She was the foundation for me, and so much of what I use for Gooney Bird came out of her classes," Spivey says. "She really broke down for us what it means to have a free voice, to let it fill your body, to let it fill the room, while being loaded with emotion that comes from a true place. Which is exactly how kids are when they walk into a room. They scream, 'I'm happy!' or 'I'm mad!' One or the other."
Langton says Spivey is perfect for Gooney: "She's such a little powerhouse. Her energy is just relentless, and it kind of has to be with this show, because she's on all the time."
Adapted by Kent R. Brown from a children's book series by award-winning author Lois Lowry, Gooney Bird is about a new student at Watertower Elementary whose seemingly fanciful stories to her classmates turn out to be 100 percent true—in a way. (When she tells them about her visit to the palace, it turns out to be the Palace Ice Cream Parlor.) The production kicks off the Wheelock Family Theatre's 38th season—and its first at BU. The play runs through November 18 at its long-standing home on the Fenway Campus.
One of the challenges for the actors is "how do I embody a childlike spirit without commenting on it, without pretending to be a child?" says Gooney Bird director Yo-EL Cassell, a CFA assistant professor of movement. Cassell, who taught summer workshops at Wheelock years ago and worked at a children's theater in New York early in his career, says casting is key.
"When I first met Hayley, I said, 'She's our Gooney,'" Cassell says. "I liked her boldness, her creativity, her generosity. Her light."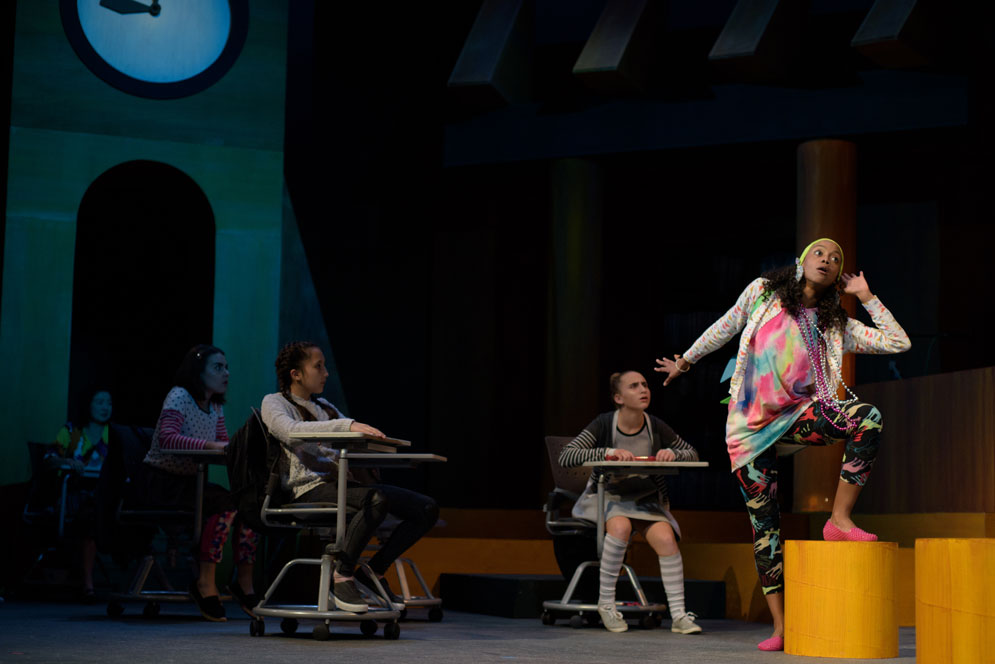 "Oh, it's so much fun playing a kid," Spivey says. "It's about always having energy. Even when you're really focused, some part of your body is always moving, fidgeting, already on to the next thing. I love being able to just move big. You're not worrying about people watching whether you're sitting normally or walking normally. If you want to skip, you can skip. If you want to dance, you can dance. If you want to crawl, crawl!"
But from the first rehearsal, she says, the team discussed that these were not cartoon kids, but the real-life kind, smart and intuitive. Gooney Bird shares her stories to inspire her schoolmates to fully become themselves. The play's message, Spivey says, is "don't be afraid to be proud of yourself, don't be afraid to let people in and tell stories about yourself when you were at your saddest or angriest or happiest, because when you let people in, that's when you find like-minded souls."
Of course, with all her wild stories, it can seem that Gooney Bird just likes being the center of attention—and that's something of a fine line for any actor playing her to walk. But her delight in her own imagination is also a generous impulse—she wants her classmates to feel the same.
"When you first read the script, you're like, OK, does she come across a bit self-centered?" Cassell says. "But no, she's quite direct in her empowerment of self. There's a pure, genuine joy in expressing that. I think about my five-year-old son. When he tells you he's PAW Patrol or a police officer, it's filled with confidence, the embodiment of that spirit."
In addition to Spivey and Langton, there are a number of CFA alums in the cast, some of them playing several roles. Tatiana Isabel Gil (CFA'17) does triple duty as Chelsea/van driver/ensemble and so does Olivia Z. Cote (CFA'18), who is Tricia/cow/ensemble. On the production team are lighting designer Annie Wiegand (CFA'10), costume designer Chelsea Kerl (CFA'14), and deck captain Lida Rubanava (CFA'18). Brian Perry (CFA'21) works on both sides of the stage, playing Ben/camera operator and working behind the scenes as assistant director and movement captain. Local musician and actor Jeff Marcus composed the music for the production and performs it live.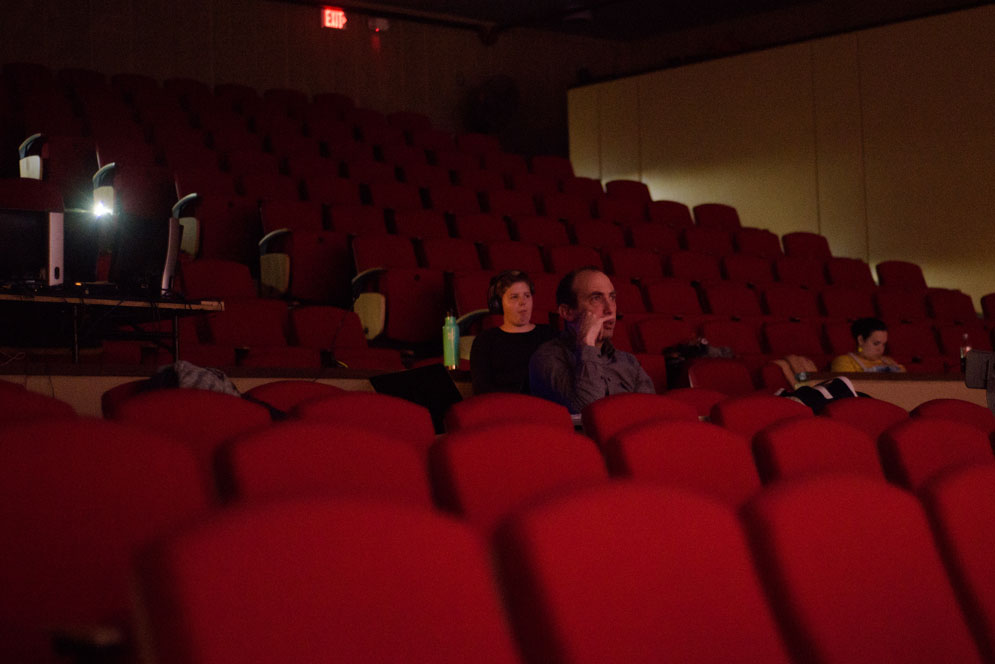 Soon after she graduated from BU, Spivey began working as a dramaturg with Boston's Company One while auditioning as an actor. She won roles with the Speakeasy Stage Company, the Lyric Stage Company of Boston, and the new TC Squared company, but says Gooney Bird is her biggest role to date.
"It's refreshing coming back to a place that you feel set you up to have a professional career, and you can meet the same teachers, but as colleagues," she says. "I think that really speaks to the success of the program and the teaching that they do there."
Call it a happy ending to both classroom stories, real and on stage. "I have been so proud of her," Langton says. "Having been her professor and now her colleague, it's just so enriching. I love when that happens."
Gooney Bird Greene and Her True Life Adventures runs through November 18 at Wheelock Family Theatre, 180 Riverway, Boston. After the 7:30 pm opening performance tonight, Friday, October 26, the show runs Saturdays at 10:30 am and 2 pm and Sundays at 2 pm. (There is no 10:30 am show on October 27.) Ticket prices range from $20 to $40. BU faculty and staff get $10 off with code BUSTAFF. Purchase tickets here, call 617-353-3001, or email WFTtix@bu.edu. Student rush tickets are available for $10 one hour before showtime, at the box office only.