Jorge Delva New Leader of BU Center for Innovation in Social Work & Health
As director, SSW dean will hold the Paul Farmer Professorship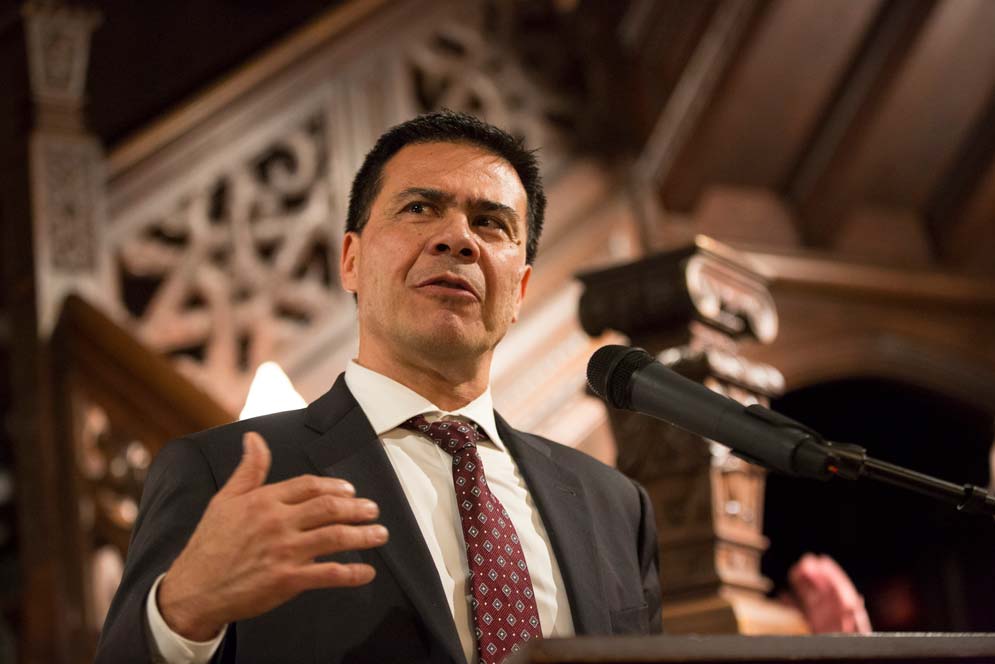 At a reception Tuesday at the regal Dahod Family Alumni Center—its fireplace warmly blazing, the 50 guests enjoying hors d'oeuvres—Jean Morrison, University provost, announced the appointment of Jorge Delva as director of the BU Center for Innovation in Social Work & Health (CISWH). Delva has been the dean of the School of Social Work since January.
As head of CISWH, one of the nation's premier interdisciplinary centers for integrating social work and healthcare, Delva, who continues as dean, holds SSW's Paul Farmer Professorship. He succeeds inaugural director and Farmer Professor Sara "Sally" Bachman, who has left to become dean of the University of Pennsylvania School of Social Policy and Practice.
Farmer, a Harvard professor and cofounder of the nonprofit Partners in Health, which helps medically underserved people in the United States and several poor nations around the world, was on hand to congratulate his new namesake professor. "Bob, what an awesome new dean you have," he told a smiling Robert A. Brown, BU president.
Delva said in an interview that BU's leaders surprised him when he was asked to consider the directorship. "I was beginning to think about how are we going to do the search," he said. "I almost fell off my chair" when they suggested him.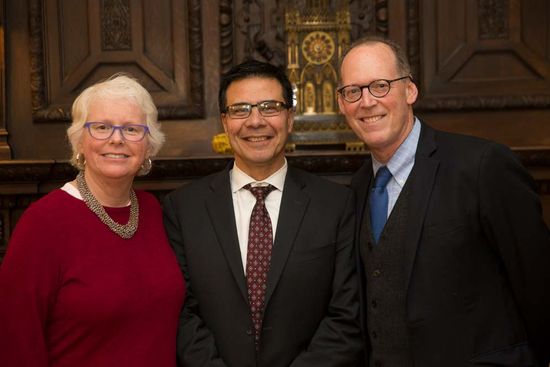 "I am humbled by the honor," said Delva, whose research concentrates on reducing inequities in healthcare affecting low-income people and racial and ethnic minorities, an issue that is part of the CISWH mission. His areas of expertise include addiction and mental health.
"Healthcare in our country…the richest country on earth, is one of the biggest challenges we have," Brown said at the reception, which was held the same day as the first meeting of the CISWH's advisory committee. That challenge requires new models of delivering medical care, and "this is what makes the work of the center, to me, so exciting."
Created in 2014 with an anonymous gift of $12.5 million, the CISWH seeks to give doctors and caregivers insights about family and neighborhood influences—the province of social workers—on their patients' health. The goal is to improve care while reducing its cost.
Before arriving at BU, Delva spent 15 years at the University of Michigan in several roles, including associate dean of its School of Social Work. He also ran a National Institutes of Health center at the school.
At age 15, Delva emigrated from Chile to the United States with his schoolteacher mother and his sister as they fled the dictatorship of General Augusto Pinochet. The visa that permitted them US entry allowed him to live with an aunt in Hawaii, where he studied Buddhism, Tibetan culture, aikido, and Mandarin.
The author of more than 130 publications, Delva is a fellow of both the Society for Social Work Research and the American Academy of Social Work and Social Welfare, as well as the former editor in chief of Social Work, published by the National Association of Social Work.
Recent CISWH projects included a $2.1 million grant from the federal Health Resources and Services Administration's HIV/AIDS Bureau to study coordinating employment and housing services to HIV patients to knock down impediments to their care and improve their health outcomes. The CISWH has also begun a speaker series on innovation "at the intersection of social work and public health practice," Delva said.
"I might not be totally credentialed," physician and anthropologist Farmer said at the reception, "but I am a social worker, too." Social workers "link the lived experience of people…to the large-scale questions of structural violence, racism, gender inequality," which Farmer has tried to do in his work.