SPH Water Squad Helps the Vulnerable Combat Summer Heat
Volunteers bring community together by giving out bottles of water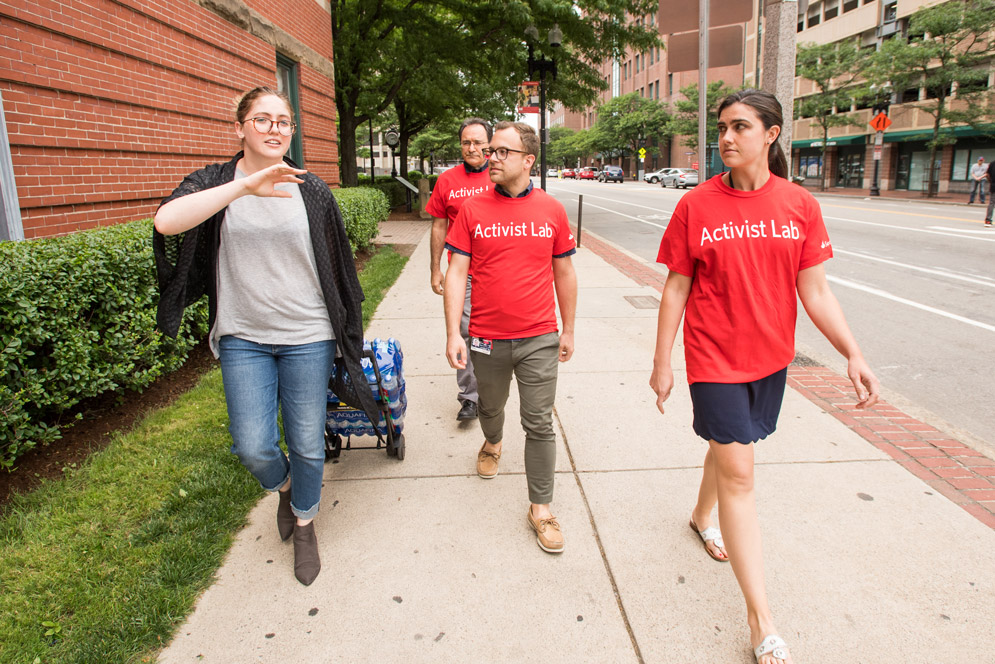 On a recent weekday afternoon, three volunteers from the School of Public Health are busy stacking cases of water onto a handcart in the Activist Lab, whose mission is to be "a catalyst for SPH and the community to engage in innovative programs, drive policy and system improvements, and inspire public health leadership." Before heading out the door with the water, the three don bright red T-shirts with the words "Activist Lab" on the front and "educate, innovate, and advocate" on the back.
They are members of the SPH Water Squad, a volunteer group of students, staff, and faculty who distribute free bottles of water to people outside the nearby Boston Healthcare for the Homeless, on the corner of Albany Street and Massachusetts Avenue, three days a week from June through September.
The idea for the squad came about two years ago after Activist Lab director Harold Cox, an SPH associate professor of community health sciences and associate dean for public health practice, found himself with some extra bottles of water on a hot day and decided to hand them out to passersby. That sparked the idea of providing the service regularly during the summer months. The need was obvious: many of those living in the area face challenges from addiction, mental health concerns, and homelessness, and finding water in soaring temperatures can be a challenge.
"These are our neighbors here on Albany Street, so we want to get to know them and build a better relationship with them," says Activist Lab student engagement intern Mallory Bersi (SPH'19), who coordinates the squad. "We want to make it a community rather than 'this is where these people are and this is where our school is.'"
Last summer, 71 volunteers handed out more than 3,000 bottles of water. On any given day, three to four cases of water are given away in about half an hour. The water is donated by the Medical Campus and other community partners. And while the squad is run out of SPH, it welcomes any Medical Campus volunteers, as well as members of the public.
"A lot of people will come in for the first time, and then they'll sign up again for additional spots because they liked the experience," Bersi says.
Feedback from last year's volunteers shows that working as a Water Squad volunteer helped deepen their commitment to public health.
Bersi gives new volunteers a quick training session. She reminds them to offer water to everyone who walks by, adding that they can either approach people or wait to be approached.
On this day, the volunteers are SPH Practicum managers Emily Brown, Ryan Wisniewski, and Joseph Anzalone—two first-timers and a veteran. Anzalone remembers a connection he made with a community member when he was volunteering last year.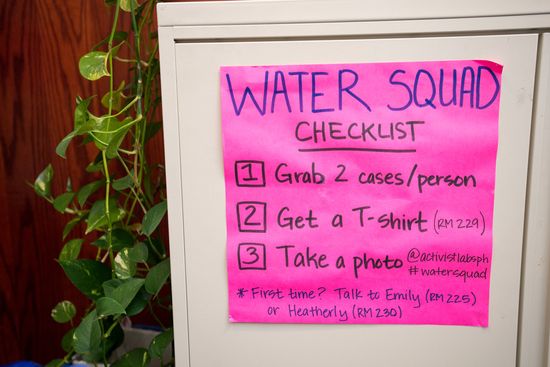 "I had a really interesting conversation last summer with a gentleman," Anzalone says. "A couple of months ago, I saw him panhandling on the street when I was in my car, and something compelled me to roll down my window and say, 'Hey, I remember you,' and we reconnected. Even though it was just for a short moment, it was satisfying."
Wisniewski says he looks forward to meeting people he might not otherwise come across. "It gives you an opportunity to interact with people who you typically aren't going to say hi to, or you maybe go out of your way to walk around them, because there's bias going on," he says. "It also forces you to come out of your shell and interact with people you walk by every day."
"Sometimes people who take a bottle of water strike up a conversation, and that's always great, because it builds that community aspect," Bersi says. "By the end of the summer there are regulars who come and are excited to see us." She mentions a woman who recently told a Water Squad volunteer that she had been homeless for a number of years, but had just signed a lease for an apartment.
"Those kinds of moments are really special, and kind of just stick with you," Bersi says.
Learn more about the Water Squad or sign up to volunteer here. Find more opportunities to get involved in community engagement on the Activist Lab website.  
Sara Frazier can be reached at smfrazie@bu.edu; follow her on Twitter @Sara_Frazier.