Why Lemurs Smell Better than You
Eva Garrett charts the evolution of primates' sense of smell
In biology textbooks, the story goes like this: Old World primates, including certain monkeys, apes, and humans, have a crummy sense of smell. Sure, we can tell rotten shrimp from baking bread, but we can't sniff out danger or smell our way home. That's because our ancestors made a tradeoff, evolving vision with enviable acuity, and the ability to perceive three colors. Meanwhile, our distant cousins, the so-called primitive primates like lemurs, lorises, and bush babies, kept their superb sense of smell, but didn't develop the same sophisticated eyesight.
The textbooks aren't totally right. It turns out that the story is more complicated than a simple 1-to-1 tradeoff, and Eva Garrett, Boston University assistant professor of anthropology, is sniffing out the subtleties, the curiosities, and the exceptions in the evolution of the primate sense of smell. By combining the classical study of primate anatomy with modern genomics, Garrett is adding color to a story that has long seemed black and white. And by doing so, she may teach us something profound about how we humans interact with the world.
"She's definitely disrupting that 1-to-1 tradeoff narrative that we've had within our field," says Christopher Schmitt, an assistant professor of biology and anthropology at Boston University. "Rather than just saying, 'Oh, looks like there's a tradeoff,' she's actually going in and measuring those sensory abilities, and seeing how they change. She seamlessly blends the genomics and the morphology in a way I would have never thought possible."
Delicious vs Gross
Garrett was smitten by scent as an undergraduate during a class in sensory ecology at the University of Texas, Austin. "The professor's enthusiasm for teaching how primates see the world was really infectious," she says. "The visual system took up a large portion of the class, but when he got to talking about olfaction, he only talked about it for maybe two lectures. So I was like, 'Man, I want to know more about this.'"
Primate olfaction—what we casually call "the sense of smell"—is actually two different systems. The first, the main olfactory system, is probably more familiar. Throughout our nasal passages, we have nerve cells containing receptors that can lock onto airborne molecules. "You breathe in, the molecules hit your odorant receptors, and they send information to your brain," says Garrett. "And you either think, 'Mm, delicious,' or 'Ew, gross.'"
"Delicious" versus "gross" is something we learn. And while most people may agree that vanilla falls on the delicious end of the spectrum, and raw sewage on the gross end of things, whether you like the scent of, say, fetid French cheese is a matter of upbringing, experience, and culture.
Compare this to the lesser-known vomeronasal system, which senses different molecules called pheromones. This system relies on a small, tube-shaped structure in the palate—the vomeronasal organ, or VNO—which sits between the roof of the mouth and the base of the nose. When the VNO detects pheromones, the system immediately evokes a response, with no need for conscious processing or learning. Primates with a fully functional vomeronasal system use it for all sorts of things: signaling readiness for mating, marking territory, and even shutting down a rival female's ovulation.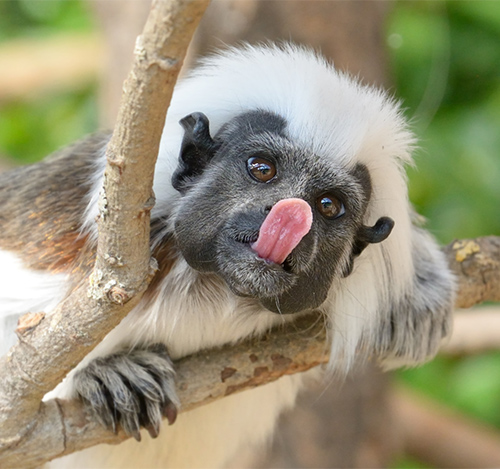 Yes, you read that last bit correctly. A group of primates called callitrichines, which include tamarins and marmosets, has a unique mating system in which only one dominant female is capable of reproducing. Chemical signals prevent the other females from ovulating, and getting pregnant, leaving them free to help care for the dominant female's offspring. This continues until the dominant female gets too old, or dies, or the nondominant females leave the group and start their own group.
Pheromones work only within the same species, and, as far as we know, the vomeronasal system is merely vestigial in humans—in some people there may be a little bit of tissue left, but it seems to have no sensory ability. This means that those pheromone-laced perfumes that supposedly help you attract a mate do not work, at least for humans. "I think those are mostly synthetic pig pheromones," says Garrett. "I wouldn't spray it on as body spray and then go to a farm. That seems kind of dangerous."
It also means that we humans have lost a sophisticated sensory organ, and scientists want to know why and how. "Wouldn't we want to know why we don't have it? In my mind that's a worthwhile question," says Schmitt.
Garrett's work "could have some interesting relevance for the experiences of different human populations," adds Schmitt. "Because sensory systems are the gateway by which we understand the world around us, understanding these systems in a more functional way really could be a gateway to understanding why there are some cultural differences in food preference, or descriptions of the environment. What she's really doing is quantifying variation in these systems and how it evolved, and if we can understand it in this broad level within primates we have a better chance of characterizing it and understanding it within our own species."
A Huge Toolkit
Garrett tackles the evolution of smell by using two methods: examining the microanatomy of the two organs of smell in various primates, and analyzing the genes associated with smell. She theorized that there would be a relationship between anatomy and genes—in particular that bigger olfactory organs would associate with a greater number of, and more functional, olfactory genes.
For the anatomy, Garrett relied on CT scans of primate skulls, which she sometimes prints out into 3D sculptures for examination. Within the skulls, she looks for evidence of the VNO. In live mammals, the organ is surrounded by a canoe-shaped tube of cartilage, which leaves behind a groove in the skull's bony palate. By measuring the length of this vomeronasal groove, as she calls it, Garrett is able to estimate the size of the VNO.
"I'm really interested in this because you can CT-scan fossils and actually see the feature," says Garrett. "So this is a way to look at how the structure has changed over time, and when it was potentially lost in the evolution of humans, other apes, and Old World monkeys."
Garrett then compares the anatomical structures to the numbers of functional genes for both pheromone and odorant detection. In work funded by the National Science Foundation and reported in the Proceedings of the Royal Society B, she found that the length of the vomeronasal groove has a strong relationship to the number of intact genes related to pheromone detection: the bigger the VNO, the more functional the genes. But Garrett also found wide variability among primates, raising more questions about the evolution of smell and sight.
"Eva has really helped to make the story a little bit more modern and complex, as it should be," says Tim Smith, a professor of anatomy and microanatomy at Slippery Rock University and a frequent collaborator of Garrett's. "She just has a huge toolkit, and she has shown something that we've all really wanted to see: the relationship between the genes and the anatomy."
Garrett's next step will be to collect fresh data from primates in the field, with help from postdoctoral fellow Stephanie Poindexter, who will spend the summer in Indonesia tracking the Javan slow loris, an endangered, nocturnal primate. Poindexter will collect tree leaves and sap, as well as loris urine, then analyze the odorants these items emit, to see if the lorises use pheromones to navigate through the forest.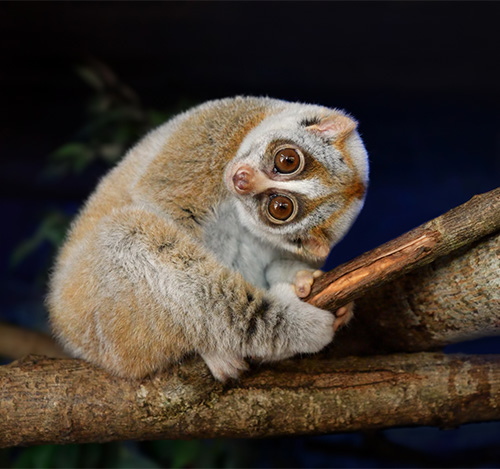 "I want to develop more target genome-sequencing protocols for nonhuman primates, and try and figure out what their olfactory gene repertoires look like, because we don't know this for a lot of primates," says Garrett. There's one particular mystery she's looking to solve. In 2011, her colleague Tim Smith reported in the journal Brain Research that most species of New World Monkeys have strong reactivity of a key protein, called Olfactory Marker Protein (OMP), in the VNO. However, this was not the case for certain tamarins. "Tamarins use olfaction to communicate, and they may even engage in ovulation suppression, so it is weird," says Garrett. "This either means that OMP isn't important in stimulus perception, or that the VNO for tamarins in the genus Saguinus is not fully functional."
Garrett thinks this seemingly prosaic question about tamarins may help answer some questions about our favorite primate: humans. She's hoping to gather tissue samples from two different species of Saguinus tamarins, extract DNA, and do targeted sequencing of genes related to olfaction and pheromone detection. "If we could understand why New World monkeys are able to detect pheromones or other important social chemicals without having a fully functioning vomeronasal organ, then maybe we can figure out if humans can do the same thing."