It's on to Patriot League Semifinals for Men's Basketball
Terriers will face Bucknell Sunday in Pennsylvania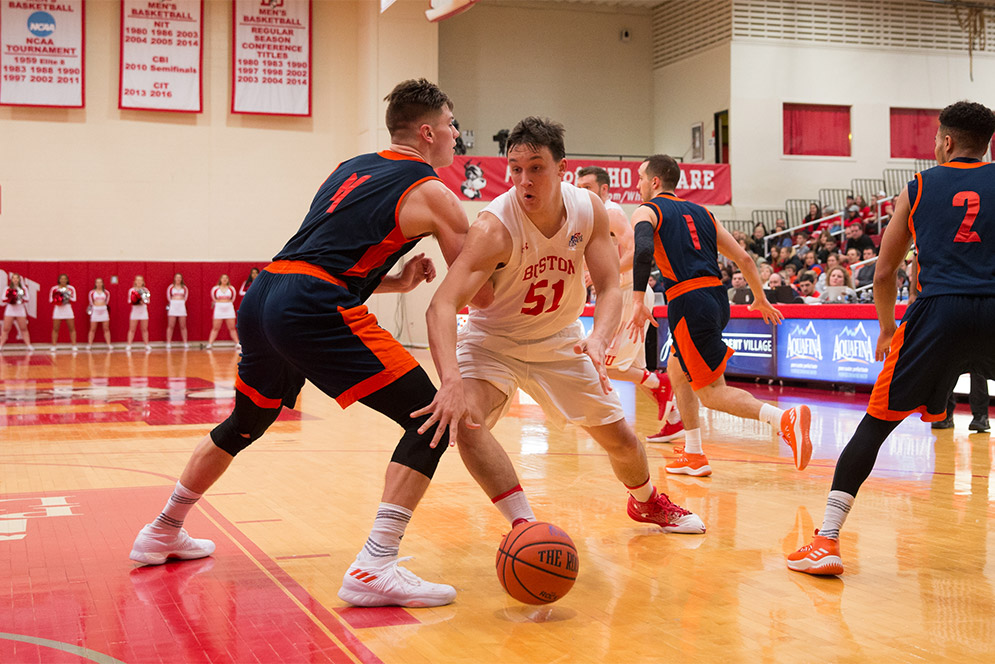 The BU men's basketball team began the 2017-18 season in shambles: Kyle Foreman (CAS'19) and walk-on Brandon Johnson had left the team, and although the late addition of Andrew Petcash (CAS'21) filled out the 13-man roster, losing a starting point guard is tough for any team to overcome.
And that's just one of the challenges the Terriers faced this season. So it's particularly sweet that they find themselves advancing to the Patriot League tournament semifinals after defeating the Lehigh Mountain Hawks 88-82 in the quarterfinals last night. They'll now take on Bucknell, who bested Loyola Maryland 81-78 to advance to the semis.
"I was really proud of how our guys battled with the adversity that we had all year," says head coach Joe Jones. This season was yet another injury-prone one for the Terriers, who have lost key players to injuries every year since 2014.
After playing in just two games, guards Cheddi Mosely (CGS'16, SHA'18) and Destin Barnes (CGS'18) lost the rest of the season—Mosely with a knee and Barnes with a shoulder injury. And Nick Havener (COM'17,'19) ended up with a labral tear to his right shoulder after playing Harvard in the last nonconference game of the season, which dogged him until season's end.
So it was no surprise that the Terriers got off to a slow start: a 4-7 record in nonconference play. But along the way, they were building a positive team culture that would stand them in good stead by the time conference play began.
"This is easily the most enjoyable season I've had—the best team I've coached in terms of them being a true team and trying to play the right way," Jones says. "I got no attitude, no drama, just guys out here trying to play the right way."
It's a season that saw underclassmen step up. Tyler Scanlon (CAS'20), Javante McCoy (CGS'19), who had 21 points in the quarterfinal win over Lehigh, and Walter Whyte (CGS'19) demonstrated strong play as starters, combining for 31.6 points per game and leading the team in 3-point percentage. The talented freshman class lived up to its hype and the sophomore class only got better. But if asked to select one player who's stood out all season, Max Mahoney (Questrom'20) would have to be the hands-down choice.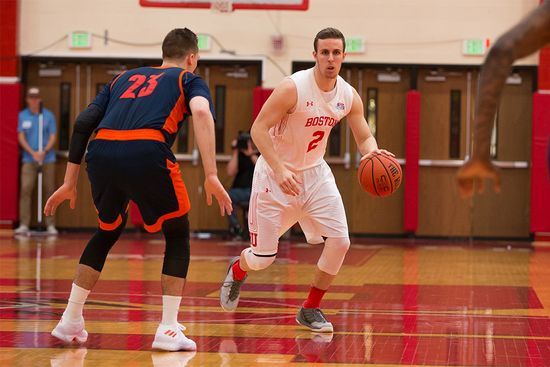 After dominating the paint all season, the 6'8" forward was named to the All-Patriot League third team. He posted an amazing 29.3 PER (player efficiency rating) in conference play, the highest the Patriot League has seen in conference play in three seasons. Mahoney put in a game-high 27 points against Lehigh to make it to the semifinals.
Mahoney points to recent graduate Justin Alston (CGS'14, SHA'16, MET'17) as his inspiration. "Justin was somebody I looked up to," he says. "We were always in the gym together, working out, going at each other every day at practice. And then when he left, there was a role to fill, so I tried to step up and do it myself."
Led by fifth-year guard Cedric Hankerson (Questrom'16, MET'18), the Terriers began conference play with a 7-2 record. But Hankerson was hurt in a January win over Navy, forcing him to be out of play for three weeks. His absence, along with Whyte, who had to sit out four games with an injured leg, sent the Terriers into a skid. After losing their first five games last month, the team wound up as fifth seed.
Players consider that losing streak a defining moment that forced them to begin relying more on one another for success.
"We've just shown that we could beat any team when we play together," McCoy says. "We've also shown that we can lose to anybody. It's a real eye-opener that we need to stay on top of things, and we can't take games for granted. We need to play together."
"It was definitely a reality check and a wake-up call for all of us," says Eric Johnson (COM'17, MET'18). "Hopefully, we'll be strong enough to endure in the tournament.
A turning point came when Whyte returned to the court on February 21 for the final two regular season games—both wins for BU. Now, with a healthy roster, players feel good about their shot at a conference title.
"I'm excited," McCoy says. "I know that when we all have each other, and we play together with the right mind-set, we're unstoppable, so I feel confident."
That confidence helped the Terriers defeat Lehigh Thursday night to advance to the semifinal round. They will travel to Pennsylvania to play Bucknell on Sunday. A win then would put BU within striking distance of its first conference championship since moving to the Patriot League in 2013.
The players all agree that after overcoming so many setbacks, a title would would be especially meaningful.
"The coaching staff, they deserve it. My fellow seniors, we deserve it," Johnson says. "We've put in a lot of work, so to see that come together and win the Patriot League would mean the world."
The BU men's basketball team will take on Bucknell Sunday, March 4, in a Patriot League semifinal matchup, at 2 pm, at Sojka Pavilion, 701 Moore Ave., Lewisburg, Pa. The game will be covered live on the CBS Sports Network. Tickets are $14 for adults, $7 for seniors and youth. Tickets are available here. The winner will advance to the championship game on Wednesday, March 7.
Jonathan Chang can be reached at jchang19@bu.edu.