New Nike Ad Highlights a BU Basketball Great: Kyrie Irving's Dad
Drederick Irving (CAS'88) shows off his moves, and pride in his superstar Celtics son
When Kyrie Irving was traded to the Boston Celtics in 2017, a little-known fact about the superstar guard's Boston connection emerged. His father, Drederick Irving, was a superstar in his own right on a Boston basketball court in the 1980s, playing four years for Boston University. And Kyrie's mother, Elizabeth Larson (CAS'89), was also a BU athlete, playing basketball and volleyball, and BU was where she and Drederick first met.
"He was a great player," Kyrie Irving says in a new Nike ad released over Thanksgiving break. The ad shows him and his father going at each other one-on-one on the TD Garden floor. "He's the reason I wear number 11, and I want to be the reason no one else will."
Drederick Irving (CAS'88) was a 6-foot-4 guard for the BU men's basketball team from 1984 to 1988, taking the program to new heights. And watching the 52-year-old's moves, it looks like he's still got what it takes, shaved head and all, to compete out there.
Since his son is working hard to lead the Celtics to a record 18th championship banner, here are five things worth knowing about BU legend Drederick Irving:
1. He's all over the BU basketball record books
It doesn't take long to find Irving's name in the BU men's basketball record books. With 1,931 career points (15.8 points per game), Irving finished his career as the Terriers' all-time leading scorer, before being eclipsed by Tunji Awojobi (CAS'97) and John Holland (CGS'09, COM'11). His 616-point senior year season ranks as the fifth highest scoring season in BU history.
A prolific scorer, during his upperclassmen years Irving posted 97 career 3-pointers on 42.3 percent shooting, the program's fifth best career mark—this after the NCAA implemented the category in 1986. His name appears throughout the records: career free throws made (402, sixth) and career games played (122, sixth), among others.
2. The last number 11 in BU history
Remember Kyrie talking in the ad about his hope that no one will wear number 11 again for the Celtics after he's done? That's been the case for his father for 30 years. Drederick Irving's Terrier jersey was retired by BU in 1988, right after his graduation.
And the University's recognition of Irving's accomplishments goes beyond retiring his jersey: the former Terrier was inducted into the BU Athletic Hall of Fame in 1995.
3. A proven leader
When Mike Jarvis took over the program's helm after Irving's freshman season, the sophomore guard quickly rose to stardom, averaging 18 points a game that year to garner the first of his three All-NAC (North Atlantic Conference) selections. The same year, he led the Terriers to a 21-10 record and a trip to the NIT Tournament.
As a captain of the 1987-1988 Terriers, Irving helped the team claim the 1988 NAC title, win the most games in program history (23, broken in the 1996-1997 season), and earn its third-ever bid to the NCAA Tournament. The Terriers reached the NAC Championship game during each of his four seasons.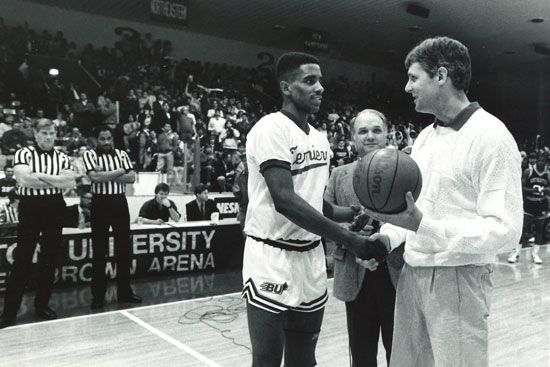 4. Professional basketball career
Irving did have a free agent tryout with the Boston Celtics, but he couldn't quite land on an NBA roster. He soon heard from another former Terrier about an opportunity to play professionally overseas. Current Philadelphia 76ers coach Brett Brown (MET'83) went back to his BU roots and in 1992 recruited the program's then all-time leading scorer to play for his Bulleen Boomers of the South East Australian Basketball League.
So if you've wondered why Kyrie Irving was born in Australia, now you know.
5. He met Kyrie's mom when they were both BU athletes
Elizabeth Larson Irving was a star athlete, too, playing basketball and volleyball at BU after a prolific high school basketball career. She and Drederick met at BU. Kyrie was born in 1992, and four years later, his mother died at age 29 after contracting sepsis while in the hospital. Drederick Irving raised Kyrie and his sister Asia by himself.
Jonathan Chang can be reached at jchang19@bu.edu; follow him on Twitter at @jonathanychang.