New Mental Health Awareness Campaign Kicks Off Today
Posters let students know what, and where, help is available on campus
TAKEAWAYS
Data from recent studies prompted BU to start new mental health awareness campaign
Behavioral Medicine and Wellness & Prevention collaborated on the effort's posters series
Team hopes campaign will normalize mental health concerns and encourage those affected to seek help
---
The display cases outside Warren Towers offer prime advertising space for upcoming events and club promotions. But starting today, some of those advertising spots will be showcasing a more serious message.
Passers-by will see a series of four posters with illustrations of students looking overwhelmed, anxious, or sad and messages that address depression and anxiety, the two most pressing mental health concerns on college campuses. One poster reads "Anxiety can feel like constantly worrying," another notes that "84% of Terriers have felt overwhelmed by all they've had to do," still another has this sobering statistic: "73% of Terriers say that mental health struggles have hurt their academics."
The posters are the centerpiece of a new mental health awareness campaign created by Student Health Services Behavioral Medicine and Wellness & Prevention Services. The posters will also appear throughout the week on the BUS (BU Shuttle), in campus dining halls, and on digital message boards on both the Charles River Campus and Medical Campus.
The campaign—six months in the planning—was prompted by recent data from two studies, National College Health Assessment and Healthy Minds, that examine mental health and other issues on college campuses. BU participates in both, alternating each year between the two.
What those studies found is that only 73 percent of BU students knew where to turn on campus for professional help with mental health–related issues—seven percentage points below the national benchmark. The studies also revealed that only 27 percent of BU students reported being willing to talk to a clinician if they were experiencing emotional distress (48 percent said they'd be willing to talk to a friend) and that 45 percent of BU students perceived a stigma about getting treatment for a mental health issue.
When Carrie Landa, director of Behavioral Medicine, and Katharine Mooney (SPH'12), director of Wellness & Prevention Services, saw the data, they were determined to try to improve those statistics.
"Based on the data, students didn't know where to go if they were in need of mental health services on our campus, so getting information out about our office felt really important," Landa says.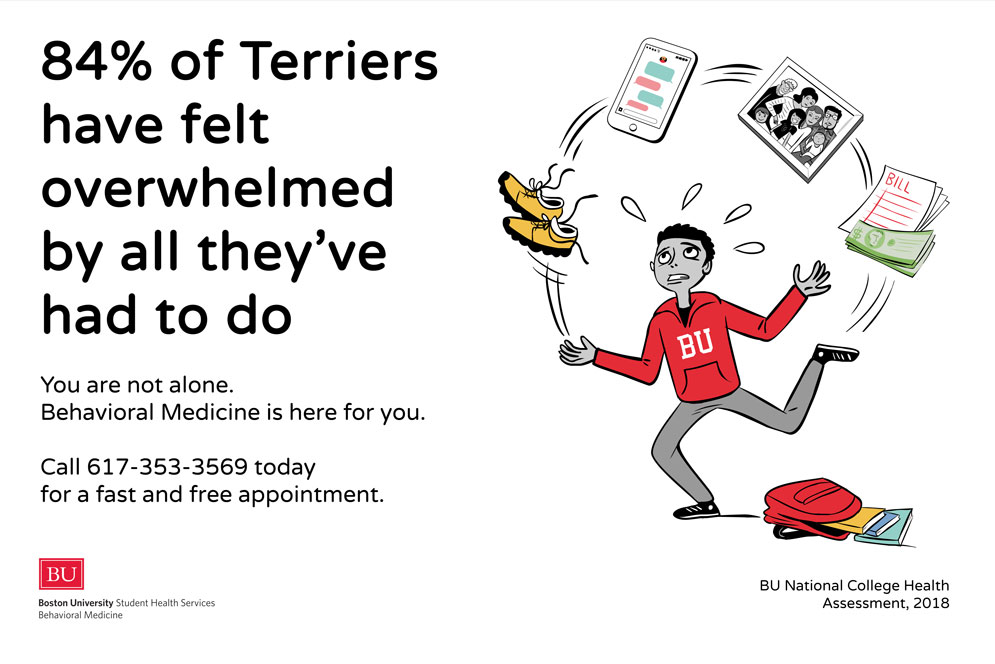 The two reached out to Erica Schonman, prevention program administrator at Wellness & Prevention, and Jennifer Durham-Fowler, at the time the Behavioral Medicine associate director, to begin brainstorming ways to help BU students struggling with mental health concerns.
Schonman says she and Durham-Fowler spent a lot of time researching other schools' best practices on the issue. They were drawn to the social norms theory, the idea that people are often influenced more by what they perceive is typical than by what is actually typical. The theory has been used to encourage healthy drinking habits on campuses, and Schonman and Durham-Fowler thought they could use it to make students more aware of the mental health resources at BU. They came up with several messages, which they tested with students to determine those that resonated the most.
They then hired Los Angeles–based illustrator Lili Chin—who had worked on the "Leave No Terrier Behind" campaign for Behavioral Medicine—to come up with a series of designs showing what depression and anxiety might look like in college students. They tried to highlight the most common symptoms observed by BU clinicians. Schonman says it was the first time they'd undertaken such a BU-specific campaign. They next did a round of image testing with students to determine which images students found most effective.
"This campaign raises awareness about our campus counseling center and lets students know that it's okay to get help if mental health is interfering with school or other areas of life at BU," Mooney says.
Beyond giving students more information about the resources available to them, the campaign aims to destigmatize what is still often considered a taboo topic. "Despite the fact that we continue to see an increased number of students every year, stigma continues to exist on our campus," says Landa. "This campaign is one small step towards shifting the dialogue and culture on campus around mental health and well-being."
Schonman says that while the campaign doesn't offer any magical solutions, it's a step in the right direction. "We want to make BU a place where there's less stigma around mental health, a place where students feel comfortable reaching out for help and supporting each other," she says. "We hope that students know that they are not alone in this."
Those interested in seeking confidential mental health counseling can contact Student Health Services Behavioral Medicine at 617-353-3569, the Center for Psychiatric Rehabilitation, the Center for Anxiety & Related Disorders, the Samaritans of Boston suicide hotline, and BU's Faculty & Staff Assistance office.
Madeleine O'Keefe can be reached at mokeefe@bu.edu; follow her on Twitter at @OKeefeMadeleine.