Men's Soccer Looks to Turn Season Around
BU begins Patriot League play tomorrow, hosting American
Last season, the BU men's soccer team didn't see a win come its way until a mid-September game against Harvard, its seventh of the season. But after a strong showing in conference play (6-2-1), the Terriers finished second in the Patriot League and reached the semifinal round of the conference tournament.

The Terriers—second in this year's preseason poll with only a five-point margin over the two teams tied for third place—found themselves starting this season in a position similar to that of a year ago. Although not in as much trouble on paper as they were then (they're currently 1-4-2), they're hoping for the same kind of  turnaround when they enter Patriot League play against American tomorrow.
"These guys have been in these situations," head coach Neil Roberts says. "Things have not gone their way, and they fight back."

The August 27 battle against Boston College, for instance, saw BU gain a two-goal lead in the second half, but get caught up by the 70-minute mark. The late-game defensive failure has been noted, but Roberts says the Terriers' resilience was impressive. "That showed some good character for the group," he says.

The game finished with a 3-3 tie in overtime, thanks in large part to a hat trick by cocaptain Matt McDonnell (Questrom'20). He's garnered national attention since, earning spots on both the College Soccer News and TopDrawer Soccer National Team of the Week.
The Terriers have been shut out three times this season, but with two three-goal games under their belt, they look to have real scoring capabilities. "It's going towards the right direction," says Toti Knutsson (CAS'21). "We're getting better and better every game."
But that was before McDonnell, who was leading the conference in goals, suffered what seemed to be a minor injury in the September 11 game against Dartmouth. He hasn't appeared on the pitch since. "It leaves a void, definitely," cocaptain David Riccio (CAS'19) says, "but I think it's an opportunity for players to step up and get ready to play."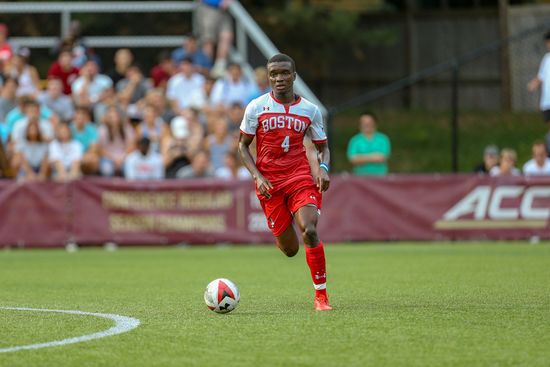 That has yet to happen, however: Kari Petursson (CAS'22) and Austin D'Anna (CAS'21) stand as the only goal scorers besides McDonnell. Part of the reason may be that this is a young team: 11 freshmen are on this season's roster, replacing the 11 seniors who graduated in May.

Petursson's emergence bodes well for him and for his team. The Iceland native hurt his left knee lateral ligament (LCL) in June and didn't play until the third game of the season. He and fellow Icelander and former club teammate Knutsson, who currently ranks second in the conference in assists per game and has three points, have provided 6 of BU's 12 points scored, without counting McDonnell's total.
Roberts believes that his team has capable scorers, pointing to the Icelandic duo as well as to D'Anna, who has the "hardest shot on the team," according to his coach. The three currently combine for just under a third of the team's shots on goals (9 of 29). "The more mixed scorers, the more it's going to open it up for other guys," Roberts says.
The Terriers begin conference play with a home-field advantage. As they prepare to host American Saturday, they enter their longest home stretch of the season—albeit only three games—and won't travel out of state until they face Loyola Maryland in mid-October.
The season is still early, and the team has a long stretch of Patriot League play ahead of it. So it's up in the air at this point whether the Terriers can once again turn their season around. Last season's All-Conference Third-Teamer Peter Kargbo (CGS'19) is convinced he and his teammates will get the job done.
"There's a great belief in this team, and we believe in each other," Kargbo says.
The BU men's soccer team begins Patriot League play against American University tomorrow, Saturday, September 22, at 1 pm, at Nickerson Field, 285 Babcock St. Admission is free for all BU students with a sports pass, $3 for faculty, staff, and students without a sports pass, and $5 for the general public. The Patriot League Network will broadcast the game live.
Jonathan Chang can be reached at jchang19@bu.edu; follow him on twitter at @jonathanychang.