Don't Let Thieves Steal Your Holiday Packages
Steps you can take to protect your purchases
The Grinch who stole Christmas came early to BU this season: students have reported that their holiday packages are being pilfered from apartment foyers and other unprotected common areas. But you can thwart thieves by taking several precautions, according to the Boston University Police Department.
And University police are pulling some technology out of their own stockings to help them track down package-takers.
"We will bait our own packages, designed to look like normal parcels, which are embedded with GPS tracking, and have officers assigned to identify those who take the package," says BUPD Lieutenant Dan Healy.
Some 28 packages have been reported stolen this year, just 4 fewer than during a comparable period last year and 10 fewer than 2016, says Healy.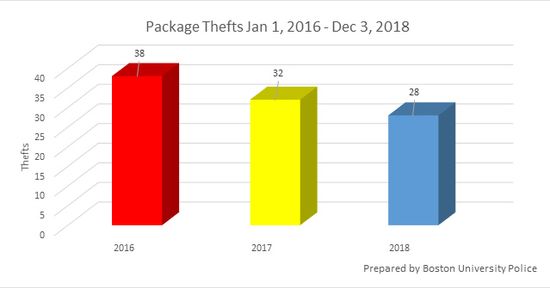 "We see more package thefts in apartment-style buildings, where private delivery companies leave parcels in the common, unsecured areas," he says. "If you won't be home when the package is delivered, consider rescheduling or rerouting the delivery through the company's tracking service" to a more secure location.
Alternatively, he says, you can arrange for packages to be sent to Amazon pickup facilities, where lockers keep items safe, rather than to your apartment. One such facility is right on campus, at 870 Commonwealth Ave.; you can check Amazon's locker locator here to see if there are more convenient sites near you.
If you see a package left in a foyer, you also can do the recipient a favor by placing it inside the foyer's inner door, which typically locks. Another option: "Call a trusted friend to pick up the package for you," says Healy, who practices what he preaches: "That's what I just did for my own packages."
While the BUPD has made several arrests for package thefts, he says, "the problem is pervasive and tends to uptick during this time of year." That's because thieves often follow delivery vehicles bearing holiday gifts to their destinations, ripping off presents immediately after they're left at residences.