SHA Students Get the Message Out by Video, Instagram—and Cowboy
Helping real-world clients with hospitality marketing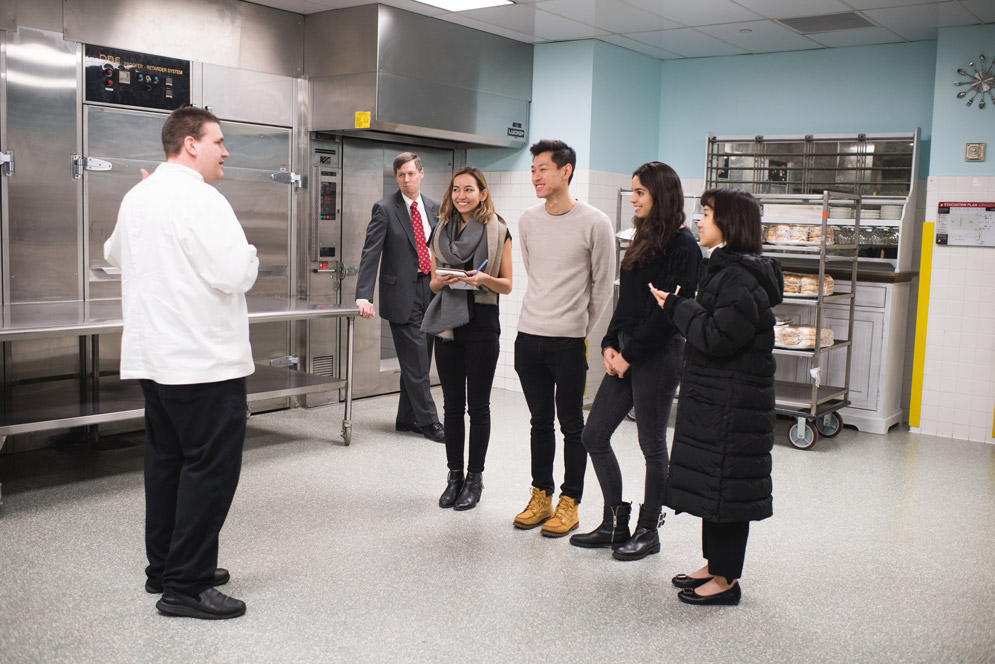 Hand your business marketing over to a bunch of college students? That'd be crazy, right? Maybe not.
Since 2015, hospitality businesses large and small have been turning to students in Leora Lanz's classes at the School of Hospitality Administration for help with their marketing challenges. They have not quite handed over the reins, but they have been asking the students in the Hospitality Strategic Marketing class to suggest new messaging, advertising, outreach, and online approaches.
Why? "Fresh ideas," says Lanz (COM'87), an SHA lecturer. Smart businesses value new perspectives from young, digital-generation minds.
Back in January, a team of executives from the Massachusetts Convention Center Authority (MCCA), including Caryn Izhar (Questrom'03), vice president of convention center marketing, came to Lanz's class to outline what they wanted to communicate, especially to meeting planners: the restaurant-quality food on offer to convention-goers at the Boston Convention and Exhibition Center (BCEC) amid a hot foodie scene in Boston, and especially in the Seaport District. With hotels offering fewer dining options, says MCCA executive director David Gibbons, the best meal you get might just be at the convention center.
"Starting the project was daunting because our scope seemed so broad," says team member Julie MacKay (Questrom'18, SHA'18). The five-student team started with on-site research, touring the two-million-square-foot venue with Milt Herbert, executive director of the MCCA's Boston Convention Marketing Center, and following the center's executive sous chef, Tim Elderkin of Levy Restaurants, on a tour of the small culinary city.
Then they were off on their own research and development, looking at competitor sites, analyzing data, and synthesizing recommendations.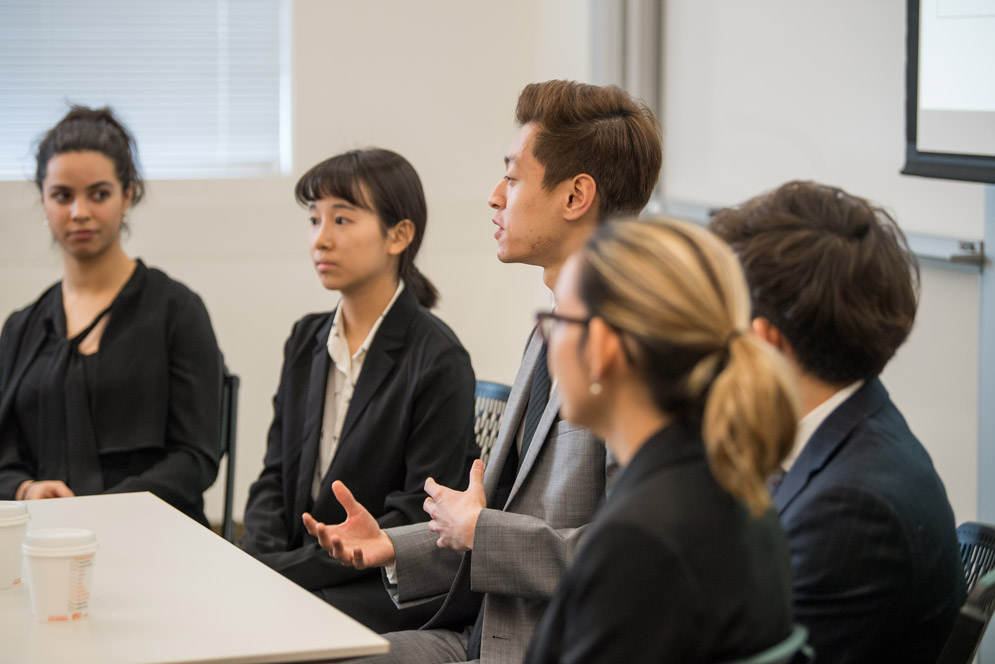 As the students practiced for their presentation in April, Lanz cautioned them to be tactful when they showed a word cloud that featured a few insulting verdicts on the center's food ("sucks") from Yelp reviewers. As it turned out, the executives approved of the students' candor. And they were won over by a presentation that included a two-minute video of Chef Tim talking about the kitchens' work on sustainability, including composting waste and donating unused food to anti-hunger groups. Filmed just the day before the presentation, it was intended as a template for a series showing authentic stories behind the center's food. The students also recommended a variety of changes to the center's website, including a virtual tour, multimedia outreach to meeting planners, and a new tagline: "UnConventional food experiences."
"Students like this come from very different backgrounds than we come from, and when they do their work and observations, they bring to the table stuff we won't hear from anybody else," says Herbert. "They allow us to internalize that and do something with it."
Team member Sabrina Avila (SHA'18) says she found the presentation a bit intimidating. "Knowing that these are people who report to the governor and that they would show up in suits didn't help the nerves," she says. But the students felt more confident since they'd worn business attire, and "we would catch the occasional nod of approval from Milt Herbert and he'd jot down a couple of words that resonated with him, and that threw it over the roof for me."
The MCCA was, in fact, a return customer. They had come to Lanz's class the previous year looking for ways to bolster their relationship with local hotels and restaurants, and the students suggested something basic: Say thanks for their role in the success of the local convention business. So the MCCA did, successfully hosting events for hoteliers and the local food industry.
"I want these kids to think strategically," Lanz says. "It's thinking like an entrepreneur, it's thinking like an owner."
In addition to her faculty role (she's been at SHA since 2015), Lanz is principal of LHL Communications, which offers marketing, branding, and media relations to the hospitality industry. She knows the power of class projects—she'd done one for the Greater Boston Convention & Visitors Bureau as a College of Communication student and walked straight into her first marketing job there after graduating.
Lanz says she recruits Boston businesses with marketing needs to put a little trust in her students. Other clients for this year's class included the Mandarin Oriental Hotel, Mamma Mia's Restaurant, the Unwind & Dine Personal chef service, and the Boston Hotel Buckminster and its Fenmore Grill restaurant. She thinks that at least one is likely to hire a student from the class.
And while emphasizing a physical presence sounds counterintuitive in the social media era, Lanz says she was most excited this semester by the projects that called for event marketing, pop-ups, and the like.
"This generation of millennial consumer really does photograph just about everything," she says, "so if something is in front of them and they're physically interacting with it, that becomes a visual experience and memorable and shareable—that's the market we live in today."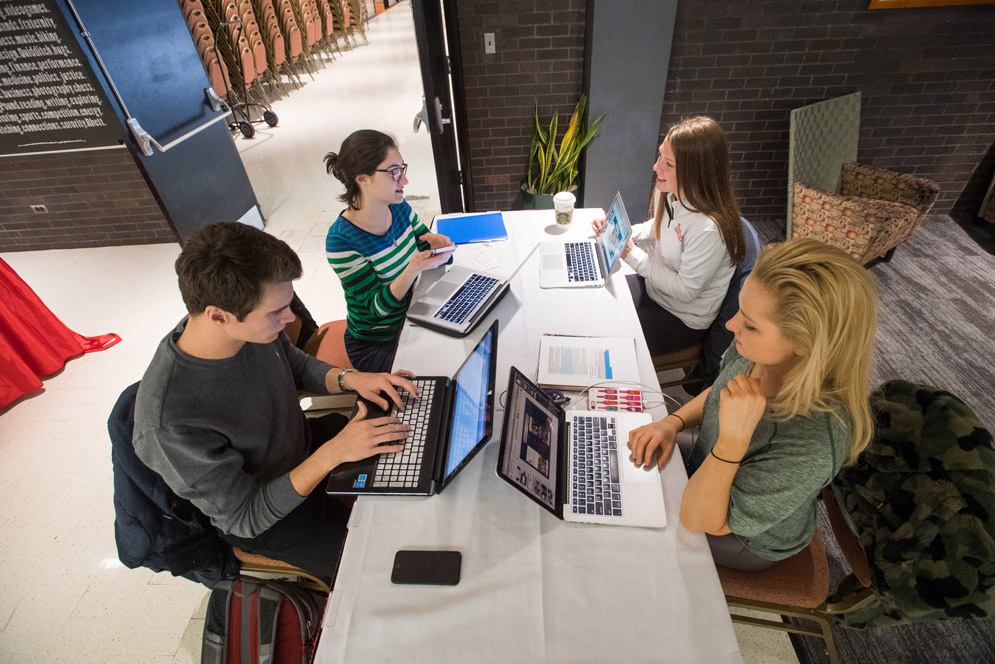 Physical presence was definitely a factor for a client on the smaller end of the scale, Shed's Barbecue, which has served "real Texas-style" brisket, ribs, and hot links in a 50-seat venue at 32 Bromfield Street, near Downtown Crossing, since 2017. Cofounders, Texas natives, and sister and brother Shawn and Edward Wilson have pride in their grandmother's recipes. "We are really in need of some good marketing ideas, because the awareness part is what we are struggling with," Shawn Wilson told the students.
In this case, Shed's students had the advantage of sampling the client's fare. They also hit the sidewalks off Washington Street to ask the man or woman on the street questions about their restaurant choices, eventually gathering 60 responses.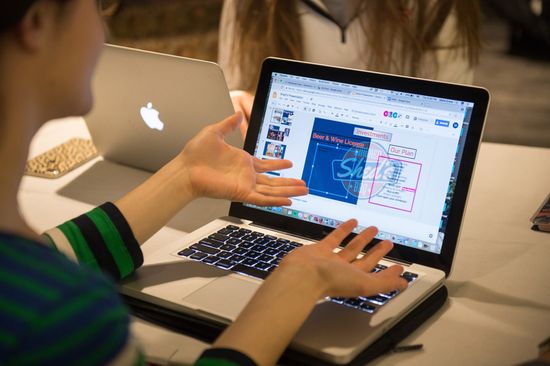 "It was an awful day outside, cold and kind of rainy," recalls Maite Erana Salmeron (SHA'18). "I was there for roughly two hours and had a lot of nos at first, but little by little I figured out how to connect with people and engage in conversation that helped me gather the data I needed."
In April, the students pitched a marketing plan to the Wilsons that included strategies for making their Instagram feed more interactive. They also recommended a food cart for handing out samples, holding catering events, and a "Cowboys and Concierges" program for costumed delivery of marketing collateral to local hotels that would be hard to forget.
"They're very creative," says Edward Wilson. "Since they're younger and more in tune with the Instagram and Facebook and whatever these young kids are doing, they really know what's going on. We're kind of medium on social media."
"'Cowboys and Concierges' was great. And they gave us a plan that's very easy to execute," says Shawn Wilson. "I was really impressed."
The students seem to think they got the better end of the deal.
"This project definitely made me more confident about entering the job market," MacKay says. "It was great to have a meeting-style presentation with real clients and receive that feedback rather than standing in front of a screen and presenting to a professor."
"Over the summer, I will be working with a company in Madrid," says Salmeron, "and when I was doing my interview, I discovered that I had a lot more to bring to the table, given this project. I had more terminology and I had an experience to talk about that showed I had truly immersed myself in a business to help it be more successful."