Determination, Hard Work Drive Men's Basketball Star Guard
Cedric Hankerson rises above series of injuries to finish out BU career
Keeping track of BU guard Cedric Hankerson on a basketball court can be hard work: he seems to be everywhere.
During a recent game against Colgate, the 6-foot-5, 225-pound Hankerson (Questrom'16, MET'18) dove headfirst onto the baseline to rescue the basketball. He missed getting it, but swiftly jumped back up, even before teammate Tyler Scanlon (CAS'20) could make his way to lend a hand. About 90 seconds later, number 21 again found himself on the floor, this time crashing past the sidelines in pursuit of his own missed free throw.
"I honestly just see myself and everyone on the court as doing whatever we can individually to help the team win," Hankerson says. "We just need everybody to focus on their best selves, being great teammates and giving 100 percent of energy and effort for us to win."
Men's basketball head coach Joe Jones says that work ethic has defined Hankerson throughout his BU career. "He played very hard, even as a freshman. Upperclassmen like D. J. Irving (MET'14) would tell me how hard he played, even in pickup games. He competes. He's just a competitor."
In the Colgate game, Hankerson co-led the Terriers (11-10, 7-3 Patriot League) with 14 points and two steals off the bench, all the more remarkable given that he'd had to sit out the prior game with a minor groin injury. So far this season, he's averaged a career-best 14.7 points in conference play. Few would have predicted three years ago that he'd be playing this well, or at all for that matter.
In spring 2015, Hankerson was coming off a personally successful season, with a team that had been grinding through a difficult year and ended with a 13-17 record. But Hankerson, a Patriot League All-Conference Rookie Team honoree as a freshman, had led the senior-less Terriers with 15.9 points per game and was en route to an All-Conference Second Team appearance.
At an April pickup session with current and former players, Hankerson leaped for a layup, with Dom Morris (MET'14) protecting the rim. He finished the layup, but landed wrong. He muscled through the rest of the session, but soon realized something was seriously wrong.
Hankerson had suffered an ACL and meniscus tear of the right knee, which required surgery and sidelined him for the next eight months.
"When there's an injury like that, it's shocking. I immediately felt so sad for him," Jones says. "He was just coming off a great sophomore year, ready to whip it up the next season, and he went down with a major injury."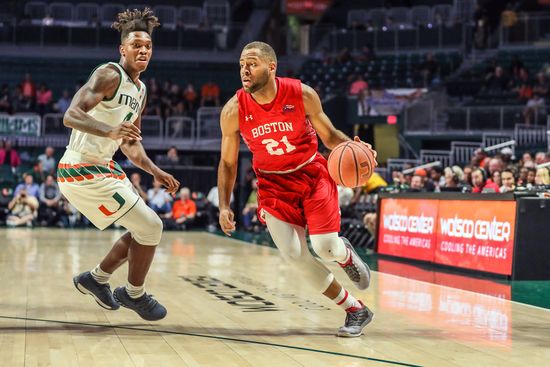 Hankerson worked almost maniacally in rehab. "Almost every day, he was probably in the training room or the weight room depending on the stage that he was at," says teammate Will Goff (Questrom'17, MET'19). "He had the mentality of trying to get back as early as he could, which is what he ended up doing."
In fact, he returned to play in an early December 2015 game against UMass, a month ahead of schedule. But at practice later that week, 6-foot-8, 230-pound forward Justin Alston (CGS'14, SHA'16, MET'17) took a charge and fell backwards, crashing into Hankerson's legs.
Result: another meniscus tear to the same knee, effectively ending his season. A medical redshirt for the injury enabled his current, fifth season.
"The second time was just, you know, all right, it just wasn't there this season," Hankerson says philosophically. "But I never gave up hope and I always knew that with my work ethic, with all of the amazing support system I have around here, I'd be able to come back even better and stronger."
"Developing boys into men"
At the start of the 2016–2017 season, he was back, but he seemed more tentative on the court. After a sophomore season that had seen him with the ninth most free throw attempts in the country, he shot more than 80 percent of his field goal attempts from the three-point line.
"The hardest part is mental," Hankerson says. "It's just trusting in yourself, the part you injured, and the work that you put in, so you don't fear the unpredictability of the game. That was kind of the biggest hurdle for me—trusting the fact that if I make this move, my knee will be fine. If I get hit like this, my knee will be fine."
He and his coaches agreed to shift his role from a primary scorer to a two-way wing who contributes on both ends.
Growing up in Coral Reef, a small neighborhood in South Miami, it was perhaps inevitable that Hankerson would become a basketball player. His father, Charles, was an accomplished player at Hampton University and has more than 20 years of coaching experience, and his brother, Charles, Jr., played college basketball at Alabama and Wyoming before a professional stint in Italy.
"It was good to have that kind of foundation," Hankerson says, "one that I feel like a lot of the kids who want to play basketball don't have."
Under his family's tutelage, Hankerson became Coral Reef High School's star basketball player while just a sophomore—a feat he would repeat four years later at BU. By senior year, the three-star prospect had garnered numerous offers from major programs like Minnesota and Oklahoma State, but Hankerson chose BU, drawn as much by the school's academic reputation as by its basketball program.
"Education has been one of my main values ever since I can remember, so my main goal with basketball was to be able to study business," he says. As determined off the court as he is on, he earned an undergraduate degree in finance in just three years, and this spring will complete a master's in innovation and technology.
"It was more than basketball here," he says. "It was developing boys into men."
On that front, Hankerson has earned a reputation as someone who leads by example.
"Off the court, he really helps guys mature," says Scanlon. "He knows how to navigate college, and he knows how to help guys if they have questions about classes—just campus life in general."
"He was able to graduate in three years, and I wanted to do the same," Goff says. "I did, and I did it by kind of emulating what he did—the classes he took and how he did, how he studied, and how he approached the task."
Hankerson says that when it comes to the future, he's keeping his options open. A possible professional career will depend largely on his physical condition at the end of the season.
"I'm not really stressed about that part too much," he says. "I want to take it one day at a time and focus on the season right now and figure everything else out and cross that bridge when we get there."
As he ponders what's next, Hankerson says he's learned an important lesson from the injuries he's had to overcome. "You have to live your life fearlessly. If something's meant to happen, it's going to happen, so you might as well treat it like it's your last day—like it's your last game," he says.
"It's just been a complete blessing to be able to develop and grow into the young man I am today, and I wouldn't change a thing about my entire experience here."
Jonathan Chang can be reached at jchang19@bu.edu.