A Christmas Carol: Made in Massachusetts?
BU research says Lowell millworkers helped inspire Dickens' Christmas classic
After touring textile mills staffed by women in Lowell, Mass., Charles Dickens described the excursion as "the happiest day" of his 1842 American visit. Why did an industrial city impress England's celebrity novelist more than his steamship ride on the Mississippi River, his sojourns in vibrant Boston and New York, his stay in Washington, D.C., or his glimpse of spectacular Niagara Falls?
Perhaps because he'd found one inspiration for his famous Christmas tale of a heartless miser reformed by ghosts, published the following year—175 years ago today.
Dickens wrote that he was taken by workers' superior living conditions in Lowell compared with their peers in his home country, including the fact that they published their own literary journal, The Lowell Offering—"four hundred good solid pages…I have read from beginning to end." Peruse those pages and you'll find stunning parallels to A Christmas Carol, says Chelsea Bray (CGS'11, CAS'13), who wrote an Undergraduate Research Opportunities Program (UROP) paper on the subject in 2013. Her paper has been published in Dickens and Massachusetts: The Lasting Legacy of the Commonwealth Visits (University of Massachusetts Press, 2015).
Experts have tallied several possible inspirations for A Christmas Carol, from Dickens' earlier work to Shakespeare, says Dickens scholar Natalie McKnight, a College of General Studies professor of humanities and Bray's UROP advisor, who shares a byline on the Dickens and Massachusetts piece. Bray's groundbreaking investigation adds an American muse to the list, according to Diana Archibald, a University of Massachusetts Lowell professor and coeditor of the book on Dickens' Bay State connection. "Heretofore thought of only as a quintessentially English text," she says, "A Christmas Carol actually has roots in American literature, a surprising and exciting discovery."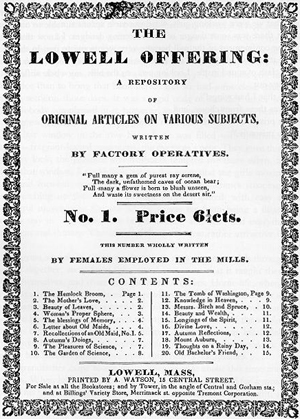 Dickens was the J. K. Rowling of his day. New Yorkers lined the docks in 1841 to greet ships bearing the latest installment of his breakout book, The Old Curiosity Shop. His legacy is inescapable during the annual holiday deluge of Carol interpretations, from Alastair Sims' 1951 film to Mister Magoo's Christmas Carol ("That's how I got into Dickens" at age four, says McKnight) to the Muppets (Bray's favorite). McKnight, dean of CGS, says she's taught students who don't know the original Christmas story of the Nativity—but recognize Ebenezer Scrooge.
The Offering published contributions from workers at several mills. "That a publication written and edited by women who worked long hours in a factory could profoundly move the greatest novelist of the age and influence one of his most famous works is remarkable," Bray writes in her paper. "Dickens is considered, by many, to be the greatest novelist in the English language, and Lowell deserves to be considered an important component in elevating him to that status."
McKnight first noticed the similarity between the Lowell writings and Dickens' Carol while preparing a talk last year at the Lowell Historical Society. She enlisted Bray to pursue the research, which required plowing through all the Lowell material Dickens had gathered. "It's 400 pages—I read it," says Bray, who went on to Boston College for a master's.
Casting ghosts as Scrooge's redeemers was one motif with antecedents in the Lowell material, Bray's textual analysis reveals. One essay, "A Visit from Hope," begins, "'Past twelve!' said a sweet, musical voice, as I was seated by the expiring embers of a wood fire. I turned hastily to see who had thus intruded on my presence, when, lo! I beheld an old man. His thin white locks were parted on his forehead, his form was bent, and as he extended his thin, bony hand toward me, it shook like an aspen leaf."
Dickens echoes this scene in his description of the ghost of Marley, Scrooge's "dead as a doornail" partner, visiting the miser over "a very low fire indeed" on Christmas Eve. The Lowell essay's "spirit of Hope" resembles the Ghost of Christmas Past and likewise time-travels backward with a human (female in this case) to reignite the latter's "repining spirit." The woman narrator says she will "endeavor to profit by the advice he gave me"—"much the same," Bray writes, "as Scrooge promises at the end of his ghostly visits to 'honor Christmas in my heart, and try to keep it all the year. I will live in the Past, the Present, and the Future. The spirits of all Three shall strive within me. I will not shut out the lessons that they teach.'"
In "Christmas," another Lowell essay, the writer waxes on about the holiday as "the best day in the whole year" for encouraging people to be better. That theme pervades the ode to Christmas by Scrooge's nephew: "the only time I know of, in the long calendar of the year, when men and women seem by one consent to open their shut-up hearts freely, and to think of people below them as if they really were fellow-passengers to the grave, and not another race of creatures bound on other journeys."
Yet another millworker's piece, "The Blessings of Memory," argues that present happiness derives from joyful memories that too easily can be overridden by "unreal phantoms." Memory is a motif in Dickens' Carol, Bray writes: "Scrooge's conversion begins when the Ghost of Christmas Past makes him relive his memories and reconnect to past sorrows and joys." The essay even matches the Dickens story in some word choices: the Lowell writer discusses how "the idol of today engrosses our attention," while Dickens has Scrooge's fiancée break their engagement because "another idol has replaced me….The master passion, Gain, engrosses you."
To be clear, Bray and McKnight don't indict the master for plagiarism. The "Visit from Hope" essay "has none of the character development or linguistic richness of A Christmas Carol," Bray writes. McKnight doubts Dickens was even aware as he wrote the story that he was excavating themes from the Lowell journal that he'd stored in the musty vault of memory. Besides, accusing him of plagiarism, she adds, would be the pot calling Mrs. Cratchit's kettle black: "People were pirating his own novels here in America."
Dickens, famously traumatized by the factory work he'd done as a boy to help his debt-imprisoned father, reveled not just in the Massachusetts millworkers' literary output, but also their living standards. A Christmas Carol character sums up Christmas as "a time of all others when Want is keenly felt, and Abundance rejoices." His creator had glimpsed a more abundant shoal of the Industrial Revolution across the Atlantic.