BU Tanglewood Institute Musicians Go to the Esplanade
Young instrumentalists get a taste of the big time playing a free outdoor concert for thousands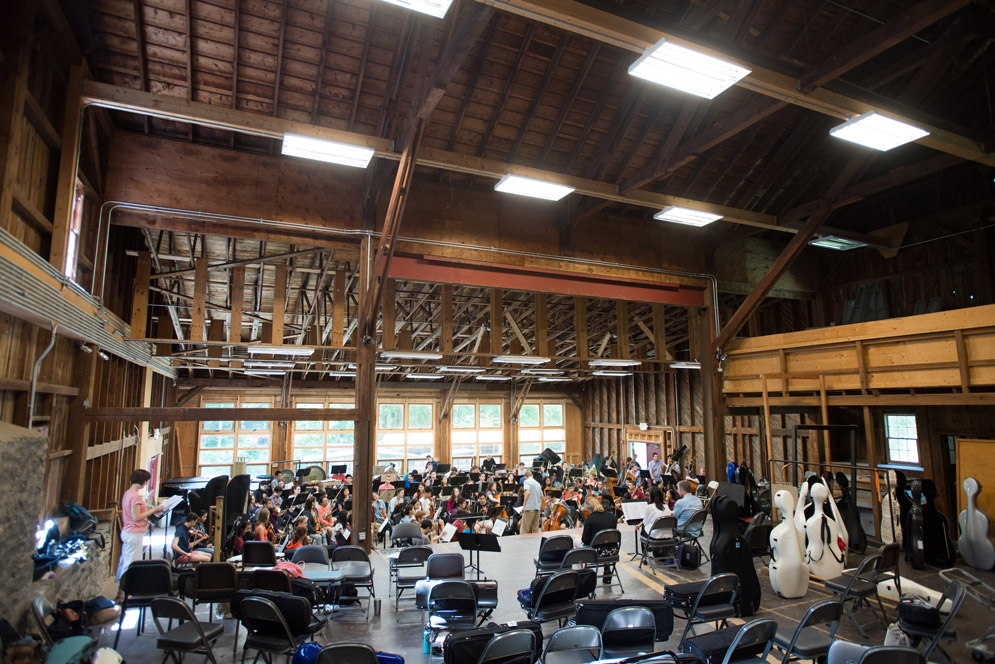 UPDATE: "Due to high risk of severe weather and lightning during the concert and the set-up period," this evening's performance by BUTI students at DCR's Hatch Memorial Shell in Boston has been cancelled. The logistics of transporting nearly 200 people to Boston from Lenox meant the call had to be made early in the day. BUTI thanks Boston Landmarks Orchestra for the opportunity to collaborate and hopes to partner with them in future seasons.
Two weeks ago, double bassist Lillian Young and violinist William Peltz Smalley were rehearsing in a barn in a woodsy green corner of Tanglewood, in Lenox, Mass. Tomorrow night they'll be on the Hatch Shell stage on the Charles River Esplanade as part of the BU Tanglewood Institute Young Artists Orchestra, playing Stravinsky in a free concert. And just a few weeks from now, they'll be BU College of Fine Arts School of Music freshmen. It's an express ride to the future for two teenagers fresh out of high school, a sneak preview of where their talent could one day take them.
"I didn't know what an esplanade was until I saw we had that concert on the schedule and decided to look it up," Peltz Smalley (CFA'22) says in a sonorous voice that seems like it would be good for radio. "That's a pretty big shell."
Some 155 BU Tanglewood Institute (BUTI) students—high schoolers and 2018 graduates—will perform at the Hatch Shell on Wednesday at 7 pm, with the orchestra under the baton of BUTI alum Paul Haas and the Young Artists Wind Ensemble conducted by H. Robert Reynolds, as part of the Boston Landmarks Orchestra summer concert series.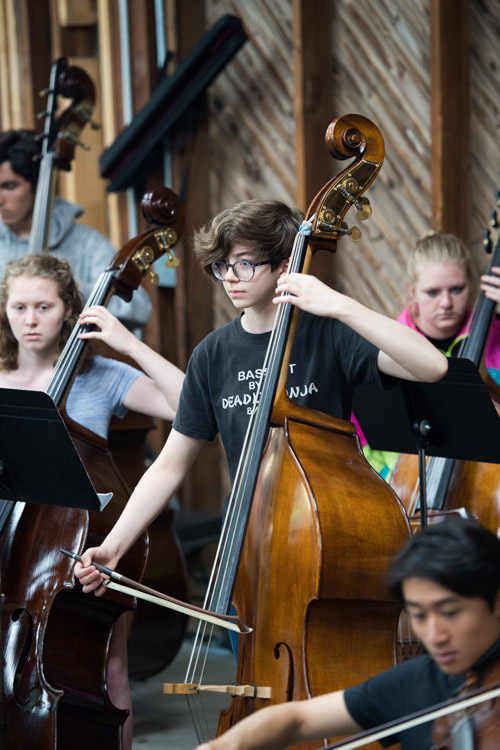 "We want them to feel a connection to Boston and to Boston University, and we want Boston to hear these young musicians as they grow," says BUTI executive director Hilary Field Respass. "It's a chance to hear the next generation of classical musicians as they're just blossoming. There's an excitement in it that's palpable."
"I think it's really cool to go show the music to everyone," Young (CFA'22) says in her soft voice, a lock of hair falling across her forehead. "A lot of the people who come to the shows at BUTI are locals or parents, but in Boston we'll get to play for a wider audience, and I think that's really exciting." Young, who is from Austin, Tex., watched a live stream of the 2017 Boston Pops July 4 concert on the Esplanade, with its audience of hundreds of thousands.
Although tomorrow's potential audience of several thousand will be the largest they've faced, neither Peltz Smalley nor Young is intimidated, because they think of their orchestra as a group effort among friends. "I think if I was a soloist playing at that concert, it would freak me out," Young says. "But with the orchestra, it'll just be a big version of what I already do."
The student musicians "are playing at an historic place in Boston that's part of the legacy of this field," Respass says. "Unless they get into the Boston Pops someday, or the Landmarks, they won't have this experience again—but of course it's a real possibility they will end up with one of them, because of where our alumni land."
This summer, 440 musically gifted students (including 29 middle schoolers in a two-week junior strings intensive session) representing 44 states and territories and 13 countries will spend at least part of their summer at BUTI's Lenox campus, just around the corner from the summer home of the Boston Symphony Orchestra (BSO). It's the largest BUTI group ever. They rehearse and perform in a variety of ensembles and learn in classes and private lessons, and they take master classes with BSO members and guest performers, as well as other visiting artists. It's heady stuff that has made BUTI a top program and sent its students on to careers in renowned orchestras around the country, including the BSO and the Landmarks.
Like college basketball versus the NBA
Landmarks music director Christopher Wilkins is a BUTI alum, and BUTI ensembles have participated in the Landmarks summer series the last few years, most recently performing a preconcert recital before its opening night concert in 2017.
"This is the first time we've had the whole shebang and we're thrilled about it," Wilkins says. His two BUTI summers as an oboist were formative and tremendously exciting. "I think I made more progress both as a player and as an educated musician there than at any other point in my career, because it's just so intensive," he says.
Seeing and hearing the young musicians play the music of Leonard Bernstein, in a Landmarks tribute in honor of the centennial of the Lawrence, Mass., native's birth, and Stravinsky's Rite of Spring at the Hatch Shell will be "like college basketball versus the NBA," Wilkins says. "There's some spark that everybody responds to."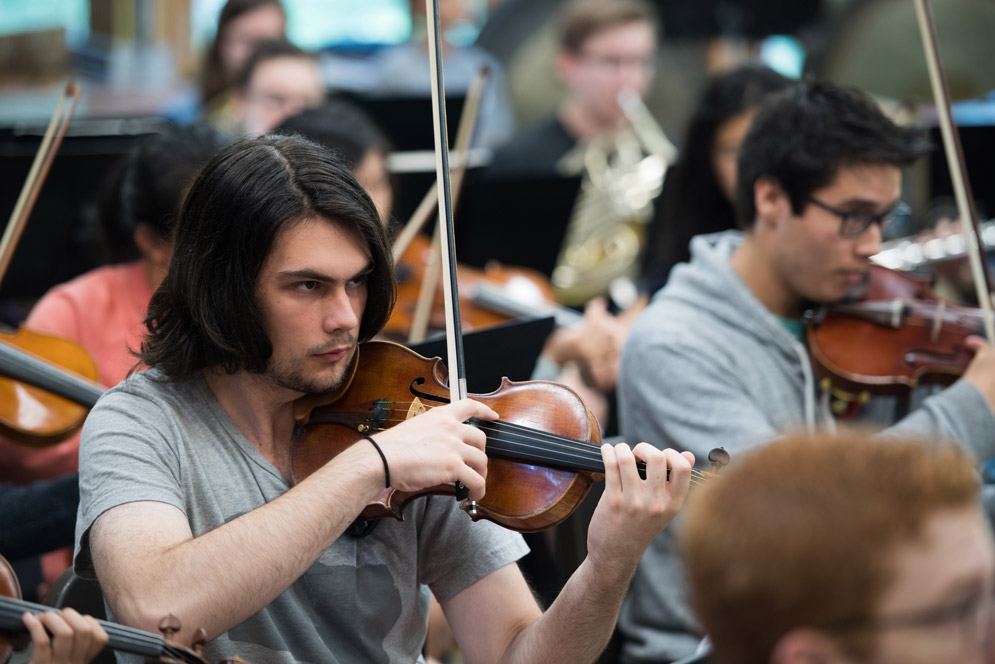 Wilkins will introduce the concert with Peter Fiedler (COM'77), BU vice president for administrative services and the son of legendary Boston Pops conductor Arthur Fiedler (Hon.'51), whose statue sits steps from the stage where the students will play.
"Stepping on to the stage of the Hatch Shell is like stepping on hallowed ground for me," Fiedler says. "One of the delights my late father had was conducting free Boston Pops concerts at the Hatch. I'm so pleased that the Landmarks Orchestra, of which I'm proud to be a board member, continues the tradition that my father dedicated himself to for over 50 years. Having the talented students of BUTI taking part just makes the evening that much more delightful."
Respass says the Hatch Shell concert is a continuation of the community involvement efforts that have BUTI students and faculty perform dozens of shows in the Berkshires throughout the summer. Peltz Smalley grew up nearby in New York and first came to Tanglewood when he was about 13 with his father, who liked to come to Saturday BSO rehearsals. "One day we decided to stay a bit longer because the BUTI Young Artists Orchestra was playing, and I saw them and thought, wow, I want to be in that. This is where I've hoped to be for a while."
This is Young's second year at BUTI, and she and Peltz Smalley are among 8 BUTI alums joining this year's incoming School of Music class of 43; 7 of its incoming 133 grad students are also BUTI alums. BU Admissions staff go to Lenox to help BUTI students prepare for college, and offer workshops for parents called So Your Child Wants to Major in Music. Most important to the students, though, is getting to work with the same faculty they'll have at BU: for Peltz Smalley it's Bayla Keyes, a CFA associate professor of music, violin; and for Young, BUTI alum Todd Seeber (CFA'85), a CFA lecturer in double bass.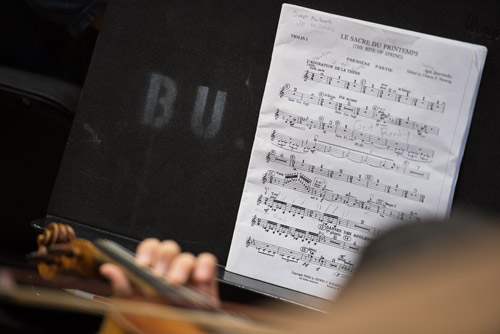 "One of the reasons I chose BU is because a lot of the bass faculty are also in the BSO," says Young. "I think it's good to have that model where I can ask my teacher, how can you manage to practice and play with the BSO and teach and prepare for lessons and not get burned out on the bass?"
Respass says the BUTI experience is the best preparation for balancing the complex demands a classical musician faces in college and beyond, from time management to collaboration. "I think it's good we have so much to do here, so when you do practice, you spend the time better," Peltz Smalley says.
The young musicians will have lunch on the Charles River Campus today before heading to the Esplanade for a sound check at the Hatch Shell. After the concert, they face a long bus ride back to their dorms—and for many, a 9 am rehearsal the next day.
"That's what it's like to be a professional musician," Young says with a shrug. "I got a lot better over the course of the summer last year, but it's still a challenging schedule."
BU Tanglewood Institute Young Artists Orchestra and Young Artists Wind Ensemble perform with the Boston Landmarks Orchestra tomorrow, Wednesday, July 25, at the Hatch Shell at 7 pm. The concert is free. There is no rain date for this concert; rain cancellation will be posted here after 4 pm on July 25 or call 617-987-2000. Find directions to the Hatch Shell here.