The BU Hub: FAQs Answered
The University's new requirement explained, concisely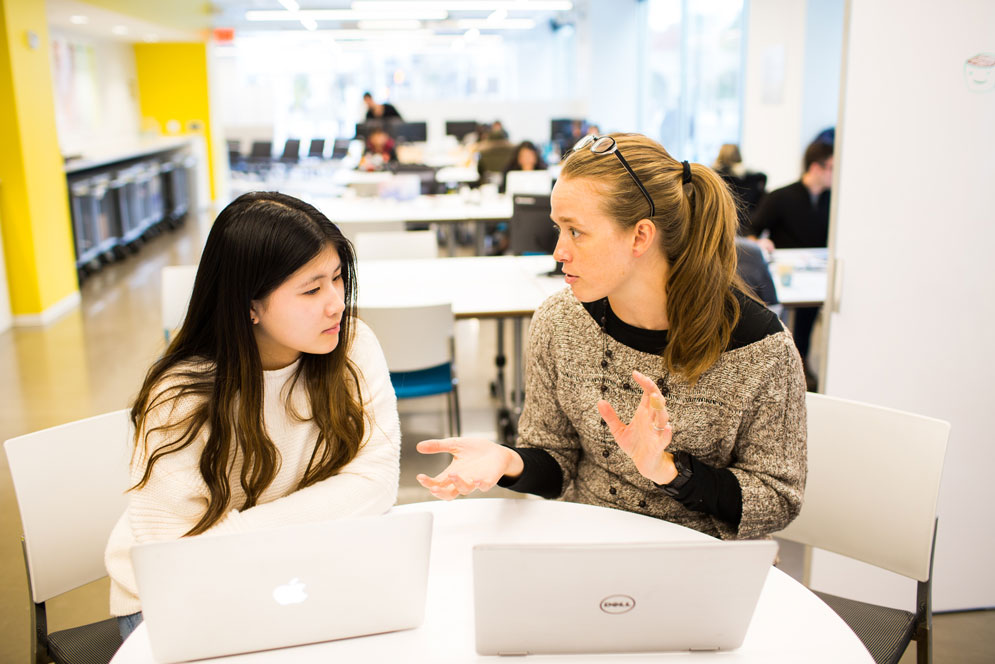 The BU Hub, the University's new general education curriculum, got its name, "with a wink and a nod," from Boston's self-description as "the Hub of the universe," says Elizabeth Loizeaux. The associate provost for undergraduate affairs told matriculating freshmen September 1 that the University's new shared undergraduate experience is "the Hub of your college career."
But what exactly is the Hub, and what led the University to launch it this fall? BU Today answers those questions and more, below.
What is the Hub?
It is BU's University-wide general education curriculum, created to ensure that all undergraduates, regardless of major, develop six essential capacities.
What are those six essential capacities?
Philosophical, aesthetic, and historical interpretation; scientific and social inquiry; quantitative reasoning; diversity, civic engagement, and global citizenship; communication; and the "intellectual toolkit," which includes skills like critical thinking, teamwork/collaboration, and research and information literacy.
Why is the Hub important?
According to its website, the Hub and its capacities "expose students to a broad range of knowledge and disciplines; cultivate a set of widely applicable habits of mind; equip students to engage with complexity, diversity, and change; develop the ability to apply knowledge in diverse settings; [and] encourage a sense of social responsibility and engage citizenship."
How do I fulfill the Hub requirements?
Students choose from among more than 500 courses, across BU's 10 undergraduate schools and colleges, that fulfill "units" in each of the six capacities; 26 units are required to graduate. A course can carry more than one Hub unit, and most students will fulfill the Hub requirements in 10 to 12 classes. Hub courses also can count toward your major and minor.
Who must take Hub classes?
Freshmen who entered BU this fall, and all students entering the University going forward, must fulfill the Hub requirements. Transfer students who enter BU beginning in fall 2020 will also participate in the Hub.
How long do I have to fulfill the requirements?
The Hub is meant to be woven throughout the four years of your undergraduate career.
How much choice do students have in fulfilling the requirements?
Lots. From the website: "How students experience learning in the Hub is up to them—the program is designed to integrate with a student's major studies while encouraging exploration. Students can select from a wide range of courses that carry Hub units, both inside and outside of their major." They also can fulfill one Hub unit with a cocurricular learning experience, and certain Advanced Credit Exams carry Hub units. The Hub's Cross-College Challenge (XCC) is a course that also offers juniors and seniors the opportunity to earn four Hub units.
Where can I get more information?
Besides the Hub website, BU students are assigned advisors who can help with Hub requirements, among other things. Select your school or college here to find who can advise you.
Can you give me a sampling of Hub classes?
A small sample—from the College of Arts & Sciences: Human Infectious Diseases: AIDS to Tuberculosis; The Graphic Novel; History of Boston: Community and Conflict; Religion, Health, and Medicine; from the College of Communication: The World of Communication: The Human Storyteller; from the School of Engineering: Introduction to Engineering Design; from the Questrom School of Business: Business, Society, and Ethics; and from the Wheelock College of Education & Human Development: Project Citizen: Promoting Civic Engagement. Check out the full course list here.