Trio of Terriers Being Inducted into US Hockey Hall of Fame Tonight
Jack Parker, Scott Young, and Ben Smith chosen for 2017 class
Being inducted: Jack Parker (Questrom'68, Hon.'97), Scott Young (CAS'87), and Ben Smith
Hall of Fame inductees are chosen for their extraordinary contribution to the game
Will join 10 other Terriers, including members of the 1960 Olympic team and the gold medal–winning 1980 team
---
When the US Hockey Hall of Fame Class of 2017 is inducted at tonight's ceremony at the Westin Boston Waterfront Hotel, expect to see a lot of Terrier pride on display.
Three of this year's five honorees have deep ties to BU: legendary 40-year men's Terrier team coach Jack Parker (Questrom'68, Hon.'97), who retired in 2013 and had played for BU as an undergrad; former player and assistant coach Scott Young (CAS'87); and former assistant coach Ben Smith.
US Hockey Hall of Fame inductees are chosen based on their extraordinary contribution to the game. Ron Wilson, the all-time winningest American head coach in National Hockey League history, and Kevin Collins, a 28-year NHL referee, round out the members of the class of 2017, the Hall's 45th.
Parker, Young, and Smith will join the 10 Terriers already enshrined, among them Chris Drury (CAS'98), Jack Kelley (former head coach), and Keith Tkachuk (who attended the College of Arts & Sciences in 1998), along with members of the 1960 US Olympic team and the gold medal–winning US 1980 "Miracle on Ice" team.
Over his four-decade career, Parker led the men's Terriers to 3 NCAA Division I national championships, 11 conference titles, and 21 Beanpot Tournament crowns. At the press conference announcing this year's class, Parker was described as one of the game's legendary coaches. Dozens of his players play or coach professional and college hockey, including Mike Sullivan (Questrom'90), head coach of the reigning Stanley Cup champion Pittsburgh Penguins, who have taken the cup twice in a row under him (2016 and 2017), and Kevin Shattenkirk (CAS'11), a defenseman for the New York Rangers.
At the same press conference, Parker said he was humbled to be among his fellow inductees. When he was notified that he'd been selected, he was asked to keep the news quiet. But he had to tell his wife, he said, and one other person: Ben Smith, his assistant coach for nine years at BU, as well as a mentor. He said he told Smith that being chosen for the Hall of Fame "never would have happened" if it weren't for him.
"It's an unbelievable, humbling experience to go in with these guys. I think it will be a great night," Parker says. "I would like to thank the USA Hockey selection committee. I'm very, very grateful."
In addition to leading the hockey program at BU, Parker was assistant coach of the US Men's National Team in 1995, head coach of the US National Junior Team in 1996, and head coach of the US Men's Select Team in 2013. He was inducted into the Boston University Athletic Hall of Fame in 1994.
A three-time Olympian and two-time Stanley Cup champ, Young is director of player development for the Pittsburgh Penguins. He spent 17 seasons playing in the NHL, and ranks number 15 among all American players in NHL games played, number 12 in goals, and number 20 in points.
In 1988, Young made his NHL debut with the now-defunct Hartford Whalers. That same year, he played defense for Team USA in the Olympic Winter Games. He returned to the Olympics as a forward in 1992, and again in 2002, when the team took silver. He also played for Team USA in three IIHF Men's World Championships and was a member of the 1996 World Cup of Hockey championship team.
After an NHL career that took him from Hartford to Pittsburgh, Quebec, Colorado, Anaheim, St. Louis, and Dallas, Young moved back to his native Massachusetts to coach youth and high school hockey. He returned to BU in 2014 as an assistant coach of the men's ice hockey team, working under former teammate David Quinn (CAS'89).
Young says that being told that he was one of this year's Hall of Fame inductees "was a great call to get; I wasn't expecting it. It's always interesting to see who gets in. It's a great honor and I'm thrilled to go in with people I know," referring not only to Parker and Smith, but to Wilson. Young played with Wilson at the 1988 World Championship and then played for him on the gold-medal squad at the 1996 World Cup of Hockey.
This is the second Hockey Hall of Fame induction ceremony in a row for Young. Last year, he entered as a member of the 1996 World Cup of Hockey Team.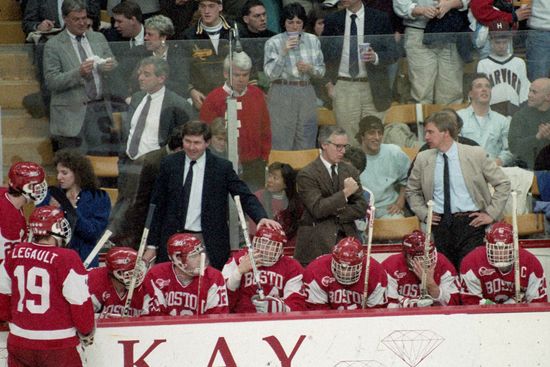 Smith was an assistant coach under Parker from 1981 to 1990, which included the two seasons Young played for the Terriers. Smith left BU to become head coach at Dartmouth and then Northeastern, and he went on to coach the US Olympic Women's Ice Hockey Team for three Olympiads, leading the squad to the gold medal in 1998, the first year women's hockey became an Olympic sport. When Smith took a year off from the Terriers to be an assistant coach on Team USA at the 1988 Olympics in Calgary, he was once again coaching Young, who was a member of the team. Smith remains active with USA Hockey, evaluating players for many international teams, including the gold medal-winning 2017 US National Junior Team.
Along with the 1998 US Olympic Women's Ice Hockey Team, Smith was previously inducted into the Hockey Hall of Fame, in 2009.
Asked about the BU ties in this year's class, Smith says: "Parker and I were high school rivals, college rivals, I coached alongside him. We developed a wonderful friendship and his family became my family. And with Scott, I coached him at BU, and on the 1988 Olympic team. It's really something special."
BU Athletics contributed reporting to this article.