Helping Student Scientists Do Health Research at Home
Black and Latino students study asthma, safety, racial inequality in their communities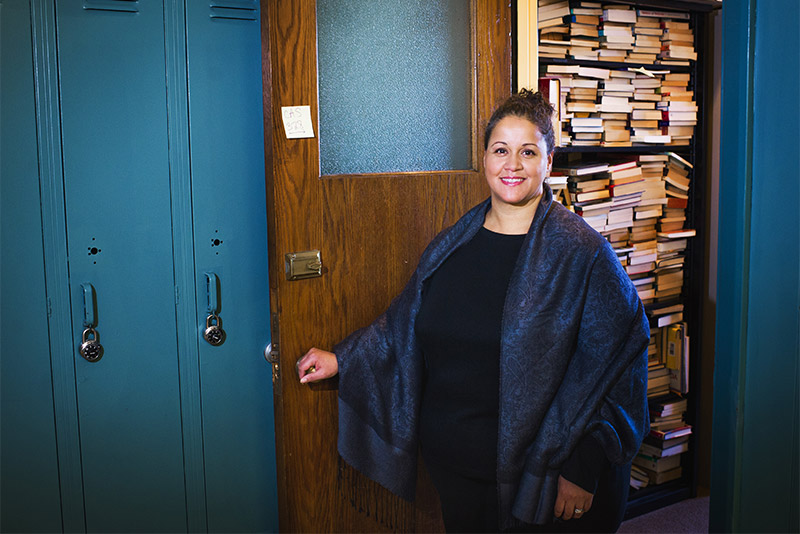 When you visit your doctor, she will ask you about your diet and exercise, whether or not you smoke, and if you drink alcohol. These factors all affect your health. But the community you live in might have as much influence over your health as your choice to eat broccoli or buffalo wings. Studying the health effects of the environment—from suburbs to urban neighborhoods—is crucial to understanding the challenges faced by the people who live there.
It can be difficult for a scientist to explore a community uninvited, however. But what if the communities themselves were asking the questions and doing the research? Linda Sprague Martinez, an assistant professor at the Boston University School of Social Work, has been working with this approach for years.
"The goal was to work with community stakeholders to identify a research question and then to develop an intervention and implement it," says Sprague Martinez. "We tried to make it as open as possible. In science, the question usually comes from the researcher and rarely is the community involved."
This time, the research was done by community members. Students at the Curley K–8 School in Boston's Jamaica Plain neighborhood participated in two after-school programs to teach them how to look at the health of their communities like scientists. The National Institutes of Health–funded programs, called Nuestro Futuro Saludable and Nuestro Futuro: Applied Science Education to Engage Black and Latino Youth, were designed to educate urban minority students about the health of their communities and increase civic engagement. During the programs, students learned how to identify environmental problems that threaten their health and cause them stress—and also to look for solutions.
Sprague Martinez and her collaborators started the programs while working at Tufts University. The researchers partnered with community members in Jamaica Plain and designed the Nuestro Futuro programs to empower youths to engage with their health and the broader community. Originally, Sprague Martinez envisioned working with high school students, not middle schoolers—that suggestion came from the community. "Folks said, 'High school's too late. Middle school is where kids start to fall out,'" recalls Sprague Martinez.
The first program, Nuestro Futuro Saludable, was a pilot that launched in 2011. Participating students met after school and earned a $200-per-month stipend as research assistants. The program focused on the social determinants of health. Youths learned to think scientifically about how nutrition, stressors, and physical activity are influenced by community conditions. The students conducted assessments where they documented problems that they saw—taking pictures of trash piled on the sidewalks, for instance. The students brought a different perspective to the table than the adults running the program, says Sprague Martinez, who expected fast food and tobacco advertising to be bigger problem factors than trash.
"If we want to create a STEM pipeline, and improve college and career readiness as well as mobility, then we need to start early. More importantly, we need to include young people and communities more broadly in the conversation and decision-making." Linda Sprague Martinez
After the success of the first Nuestro Futuro, Sprague Martinez and her community partners expanded the scope of the program to include not just public health but also science education. Nuestro Futuro: Applied Science Education to Engage Black and Latino Youth ran for two years and added a specific focus on improving students' understanding of scientific processes, including collecting and interpreting data. This time, the program targeted specific disease areas where there are disparities in Boston based on income, including diabetes and asthma. First, students were asked to define asthma, like a biomedical researcher would, then to think about how asthma spreads and affects people, like an epidemiologist would. The students learned how to critically think about the disease and disparities and in the process were exposed to many different STEM career paths.
At the end of the program, students completed projects that engaged them in research, like conducting surveys of their neighbors and family members, and presented on them in ways that encouraged creativity. "You build on the skills. If you have a kid who's really into art, you let them incorporate art into how they disseminate their findings," says Sprague Martinez. Some students even rapped their results. Program evaluation results indicated that students reported an improved level of civic engagement in their communities.
One of the central aspects of the Nuestro Futuro programs was talking about how race plays a role in community health. "As sociologists they learned to think about the racial hierarchy and the social hierarchy, and how those are affecting disease," says Sprague Martinez. Housing segregation, impoverished neighborhoods without infrastructure, and a history of racial inequity in America all play a role in shaping the environment surrounding youth of color today. Without knowing the history of discrimination, and how it affects present-day life chances, Sprague Martinez says there's a very real concern that youth of color can internalize racism.
When students of color are taught about inherent inequities, they can be empowered to think about their communities differently.
Over summer 2016, Sprague Martinez, collaborating with the Center for Promise, expanded her program again and used the community health curriculum in five cities across America, including Boston and Chicago. The initiative, Barriers to Wellness, taught high school students to think critically about their environments. Students learned in depth about oppression and health outcomes and identified threats to well-being in their communities. Safety was a huge concern. Struggles with the police and ongoing gentrification were problems identified by many young people in the cities.
Addressing how to handle these problems is one of Sprague Martinez's future goals. How can young people, adults, community organizers, and public health officials work collaboratively to combat these concerns? She would also like to foster civic engagement and a love of science in more students of color going forward, allowing them to advance in STEM and have a voice in the solutions. She's currently working to design a toolkit so that other extracurricular programs can implement Nuestro Futuro and its ideas across the country.
"If we want to create a STEM pipeline, and improve college and career readiness as well as mobility, then we need to start early. More importantly, we need to include young people and communities more broadly in the conversation and decision-making," she says.